Réponses impulsionnelles gratuites
Créé le : 08/12/2019
Maj le : 14/08/2021
Réponses impulsionnelles gratuites
Les réponses impulsionnelles téléchargeables sur cette page sont réalisées par mes soins, en amateur, et en conditions de home-studio. Avant de les télécharger, veuillez consulter les conditions générales d'utilisation, et notamment la section « réponses impulsionnelles » :https://overdriven.fr/overdriven/index.php/fr/a-propos/.
Elles sont mises à disposition gratuitement, et comme stipulé dans les conditions générales, aucun garantie de bon fonctionnement n'est associée à ces fichiers (défauts, problèmes divers, impossibilité de les charger, qualité sonore, dommages…).
Elles peuvent vous permettre de vous initier à la mise en oeuvre des IRs et/ou d'étoffer votre collection et vos possibilités, de découvrir éventuellement des micros et des HPs.
Capture et informations techniques
Ces IRs sont capturées à l'aide de l'utilitaire Apple Impulse Response en 24 bits à 88,2 kHz / 32 bits virgule flottante, et sont mises à disposition au format 44,1 kHz, sous forme de fichiers WAV, 32 bits virgule flottante. Elles sont généralement d'une longueur de 50 ms, parfois moins. Vous aurez probablement besoin d'ajuster leur phase si vous voulez les mixer avec des IRs d'autres fournisseurs.
Deux Trois amplis sont utilisés pour réaliser ces IRs : l'un utilise des lampes KT88, l'autre des lampes 6L6 et un troisième de type classe D (mentionné dans les noms des répertoires ou dans le fichier readme des collections).
Les IRs sont systématiquement testées sous WOS (Two-Notes Wall Of Sound) dans Logic Pro, et le sont souvent également sous Nadir et Libra (Logic Pro), la pédale CAB. M. de Two Notes et la pédale Radar de Mooer. En cas de difficulté de mise en oeuvre, laissez un commentaire sur cette page en précisant le nom complet de l'IR.
Toutes les positions de micro ne sont pas mises à disposition et les positions et distances retenues peuvent être différentes d'un HP à l'autre ou d'un CAB à un autre. Les IRs sources sont parfois égalisées et fournies dans des versions modifiées dans des sous-répertoire. Lisez le fichier readme.txt du sous-répertoire pour plus d'information.
Conseils de mise en oeuvre
Ces IRs sont la plupart du temps déjà creusées en terme de médium : je vous invite à ne pas creuser votre son à outrance sur votre ampli ou pédale de préamplificateur. Commencez en gardant un niveau de médium assez élevé (11H ou 12H) ainsi qu'un niveau de basses conséquent (11H ou 12H)
Attention aux positions 00, 05 ou 09 à fort volume : elles peuvent présenter beaucoup d'aigus
Vous aurez peut être besoin de rehausser la bande 100 à 500/700 Hz pour obtenir plus de présence et de basses
Utilisez des low-cut (50-120 HZ) et high-cut (7500 hz ou moins) pour obtenir de meilleurs résultats
Ces IRs peuvent avoir besoin d'une augmentation du volume de sortie pour être à un niveau comparable à celui des IRs Two-Notes ou OwnHammer (de 0,5 à 2 ou 3 DB en plus). Attention : vos réglages d'EQ peuvent également impacter cette correction.
Noms des fichiers
Les IRs sont livrées sous forme de collection: une collection correspond généralement à une session de capture avec un ampli donné, un cab donné et un ensemble de micros.
Par exemple :
/overdriven.fr/6L6-SerieII/Fatboy-G12K100/OD-FB-G12K100-E906-P10-25.wav
Les positions utilisées sont représentées ci-dessous :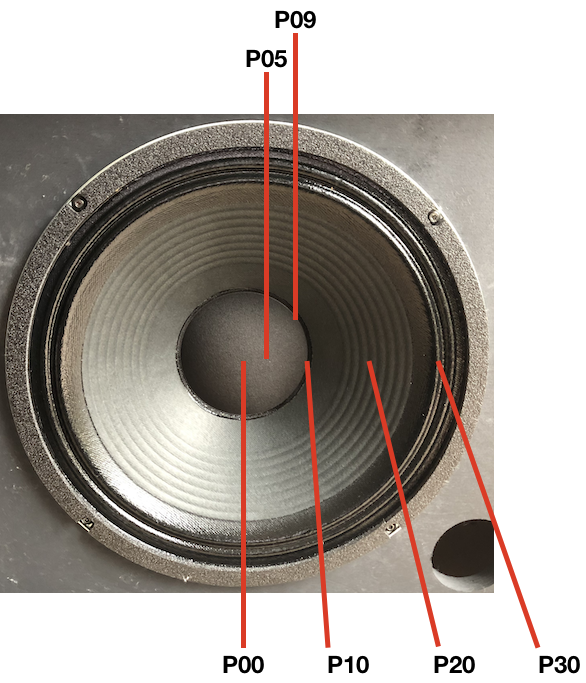 Les noms de fichiers se présentent sous la forme :
OD-FB-G12K100-E906-P10-25.wav : OD_<CAB>_<HP>_<MICRO>_<POSITION>_<DISTANCE>
OD est le préfixe (OverDriven.fr)
FB : nom condensé du CAB, ici un Zilla® Fatboy
G12K100 est le nom du HP : ici Celestion® G12K100
E906 : micro Sennheiser® E906
P10 : position 10 (Cap Edge)
25 : micro positionné à 25 mm de distance (les distances sont approximatives).
Les noms contiennent parfois d'autre mentions, comme « HPF » ou « v2 »
-M0 to -M7 indique qu'une correction d'EQ a été appliquée afin de diminuer l'effet de médiums creusés
-BRIGHT : effet appliqué sur le préamplificateur pour booster medium et aigus. Beaucoup de clarté pour une meilleure attaque et définition du son.
-SAT et -SAT2 : effets de distorsion ajoutés par le preamp, apporte également de la clarté.
PxxA : ces positions indiquent une prise de son ou le micro a été pivoté à 45°, en général (par exemple P10A est une position P10 avec le micro pivoté)
Le nom de la collection inclut dorénavant (2nd gen IRs) le préamplificateur : PreampTube1, PreampTube2 ou SSP1 (preamp transistors 1).
Microphones
Les collections de réponses impulsionnelles téléchargeables sur Overdriven.fr IR utiliseront les identifiants de microphones suivants :
| Overdriven.fr microphone | Inspired by |
| --- | --- |
| DYN-906 | Seinnheiser® E906 |
| DYN-421 | Seinnheiser® MD421 |
| DYN-201 | BeyerDynamic® M201TG |
| DYN-75 | T.Bone® MB75 |
| DYN-85B | T.Bone® MB85B |
| DYN-75B | T.Bone® MB75B |
| DYN-57 | Shure® SM57 |
| DYN-58 | Shure® SM58 |
| DYN-7B | Shure® SM7B |
| DYN-I5 | Audix® I5 |
| DYN-R20 | Heil Sound® PR20 |
| DYN-628 | Superlux® PRA628MKII |
| CND-NT1 | RODE® NT1-A |
| CND-2020 | Audio Technica® AT2020 |
| RBN-160 | BeyerDynamic® M160 |
| CND-M3 | RODE® M3 |
Notice légale
Toutes les marques et tous les produits ou noms de sociétés mentionnés sur ce site peuvent être des marques déposées, appartenant à leurs propriétaires respectifs. Elles ne sont en aucun cas associées à Overdriven.fr ou au propriétaire d'overdriven.fr : leur mention n'implique aucun sponsoring ou association d'overdriven.fr/le propriétaire d'overdriven.fr avec ces marques.
Les noms de produits, marques ou noms de sociétés sont uniquement référencées sur overdriven.fr pour identifier le matériel utilisé dans la capture de réponses impulsionnelles ou pour illustrer les sons de guitares. L'utilisation de ces noms n'implique -en aucun cas- une coopération ou une approbation.
Référez-vous à la page A propos pour plus d'informations : https://overdriven.fr/overdriven/index.php/fr/a-propos/
Commentaires, suggestions, utilisation
N'hésitez pas à remonter des commentaires, suggestions ou à fournir des pointeurs sur des vidéos et des enregistrements que vous pourriez réaliser avec ces IRs. Si certaines positions non présentes vous intéressent, faites-en la suggestion via les commentaires.
Liens de téléchargement
Les collections gratuites de réponses impulsionnelles d'enceinte de guitare sont disponibles sur les pages suivantes :
IRs Generation 3
IRs Generation 2
Pour plus d'informations sur les IRs « Gen2 », consultez ce lien : https://overdriven.fr/overdriven/index.php/fr/2020/08/09/upgrade-home-studio-et-irs-2nde-generation/
IRs Generation 1
Tous les noms de produits et marques cités sont la propriété de leurs détenteurs.
Page stats