IR – German-112 – Hesu® Demon – Home Studio Edition – Free Guitar Cab Impulse Responses download
Created : November 11, 2020
Updated : November 14, 2020
Terms and conditions
Before proceeding with download, please consult the terms of use, and more specifically the "impulse response" section : https://overdriven.fr/overdriven/index.php/fr/about/.
These impulse response files (IRs) are free and as mentioned in the Terms of Use, no warranty of any kind is provided with these files (issues, sound problems, inability to use them, sound quality, damages of any kind…).
CAB and mics
The guitar cabinet used for this collection is a German ported 112 CAB, front-loaded with an Hesu® Demon speaker (8 ohms).
Check the IR positions explanation here (microphone placement) : https://overdriven.fr/overdriven/index.php/irdownloads/ and here : https://overdriven.fr/overdriven/index.php/2020/07/30/home-studio-upgrade-and-2nd-gen-irs/
The preamp used is the "TubePreamp2" (JJ Selected Gold).
German 112 cabinet front-loaded with an Hesu® Demon 8 ohms
Revisit your amp settings : theses IRs can be quite bright in standard tunings and/or active pickups : lower your presence and/or treble to leverage this speaker and dial-in the right level of low-end resonance. Works very nicely with low tunings.
5 dynamic mics, 1 ribbon mic, 1 condenser mic, 63 IR files in WAV 44 kHz format
7 microphones :

DYN-57
DYN-R20
DYN-906
DYN-US-6
RBN-CN-1

Recorded in home studio conditions
Recorded with a KT88 power amp section only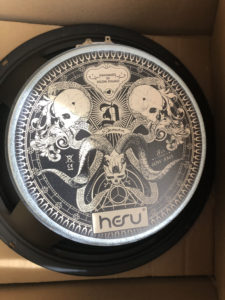 This first collection using the Demon speaker may be a little bit scooped due to the high level of bass coming from the cab : as a result, the high-mids and highs can be quite agressive with these IRs : lower your treble/presence/gain and eventually add 1 or 2 dB to the 800 Hz band. Use an overdrive to clean-up your pickup low-end and/or set an HPF.
Samples
The samples below use an Orange Dark Terror associated to the Demon IRs ;). The pickup is a SH6, guitar in Drop C. The overdrive used are a Precision Drive on some samples and a TC Electronic Spark booster on other samples. Check the file names in the playlist for the IR used. Samples are recorded with the Demon IRs loaded on a Two Notes CAB M (Dark Terror amp out to CAB M, and CAB M cab out to load-box).
Remarks
Overdriven.fr is not affiliated with the brands mentioned on this page. These products and brand names are listed here to describe the hardware used for impulse capture. All brands belong to their respective owners. Check the legal disclaimer here : https://overdriven.fr/overdriven/index.php/about/
Download link
You can download the IR files from this page : https://overdriven.fr/overdriven/index.php/download/german-112-demon-tubepreamp2-v1-0-zip/
Change log
November 11, 2020 : 1.0 , initial publication
IR Files
This collection contains the following mics and IR files :
DYN-57

OD-E112-DEMON-DYN-57-P05-50.wav
OD-E112-DEMON-DYN-57-P09-50.wav
OD-E112-DEMON-DYN-57-P15-50.wav
OD-E112-DEMON-DYN-57-P20-50.wav
OD-E112-DEMON-DYN-57-P20-50-BRIGHT.wav
OD-E112-DEMON-DYN-57-P10-30.wav
OD-E112-DEMON-DYN-57-P10-50.wav
OD-E112-DEMON-DYN-57-P10-40.wav
OD-E112-DEMON-DYN-57-P12-50.wav

DYN-R20

OD-E112-DEMON-DYN-R20-P05-50.wav
OD-E112-DEMON-DYN-R20-P09-50.wav
OD-E112-DEMON-DYN-R20-P12-50-BRIGHT.wav
OD-E112-DEMON-DYN-R20-P10-50.wav
OD-E112-DEMON-DYN-R20-P12-50.wav
OD-E112-DEMON-DYN-R20-P10-40.wav

DYN-906

OD-E112-DEMON-DYN-906-P00-30.wav
OD-E112-DEMON-DYN-906-P12-30.wav
OD-E112-DEMON-DYN-906-P12-30-BRIGHT.wav
OD-E112-DEMON-DYN-906-P10-30.wav
OD-E112-DEMON-DYN-906-P09-30.wav
OD-E112-DEMON-DYN-906-P05-30.wav

DYN-US-6

OD-E112-DEMON-DYN-US-6-P20-20.wav
OD-E112-DEMON-DYN-US-6-P10-20.wav
OD-E112-DEMON-DYN-US-6-P12-20.wav
OD-E112-DEMON-DYN-US-6-P09-20.wav
OD-E112-DEMON-DYN-US-6-P20-20-BRIGHT.wav
OD-E112-DEMON-DYN-US-6-P05-20.wav

RBN-CN-1

OD-E112-DEMON-RBN-CN-1-P05-270-BRIGHT.wav
OD-E112-DEMON-RBN-CN-1-P05-170.wav
OD-E112-DEMON-RBN-CN-1-P05-ROOM1.wav
OD-E112-DEMON-RBN-CN-1-P05-220-BRIGHT.wav
OD-E112-DEMON-RBN-CN-1-P05-200.wav
OD-E112-DEMON-RBN-CN-1-P05-270.wav
OD-E112-DEMON-RBN-CN-1-P05-300.wav
OD-E112-DEMON-RBN-CN-1-P05-240-BRIGHT.wav
OD-E112-DEMON-RBN-CN-1-P05-240.wav
OD-E112-DEMON-RBN-CN-1-P05-170-BRIGHT.wav
OD-E112-DEMON-RBN-CN-1-P05-200-BRIGHT.wav

CND-M3

OD-E112-DEMON-CND-M3-P05-30.wav
OD-E112-DEMON-CND-M3-P09-30.wav
OD-E112-DEMON-CND-M3-P09-40.wav
OD-E112-DEMON-CND-M3-P05-40.wav
OD-E112-DEMON-CND-M3-P15-50.wav
OD-E112-DEMON-CND-M3-P15-40.wav
OD-E112-DEMON-CND-M3-P05-50.wav
OD-E112-DEMON-CND-M3-P09-50.wav
OD-E112-DEMON-CND-M3-P10-40.wav
OD-E112-DEMON-CND-M3-P12-50.wav
OD-E112-DEMON-CND-M3-P12-40.wav
OD-E112-DEMON-CND-M3-P10-50.wav
OD-E112-DEMON-CND-M3-P20-40-BRIGHT.wav
OD-E112-DEMON-CND-M3-P20-40.wav
OD-E112-DEMON-CND-M3-P20-50.wav
OD-E112-DEMON-CND-M3-P10-30.wav

DYN-I5

OD-E112-DEMON-DYN-I5-P10-50.wav
OD-E112-DEMON-DYN-I5-P12-40.wav
OD-E112-DEMON-DYN-I5-P12-50.wav
OD-E112-DEMON-DYN-I5-P10-40.wav
OD-E112-DEMON-DYN-I5-P10-20.wav
OD-E112-DEMON-DYN-I5-P09-50.wav
OD-E112-DEMON-DYN-I5-P05-50.wav
OD-E112-DEMON-DYN-I5-P05-40.wav
OD-E112-DEMON-DYN-I5-P09-40.wav