Mooer GE250 presets
Created December 23, 2021
Updated January 29, 2022
Welcome to this page dedicated to presets for the Mooer GE250 multi-effects. These presets are examples or demos that can get you started or give you some tone and settings ideas. These presets are designed and tested for metal/rock and distorted tone in general, but you might give them a try even if you play in other styles.
Overdriven.fr presets for Mooer GE250
These presets either use the built-in GE250 cabs or the impulse responses freely available on this web site. For the different presets, the setup instructions are provided. Take a look at the Impulse Response download page if you want to have a look at the available impulses as well as presentation and usage instructions. For most preset collections, a copy of the required IRs are bundled within the zip containing the preset files.
A word on using presets
With multi-effects devices such as the Mooer GE250, presets can be used to obtain a tone close to the preset designer intent. Presets will indeed bring you in the range of the tone that was designed, but your guitar pickups (level and voicing) will still have a strong impact on the tone you will get, and your speakers will also change the results. So, you will probably need to tweak the signal chain : I would suggest to adjust first the level of the overdrive blocks (output and drive if needed) and/or to switch to another overdrive that would best suit your pickups. You are free to adjust the other parameters as well (i.e. the AMP block), of course. You can use the presets I provide here as examples or starting points. I would then encourage you to create your own tone or adjust the presets to your taste and gear. You can of course leverage the free IRs available (see Resources | Impulse Response Download) for this, and try to pair them with your GE amp sims by yourself.
Get notifications of new packs
If you want to be notified when new presets or IRs collection are made available, you can follow me on Twitter :
Follow @davidoverdrive1
CaliDual presets for GE250 – Pack 1
These are based on the patches I originally created for the GE300. Porting them, I decided to tweak and update the tone for a much heavier version of the presets.
These presets are using the Cali Dual 2 amp, which is not a factory embedded amp simulation : you can download it from Mooer web site (GE250_Amp_Model_Pack 1 : Mooer GE250 download page ).
These presets expect the Cali Dual 2 amp to be loaded in position #72.
These presets use 4 to 5 blocks :
DS/OD : Obsessive Dist, gain to 0 or 808
AMP : Cali Dual 2 on all presets
Cab : one of the provided overdriven.fr free IRs
NS : noise killer
EQ : on some presets, the EQ block is used with the Custom EQ to perform additional low-cut and hi-cut
The patches were created and tested using a (six strings) guitar tuned to E standard with Fishman Fluence in modern voicing, as well as a Drop B guitar with SD AHB3 (with some modifications to the default presets) and EMG81 6 Strings guitar. You may need to tweak/change the OD settings depending on the voicing and output level of your own pickups and the tuning you play in. If you need more gain, I'd suggest to start by raising the output level and/or the gain on the overdrive block. This time, I chose to use more the EL34 simulation , as this was giving me the best results on many of the patches.
To install the presets, download and unzip the preset file : it contains the IR files and the GE250 .mo files (download link below).
Then :
backup you existing presets and IRs first
load the Cali Dual 2 amp at slot #72
then load the IR files to the slots listed in the table below
then import the preset files
IR slots and IR file names :
42 : OD-FB-DEM-DYN-US-8-P12-90-L
37 : OD-FB-GB-MIX-002
33 : OD-FB-K100-MIX-013
34 : OD-FB-K100-DYN-7B-P10-50-L
35 : OD-E112-V30-DYN-US-8-P05-70_OD-E112-V30-DYN-US-6-P05-30
36 : OD-O112-CLEAD-DYN-57-P10-50
38 : OD-O112-H30-DYN-US-6-P10-20
39 : OD-O212-T75-DYN-57-P10-30
40 : OD-R212-V30-DYN-CN-7-RBN-CN-2-001
41 : OD-FB-DEM-DYN-AT-2-P10-70-L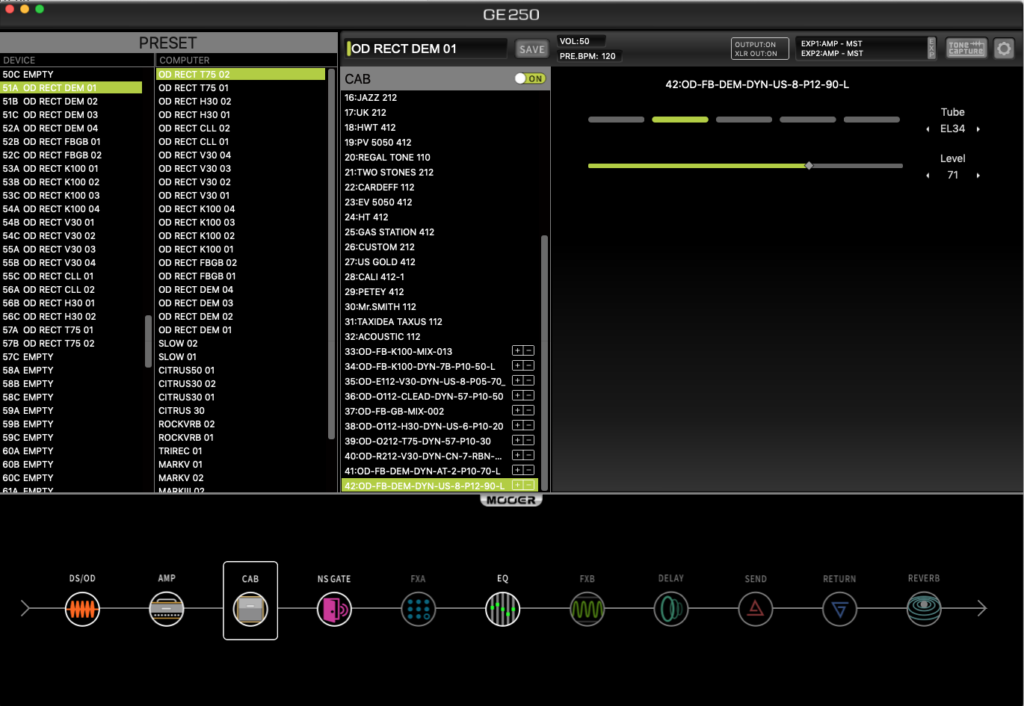 Small tone samples
Will be added soon.
Download link
You can download the zip containing the presets and IRs here : https://overdriven.fr/overdriven/index.php/download/overdriven-mooer-ge250-calidual-presets/
Change log
December 23, 2021 : Pack 1.0 created and published
December 31, 2021 : Updated to Pack 1.1, incorrect IR pointed for 1 GK100 preset, OD changes for some presets, tone tweaks, some presets renamed
January 2, 2022 : Updated to pack 1.2, added 10 more presets with additional tone options
DarkT presets for GE250 – Pack 1
I created these presets after my first attempts with the GE250 Tone Capture capability : I picked-up one of my tube amps (an Orange Dark Terror) and decided to give a try to the process. For this one, I captured the full amp (preamp + power amp) : the tone captures already contain the tone from the power amp, so I'd recommend you let the power amp sim off in the GE250 CAB block.
I did two captures and then created 10 presets : one in low gain mode, the other in mid gain territory. The amp used as a starting point is the embedded Rock VRB DS (23).
10 presets, covering very different tone areas :
OD DARKT LOB 01 : EAGLE P412 NT1
OD DARKT LOB 02 : PV5050 412 NT1
OD DARKT LOB 03 : CITRUS 412 SM57
OD DARKT LOB 04 : HT412 NT1
OD DARKT MID 01 : CALI 412-1 SM57
OD DARKT MID 02 : SLOW 412 U87
OD DARKT MID 03 : UK212 MXL2003
OD DARKT MID 04 : TWO STONES 212 NT1
OD DARKT MID 05 : HWT 412 NT1
OD DARKT MID 06 : TAXIDEA TAXUS 112 C3000
5 blocks used :
DS/OD : Tight Ds
AMP : Rock VRB DS
Tone Capture 1 or 2 ("lo" or "mid" preset)
Cab block
EQ block (low cut mainly)
I found the resulting tones pretty good, the tone capture adding a lot of body and resonance. And I was pleasingly surprised to be able to leverage the stock cabs : they sound pretty good here (IMHO). So no IR loading for this one, you can simply import the presets (the tone captures are embedded in the .MO files).
The tone from the presets are VERY different from each others : give the preset a 15 or 20 seconds of playing to accommodate with its tone, when browsing / testing them.
Let me know in the comments how you find these presets.
Small tone samples
Will be added soon.
Download link
You can download the zip containing the presets and IRs here : https://overdriven.fr/overdriven/index.php/download/overdriven-mooer-ge250-darkt-presets/
Alternately, they are also published on MooerStudio cloud : you should be able to find them under the title "OVERDRIVEN DarkT Presets – Tone Capture" and download them from Mooer website. See https://www.mooerstudio.com/index.html#presets-detail?id=06840RB76TRV9P
Change log
January 5, 2022 : initial pack publication.
January 8, 2022 : updated with DarkT preset link on Mooer cloud
January 29, 2022 : updated page content
Page stats