Mooer GE200 presets
Created : January 16, 2022
Updated : January 29, 2022
Welcome to this page dedicated to presets for the Mooer GE200 multi-effects. These presets are examples or demos that can get you started or give you some tone and settings ideas. These presets are designed and tested for metal/rock and distorted tone in general, but you might give them a try even if you play in other styles.
Overdriven.fr presets for Mooer GE200
These presets either use the built-in GE200 cabs or the impulse responses freely available on this web site. For the different presets, the setup instructions are provided. Take a look at the Impulse Response download page if you want to have a look at the available impulses as well as presentation and usage instructions.
A word on using presets
With multi-effects devices such as the Mooer GE200, presets can be used to obtain a tone close to the preset designer intent. Presets will indeed bring you in the range of the tone that was designed, but your guitar pickups (level and voicing)as well as the tuning you use will still have a strong impact on the tone you will get, and your speakers will also change or impart some color on the result. So, you will probably need to tweak the signal chain : I would suggest to adjust first the level of the overdrive blocks (output and drive if needed) and/or to switch to another overdrive that would best suit your pickups. You are free to adjust the other parameters as well (i.e. the AMP block), of course. You can use the presets I provide here as examples or starting points. I would then encourage you to create your own tone or adjust the presets to your taste and gear. You can of course leverage the free IRs available (see Resources | Impulse Response Download) for this, and try to pair them with your GE amp sims by yourself.
CaliDual presets for GE200 – Pack 1
This pack is the port of the overdriven.fr GE300 / GE250 CaliDual pack 1, with the addition of 5 presets using GE200 stock cabs. It contains 15 presets in total : 10 using overdriven.fr free IRs, and 5 using stock cabs. It also uses an additional GE200 amp that you need to download and install on your GE200 : the CaliDual 2, available in the Mooer downloads (http://www.mooeraudio.com/companyfile/GE200-Downloads-138.html : GE200_Amp_Model_Package .zip : CALI DUAL 2.amp)
The presets are all using 4 to 5 blocks : DS/OD, AMP, CAB, NS and for some of them the EQ block as well.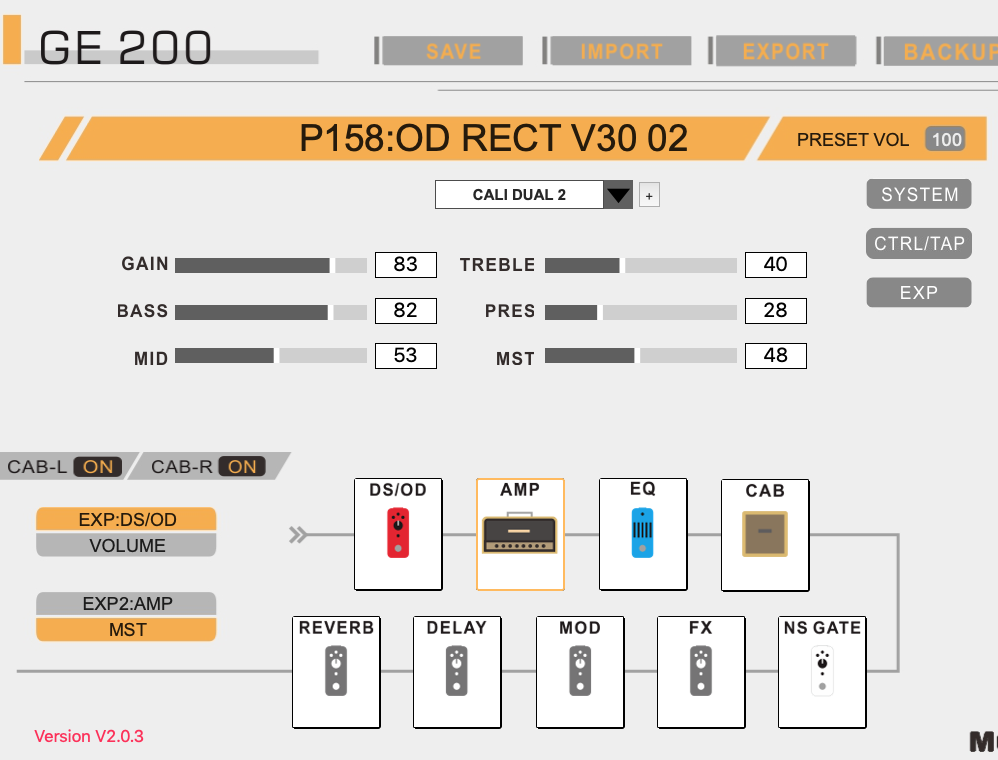 The overdriven.fr zip files contains the following presets :
P151-OD RECT DEM 01.mo
P152-OD RECT GB 01.mo
P153-OD RECT K100 01.mo
P154-OD RECT K100 02.mo
P155-OD RECT V30 01.mo
P156-OD RECT CLL 01.mo
P157-OD RECT T75 01.mo
P158-OD RECT V30 02.mo
P159-OD RECT DEM02.mo
P161-OD RECT STOCK1 .mo
P162-OD RECT STOCK2.mo
P163-OD RECT STOCK3.mo
P164-OD RECT STOCK4.mo
P165-OD RECT STOCK5.mo
To install the presets, download and unzip the preset file (see link below : it contains the IR files and the GE200 .mo files.
First :
download the Cali Dual 2 amp from Mooer website
add the amp to the first custom amp slot (right after "Acoustic 3")
Then :
backup you existing presets and IRs first
first load the IR files to the slots listed in the table below
then import the preset files
The IRs slots are the following :
#27 OD_RECT_DEM_01.mo OD-FB-DEM-DYN-US-8-P12-90-L
#35 OD_RECT_FBGB_01.mo OD-FB-GB-MIX-002
#28 OD_RECT_K100_01.mo OD-FB-K100-MIX-013
#29 OD_RECT_K100_02.mo OD-FB-K100-DYN-7B-P10-50-L
#30 OD_RECT_V30_01.mo OD-E112-V30-DYN-US-8-P05-70_OD-E112-V30-DYN-US-6-P05-30
#31 OD_RECT_CLM_01.mo OD-O112-CLEAD-DYN-57-P10-50
#33 OD_RECT_T75_01.mo OD-O212-T75-DYN-57-P10-30
#34 OD_RECT_V3O_02.mo OD-R212-V30-DYN-CN-7-RBN-CN-2-001
#36 OD_RECT_DEM_02.mo OD-FB-DEM-DYN-AT-2-P10-70-L
#32 OD_RECT_H30_01.mo OD-O112-H30-DYN-US-6-P10-20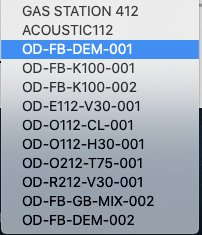 Hope you will enjoy these !
Download link
You can download the zip containing the presets and IRs here : https://overdriven.fr/overdriven/index.php/download/overdriven-mooer-ge200-calidual-presets/
Change log
January 16, 2022 : page creation, Cali Dual Presets pack1 publication
January 29, 2022 : page content update
Page stats