E112-P50 – Home Studio Edition – Free Guitar Cab Impulse Responses download
Created August 21, 2023
Updated August 21, 2023
Terms and conditions
Before proceeding with download, please consult the terms of use, and more specifically the "impulse response" section : https://overdriven.fr/overdriven/index.php/fr/about/.
These impulse response files (IRs) are free and as mentioned in the Terms of Use, no warranty of any kind is provided with these files (issues, sound problems, inability to use them, sound quality, damages of any kind…).
The riffs and partial song covers presented here as samples are used for illustration and educational purposes (using amps and IRs). These riffs and songs remain the property of their copyright owners.
CAB and mics
The guitar cabinet used for this collection is a German-made 1*12 cabinet, ported, and front-loaded with a Fryette™ P50E speaker. The P50E is built exclusively for Steven Fryette by Eminence, according to Fryette's specification and is only available as a 16 ohms speaker.
You can find information on this speaker (and also order it) at the following address : https://www.fryette.com/p50e-guitar-speaker/. For European customers, the P50E is also available from Thomann : check https://www.thomann.de/gb/freytte_p50e_guitar_speaker.htm.
This speaker is a 50 watts speaker, well balanced and optimized for front-mount applications. It can provides great tones for clean, crunch and high-gain amps. I personally enjoyed capturing and tweaking the resulting IRs as the front-loaded/ported cab associated with this speaker provides a massive low-end, resulting in very nice and open high-gain tones. To take advantage of these IRs, I would recommend to keep your mids quite high (noon to 1,2,3 o'clock depending on your amp voicing) as else you may end up with an overly scooped or dark tone.

Keep also your gain and treble / presence under control, as this 1*12 setup could bring you in overly bright territories.
As stated above, this P50 / ported-cab association provides a massive low-end (check the Dyn-US-8 IRs), similar to or even more extended than some 4*12 cabinets : use a low-cut to balance your results and limit excessive bass levels. But this will also depend on the pickup/pedals/amps used, as well as the guitar tuning you play with.
Compared to a V30, the P50 will provide a little bit less open tone, giving it a darker feel but also avoiding harshness and excessive brightness in the 3,5 – 6 KHz area. It can help getting rid of excessive hiss with digital multi-effects, such as the Mooer GE modelers.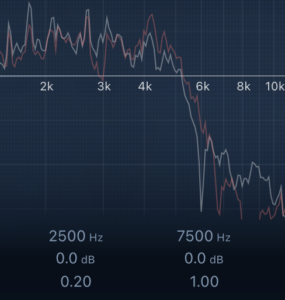 The closest or similar tone in the Celestion range of speakers would be -according to my quick comparisons- the Classic Lead™ speaker.
The P50E is an excellent speaker to discover, it can be used for many applications and the tone you can get « in the room » -with the speaker mounted in a real cab- is really nice, very powerful without being harsh.
Recorded with class-D amp, « Gen4 » settings
Samples
Tonex samples using a Tonex riff with a custom tone model (Logic Pro + Tonex plugin) : « Tonex DR CH3 ». This is a model based on my Dual Rectifier, CH3 modern (available on tone.net and presented on my TONEX resources page). IRs loaded in Nadir. Low-cut 60 Hz, hi-cut 9 KHz, no post-eq.
Remarks
Overdriven.fr is not affiliated with the brands mentioned on this page. These products and brand names are listed here to describe the hardware used for impulse capture. All brands belong to their respective owners. Check the legal disclaimer here : https://overdriven.fr/overdriven/index.php/about/.
Download link
You can download the IR files from this link : https://overdriven.fr/overdriven/index.php/download/e112-p50-ssp2-classd/
Change log
August 21, 2023 : initial creation
IR Files
CND-AU-1

OD-E112-P50-CND-AU-1-P09-40.wav
OD-E112-P50-CND-AU-1-P09-50.wav
OD-E112-P50-CND-AU-1-P10-40.wav
OD-E112-P50-CND-AU-1-P10-50.wav
OD-E112-P50-CND-AU-1-P12-40.wav
OD-E112-P50-CND-AU-1-P12-50.wav
OD-E112-P50-CND-AU-1-P15-40.wav
OD-E112-P50-CND-AU-1-P15-50.wav
OD-E112-P50-CND-AU-1-P20-40.wav
OD-E112-P50-CND-AU-1-P20-50.wav

DYN-421

OD-E112-P50-DYN-421-P10-20.wav
OD-E112-P50-DYN-421-P12-20.wav
OD-E112-P50-DYN-421-P15-20.wav
OD-E112-P50-DYN-421-P17-20.wav
OD-E112-P50-DYN-421-P20-20.wav

DYN-57

OD-E112-P50-DYN-57-P05-20.wav
OD-E112-P50-DYN-57-P09-20.wav
OD-E112-P50-DYN-57-P09-30.wav
OD-E112-P50-DYN-57-P10-20.wav
OD-E112-P50-DYN-57-P10-30.wav
OD-E112-P50-DYN-57-P12-20.wav
OD-E112-P50-DYN-57-P12-30.wav
OD-E112-P50-DYN-57-P15-20.wav
OD-E112-P50-DYN-57-P15-30.wav
OD-E112-P50-DYN-57-P20-20.wav
OD-E112-P50-DYN-57-P20-30.wav

DYN-58

OD-E112-P50-DYN-58-P05-20.wav
OD-E112-P50-DYN-58-P09-20.wav
OD-E112-P50-DYN-58-P10-20.wav
OD-E112-P50-DYN-58-P12-20.wav
OD-E112-P50-DYN-58-P15-20.wav
OD-E112-P50-DYN-58-P20-20.wav

DYN-US-8

OD-E112-P50-DYN-US-8-P00-50.wav
OD-E112-P50-DYN-US-8-P05-50.wav
OD-E112-P50-DYN-US-8-P09-50.wav
OD-E112-P50-DYN-US-8-P10-50.wav
OD-E112-P50-DYN-US-8-P12-50.wav
OD-E112-P50-DYN-US-8-P15-50.wav
OD-E112-P50-DYN-US-8-P20-50.wav