IR – UK-112 – Celestion® G12T75 – Home Studio Edition – Free Guitar Cab Impulse Responses download
Created : February 7, 2021
Terms and conditions
Before proceeding with download, please consult the terms of use, and more specifically the "impulse response" section : https://overdriven.fr/overdriven/index.php/fr/about/.
These impulse response files (IRs) are free and as mentioned in the Terms of Use, no warranty of any kind is provided with these files (issues, sound problems, inability to use them, sound quality, damages of any kind…).
CAB and mics
The guitar cabinet used for this collection is a UK 112 CAB, rear-loaded with a Celestion® G12T75 speaker (8 ohms) : a classic for metal, thrash and other energic styles…
This IR collection is way more balanced compared to the previously published collections (OD-212 and German-112) : it is globally darker and less aggressive, so probably easier to pair with amps, pedals and amp sims (same remark as the Governor, published in January : here)
If we compare the T75 to a V30 in the same cab, the result is smoother and less scooped (even a little bit boxy on some of the IRs) : this version of the T75 can support massive level of gain without sounding overly harsh and you will probably have to raise your gain/treble/presence to regain some aggressivity and clarity. Pretty cool for headphone practice IMHO.
The level of bass is quite strong, it may overtake the tone for some amps/pedals, so I'd suggest to apply some EQ if needed, such as the one on the screenshot below : low-cut + low-shelf filter for example, this will rebalance the low-end, and of course adjust to your taste / to your configuration….
There are -IMHO- a lot of solid and good tones to be achieved with these IRs, the 112 CAB here sounds pretty full and balanced, a little bit dark maybe : check the condenser mic and the DYN-US-6 for a lot of bite and aggression, the 57, 906 and 7B deliver solid tones as well… The small MB75B surprises me again …. pretty good tone 🙂

The following screenshot shows the differences in the high-mids and treble, V30 versus G12T75, same cab : it gives the T75 a smoother feel in this cab.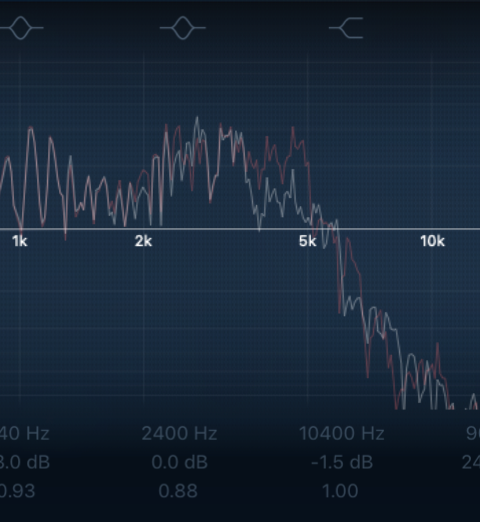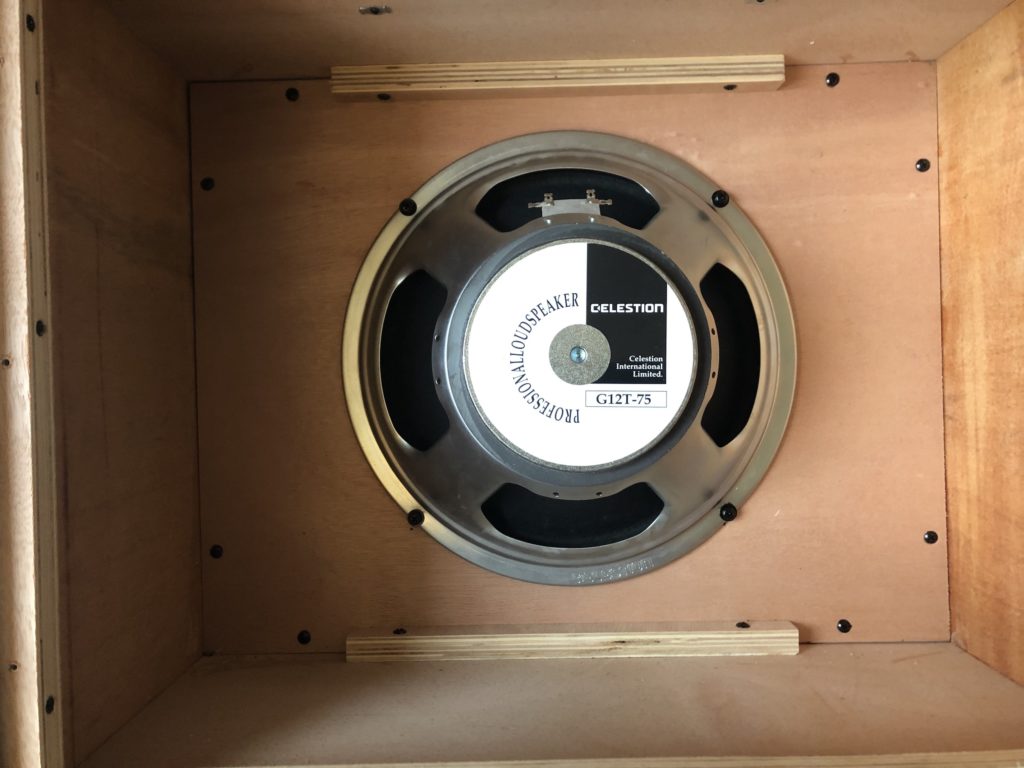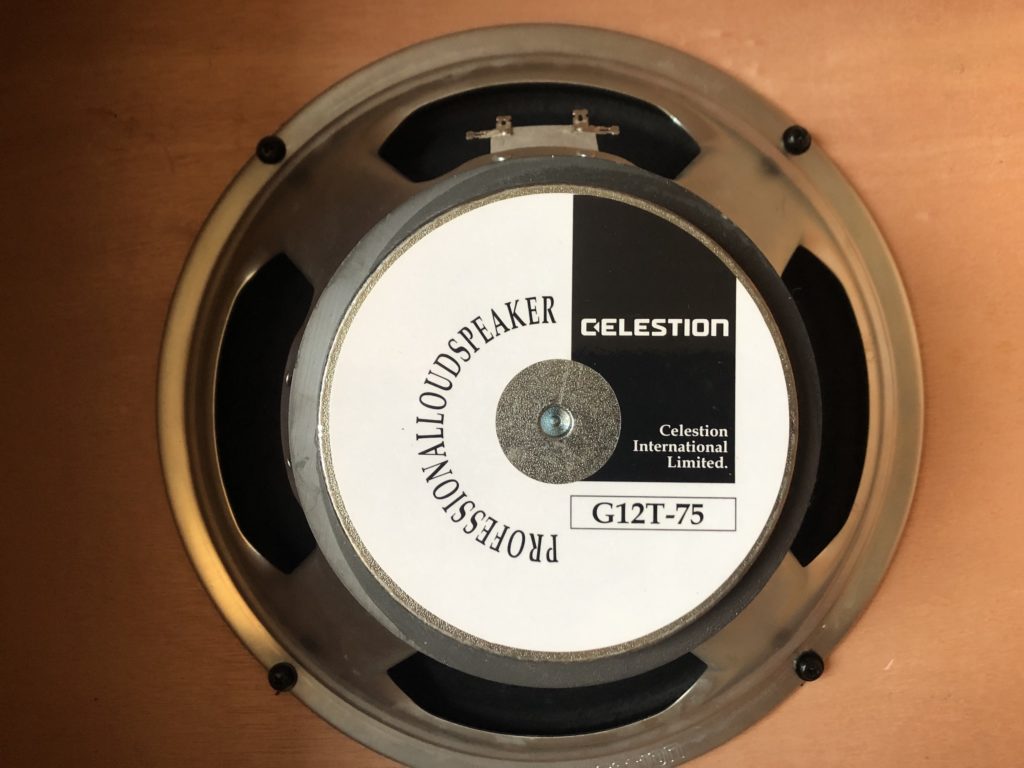 Samples
A few samples : BKP Painkiller – Drop C# – OD808 – Randall Thrasher – Torpedo Reload – Nadir – UK112-T75 IRs.
Remarks
Overdriven.fr is not affiliated with the brands mentioned on this page. These products and brand names are listed here to describe the hardware used for impulse capture. All brands belong to their respective owners. Check the legal disclaimer here : https://overdriven.fr/overdriven/index.php/about/
Download link
You can download the IR files from this page : https://overdriven.fr/overdriven/index.php/download/overdriven-uk-112-t75-ssp1-v1-0-zip/
Change log
February 7, 2021 : initial publication
IR Files
This collection contains the following mics and IR files :
CND-AU-1

OD-UK112-T75-CND-AU-1-P10-50.wav
OD-UK112-T75-CND-AU-1-P05-70.wav
OD-UK112-T75-CND-AU-1-P09-70.wav
OD-UK112-T75-CND-AU-1-P00-50.wav
OD-UK112-T75-CND-AU-1-P15-70.wav
OD-UK112-T75-CND-AU-1-P20-70.wav
OD-UK112-T75-CND-AU-1-P09-50.wav
OD-UK112-T75-CND-AU-1-P05-50.wav
OD-UK112-T75-CND-AU-1-P10-70.wav
OD-UK112-T75-CND-AU-1-P12-70.wav
OD-UK112-T75-CND-AU-1-P00-70.wav

DYN-57

OD-UK112-T75-DYN-57-P00-50.wav
OD-UK112-T75-DYN-57-P12-50.wav
OD-UK112-T75-DYN-57-P15-70.wav
OD-UK112-T75-DYN-57-P10-50.wav
OD-UK112-T75-DYN-57-P20-30.wav
OD-UK112-T75-DYN-57-P05-70.wav
OD-UK112-T75-DYN-57-P09-70.wav
OD-UK112-T75-DYN-57-P00-30.wav
OD-UK112-T75-DYN-57-P12-30.wav
OD-UK112-T75-DYN-57-P10-30.wav
OD-UK112-T75-DYN-57-P20-50.wav
OD-UK112-T75-DYN-57-P15-30.wav
OD-UK112-T75-DYN-57-P09-30.wav
OD-UK112-T75-DYN-57-P05-30.wav
OD-UK112-T75-DYN-57-P20-70.wav
OD-UK112-T75-DYN-57-P15-50.wav
OD-UK112-T75-DYN-57-P12-70.wav
OD-UK112-T75-DYN-57-P00-70.wav
OD-UK112-T75-DYN-57-P09-50.wav
OD-UK112-T75-DYN-57-P05-50.wav
OD-UK112-T75-DYN-57-P10-70.wav

DYN-58

OD-UK112-T75-DYN-58-P12-30.wav
OD-UK112-T75-DYN-58-P00-30.wav
OD-UK112-T75-DYN-58-P20-50.wav
OD-UK112-T75-DYN-58-P10-30.wav
OD-UK112-T75-DYN-58-P15-70.wav
OD-UK112-T75-DYN-58-P12-50.wav
OD-UK112-T75-DYN-58-P00-50.wav
OD-UK112-T75-DYN-58-P09-70.wav
OD-UK112-T75-DYN-58-P05-70.wav
OD-UK112-T75-DYN-58-P20-30.wav
OD-UK112-T75-DYN-58-P10-50.wav
OD-UK112-T75-DYN-58-P00-70.wav
OD-UK112-T75-DYN-58-P12-70.wav
OD-UK112-T75-DYN-58-P15-50.wav
OD-UK112-T75-DYN-58-P10-70.wav
OD-UK112-T75-DYN-58-P05-50.wav
OD-UK112-T75-DYN-58-P09-50.wav
OD-UK112-T75-DYN-58-P15-30.wav
OD-UK112-T75-DYN-58-P20-70.wav
OD-UK112-T75-DYN-58-P05-30.wav
OD-UK112-T75-DYN-58-P09-30.wav

DYN-75B

OD-UK112-T75-DYN-75B-P20-25.wav
OD-UK112-T75-DYN-75B-P05-10.wav
OD-UK112-T75-DYN-75B-P09-10.wav
OD-UK112-T75-DYN-75B-P10-25.wav
OD-UK112-T75-DYN-75B-P15-10.wav
OD-UK112-T75-DYN-75B-P12-25.wav
OD-UK112-T75-DYN-75B-P00-25.wav
OD-UK112-T75-DYN-75B-P05-25.wav
OD-UK112-T75-DYN-75B-P09-25.wav
OD-UK112-T75-DYN-75B-P10-10.wav
OD-UK112-T75-DYN-75B-P15-25.wav
OD-UK112-T75-DYN-75B-P12-10.wav
OD-UK112-T75-DYN-75B-P00-10.wav
OD-UK112-T75-DYN-75B-P20-10.wav

DYN-7B

OD-UK112-T75-DYN-7B-P15-70.wav
OD-UK112-T75-DYN-7B-P12-50.wav
OD-UK112-T75-DYN-7B-P12-100.wav
OD-UK112-T75-DYN-7B-P00-50.wav
OD-UK112-T75-DYN-7B-P09-70.wav
OD-UK112-T75-DYN-7B-P05-70.wav
OD-UK112-T75-DYN-7B-P10-50.wav
OD-UK112-T75-DYN-7B-P20-50.wav
OD-UK112-T75-DYN-7B-P10-100.wav
OD-UK112-T75-DYN-7B-P00-100.wav
OD-UK112-T75-DYN-7B-P09-100.wav
OD-UK112-T75-DYN-7B-P05-100.wav
OD-UK112-T75-DYN-7B-P15-100.wav
OD-UK112-T75-DYN-7B-P20-70.wav
OD-UK112-T75-DYN-7B-P00-70.wav
OD-UK112-T75-DYN-7B-P12-70.wav
OD-UK112-T75-DYN-7B-P15-50.wav
OD-UK112-T75-DYN-7B-P20-100.wav
OD-UK112-T75-DYN-7B-P10-70.wav
OD-UK112-T75-DYN-7B-P05-50.wav
OD-UK112-T75-DYN-7B-P09-50.wav

DYN-906

OD-UK112-T75-DYN-906-P15-50.wav
OD-UK112-T75-DYN-906-P00-70.wav
OD-UK112-T75-DYN-906-P12-70.wav
OD-UK112-T75-DYN-906-P05-50.wav
OD-UK112-T75-DYN-906-P09-50.wav
OD-UK112-T75-DYN-906-P10-70.wav
OD-UK112-T75-DYN-906-P15-30.wav
OD-UK112-T75-DYN-906-P05-30.wav
OD-UK112-T75-DYN-906-P09-30.wav
OD-UK112-T75-DYN-906-P20-70.wav
OD-UK112-T75-DYN-906-P12-30.wav
OD-UK112-T75-DYN-906-P00-30.wav
OD-UK112-T75-DYN-906-P20-50.wav
OD-UK112-T75-DYN-906-P10-30.wav
OD-UK112-T75-DYN-906-P12-50.wav
OD-UK112-T75-DYN-906-P00-50.wav
OD-UK112-T75-DYN-906-P15-70.wav
OD-UK112-T75-DYN-906-P20-30.wav
OD-UK112-T75-DYN-906-P10-50.wav
OD-UK112-T75-DYN-906-P09-70.wav
OD-UK112-T75-DYN-906-P05-70.wav

DYN-US-6

OD-UK112-T75-DYN-US-6-P15-20.wav
OD-UK112-T75-DYN-US-6-P09-30.wav
OD-UK112-T75-DYN-US-6-P05-30.wav
OD-UK112-T75-DYN-US-6-P05-20.wav
OD-UK112-T75-DYN-US-6-P09-20.wav
OD-UK112-T75-DYN-US-6-P15-30.wav
OD-UK112-T75-DYN-US-6-P12-20.wav
OD-UK112-T75-DYN-US-6-P00-20.wav
OD-UK112-T75-DYN-US-6-P10-30.wav
OD-UK112-T75-DYN-US-6-P10-20.wav
OD-UK112-T75-DYN-US-6-P00-30.wav
OD-UK112-T75-DYN-US-6-P12-30.wav
OD-UK112-T75-DYN-US-6-P20-30.wav
OD-UK112-T75-DYN-US-6-P20-20.wav

RBN-160

OD-UK112-T75-RBN-160-P12-140.wav
OD-UK112-T75-RBN-160-P10-100-BRIGHT.wav
OD-UK112-T75-RBN-160-P05-100-BRIGHT.wav
OD-UK112-T75-RBN-160-P15-100.wav
OD-UK112-T75-RBN-160-P05-100.wav
OD-UK112-T75-RBN-160-P09-100-BRIGHT.wav
OD-UK112-T75-RBN-160-P20-100.wav
OD-UK112-T75-RBN-160-P12-100-BRIGHT.wav
OD-UK112-T75-RBN-160-P09-140.wav
OD-UK112-T75-RBN-160-P00-100-BRIGHT.wav
OD-UK112-T75-RBN-160-P15-100-BRIGHT.wav
OD-UK112-T75-RBN-160-P00-140.wav
OD-UK112-T75-RBN-160-P10-140.wav
OD-UK112-T75-RBN-160-P15-140.wav
OD-UK112-T75-RBN-160-P05-140.wav
OD-UK112-T75-RBN-160-P12-100.wav
OD-UK112-T75-RBN-160-P20-100-BRIGHT.wav
OD-UK112-T75-RBN-160-P20-140.wav
OD-UK112-T75-RBN-160-P00-100.wav
OD-UK112-T75-RBN-160-P10-100.wav