IR – UK-112 – Eminence® The Governor – Home Studio Edition – Free Guitar Cab Impulse Responses download
Created : January 24, 2021
Updated : January 31, 2021
Terms and conditions
Before proceeding with download, please consult the terms of use, and more specifically the "impulse response" section : https://overdriven.fr/overdriven/index.php/fr/about/.
These impulse response files (IRs) are free and as mentioned in the Terms of Use, no warranty of any kind is provided with these files (issues, sound problems, inability to use them, sound quality, damages of any kind…).
CAB and mics
The guitar cabinet used for this collection is a UK 112 CAB, rear-loaded with an Eminence® The Governor speaker (8 ohms). The Governor is -IMHO- a very interesting speaker for metal and other saturated guitar tones and probably deserves more interest from the guitar players community as it is capable of great tones. This collection is way more balanced compared to the previous 6L6 and German-112 one : it is globally darker and less aggressive, so probably easier to pair with amps, pedals and amp sims.
In comparison to a V30, it is less aggressive in the highs as it's treble starts rolling off sooner than the Vintage 30 : it's high spikes are around 2 kHz and 2,4 kHz and the highs start dropping sharply just before 5 kHz. So it produces less ice picking effect than the V30 and this probably reduces the scooped feel as well. It supports high-gain tones very nicely. I included -in this first version of the collection- IRs captured with the DYN-75B : this is an affordable dynamic mic (T.Bone MB75B) that turns out to provide a great tone with the Governor : worth a try, in my opinion. Also, this collection starts using more positions per microphone, to provide more choices and options 😉.
The frequency responses from the Logic EQ below show the differences in high-mids and highs between the Governor and a Vintage 30 (same cab, SM57, P10 position) : the Governor is less aggressive in the 5 kHz area, with this cab.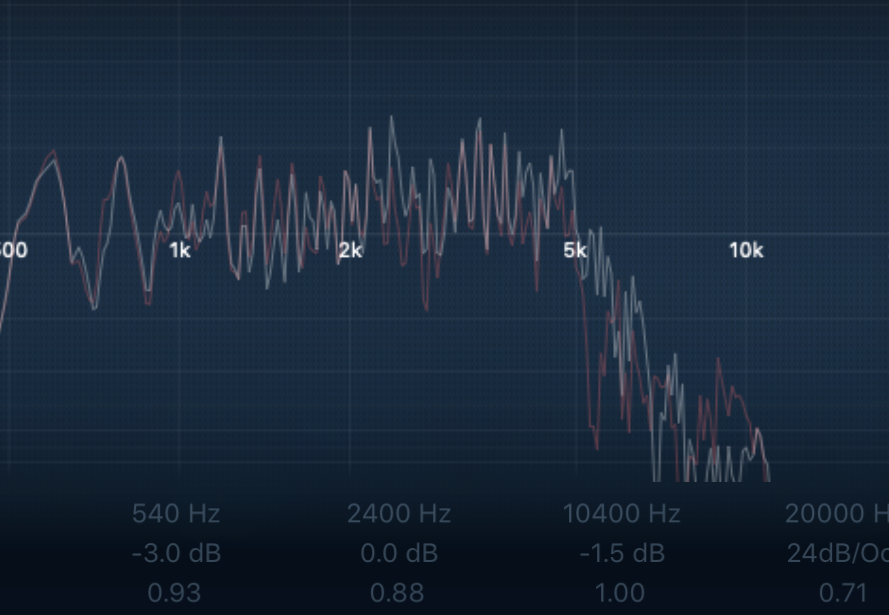 Check the IR positions explanation here (microphone placement) : https://overdriven.fr/overdriven/index.php/irdownloads/ and here : https://overdriven.fr/overdriven/index.php/2020/07/30/home-studio-upgrade-and-2nd-gen-irs/
The preamp used is the "SSP1" (solid state preamp).
UK 112 cabinet read-loaded with an Eminence® The Governor, 8 ohms
"S2" is a distinct power-amp setting.
"LOWCUT" or "LCUT" is a shelf filter used to reduced low-end at capture time
"HFTILT" is a microphone setting to raise the presence/highs at capture time
6 dynamic mics, 2 ribbon mics, 1 condenser mic, 145 IR files in WAV 44 kHz format
9 microphones :

DYN-57
DYN-906
RBN-160
DYN-421
DYN-7B
DYN-US-6
RBN-CN-1
CND-AU-1
DYN-75B

Recorded in home studio conditions
Recorded with a KT88 power amp section only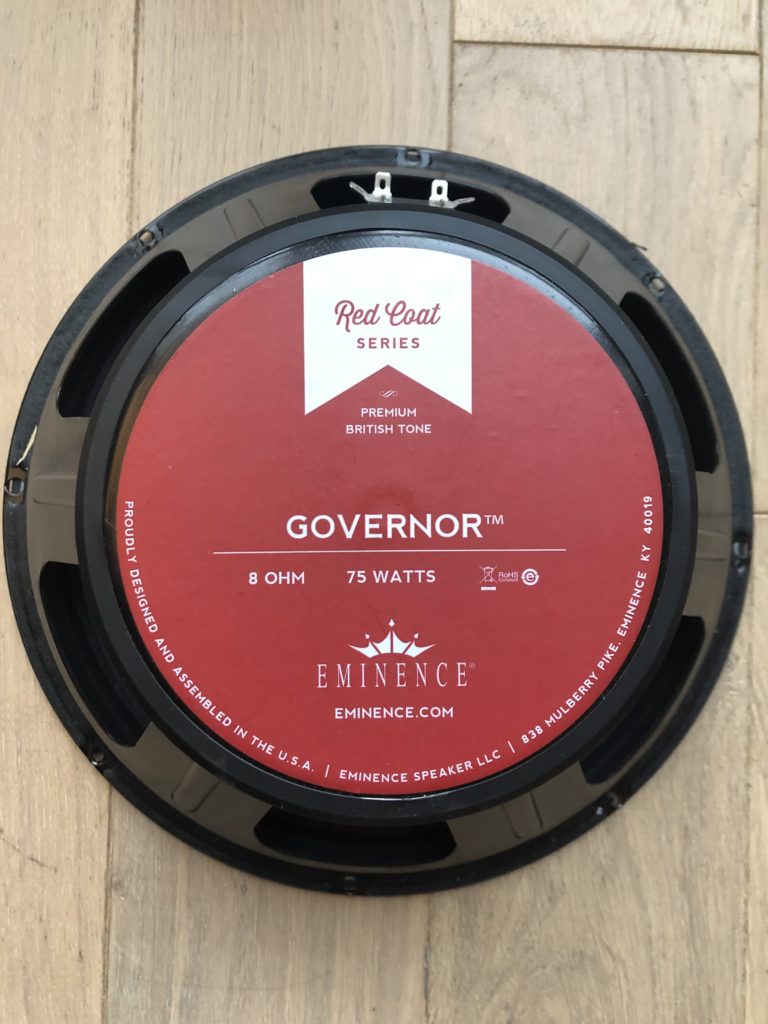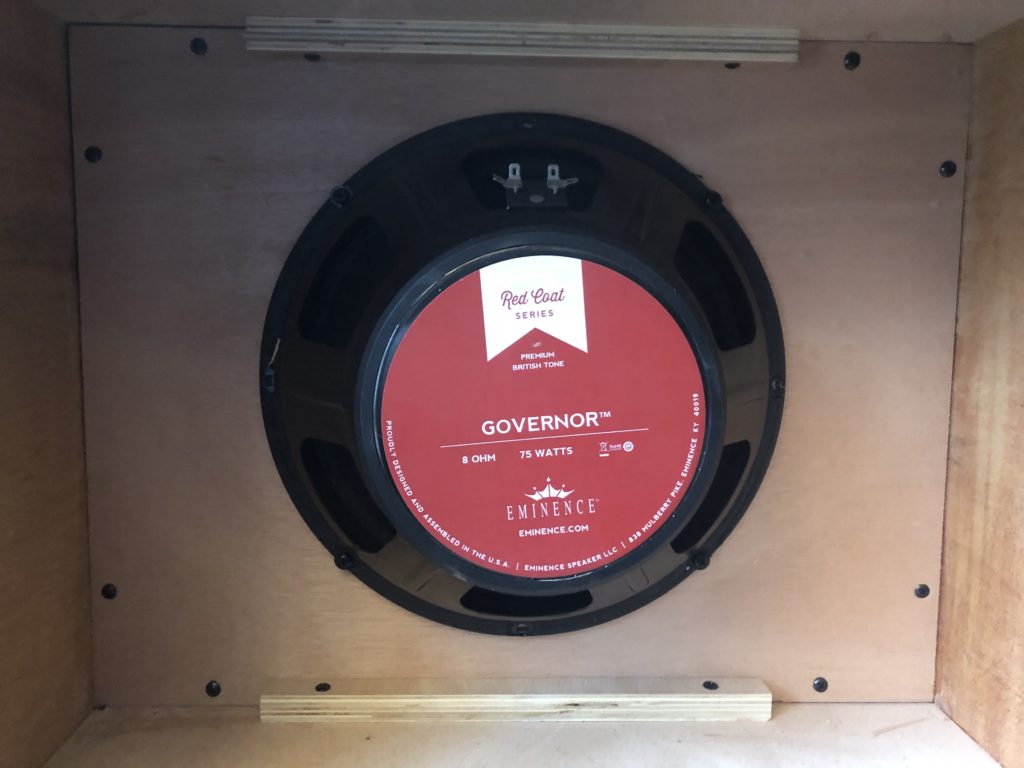 Samples
Dual tracking of Killswitch Engage version of Holy diver riff, for tone demos purposes. Drop C – Fishman Will Adler – Thrasher – Torpedo Reload – Nadir – UK-112 The Governor IRs.
Remarks
Overdriven.fr is not affiliated with the brands mentioned on this page. These products and brand names are listed here to describe the hardware used for impulse capture. All brands belong to their respective owners. Check the legal disclaimer here : https://overdriven.fr/overdriven/index.php/about/
Download link
You can download the IR files from this page : https://overdriven.fr/overdriven/index.php/download/overdriven-uk-112-gov-ssp1-v1-0-zip/
Change log
January 24, 2021 : initial publication
January 31, 2021 : samples description update
IR Files
This collection contains the following mics and IR files :
DYN-57

OD-UK112-GOV-DYN-57-P15-50.wav
OD-UK112-GOV-DYN-57-P10-60.wav
OD-UK112-GOV-DYN-57-P05-50-S2.wav
OD-UK112-GOV-DYN-57-P09-60-S2.wav
OD-UK112-GOV-DYN-57-P05-50.wav
OD-UK112-GOV-DYN-57-P12-60.wav
OD-UK112-GOV-DYN-57-P00-60.wav
OD-UK112-GOV-DYN-57-P09-50.wav
OD-UK112-GOV-DYN-57-P10-60-S2.wav
OD-UK112-GOV-DYN-57-P12-30-S2.wav
OD-UK112-GOV-DYN-57-P20-60.wav
OD-UK112-GOV-DYN-57-P10-50-S2.wav
OD-UK112-GOV-DYN-57-P00-30-S2.wav
OD-UK112-GOV-DYN-57-P09-50-S2.wav
OD-UK112-GOV-DYN-57-P05-60-S2.wav
OD-UK112-GOV-DYN-57-P05-30-S2.wav
OD-UK112-GOV-DYN-57-P00-60-S2.wav
OD-UK112-GOV-DYN-57-P12-60-S2.wav
OD-UK112-GOV-DYN-57-P00-50-S2.wav
OD-UK112-GOV-DYN-57-P10-30-S2.wav
OD-UK112-GOV-DYN-57-P15-60-S2.wav
OD-UK112-GOV-DYN-57-P05-60.wav
OD-UK112-GOV-DYN-57-P12-50.wav
OD-UK112-GOV-DYN-57-P20-60-S2.wav
OD-UK112-GOV-DYN-57-P09-30-S2.wav
OD-UK112-GOV-DYN-57-P09-60.wav
OD-UK112-GOV-DYN-57-P00-50.wav
OD-UK112-GOV-DYN-57-P15-60.wav
OD-UK112-GOV-DYN-57-P10-50.wav
OD-UK112-GOV-DYN-57-P12-50-S2.wav

DYN-906

OD-UK112-GOV-DYN-906-P15-50-HFTILT.wav
OD-UK112-GOV-DYN-906-P12-50-HFTILT.wav
OD-UK112-GOV-DYN-906-P05-50-HFTILT.wav
OD-UK112-GOV-DYN-906-P15-30-HFTILT.wav
OD-UK112-GOV-DYN-906-P05-30-HFTILT.wav
OD-UK112-GOV-DYN-906-P12-30-HFTILT.wav
OD-UK112-GOV-DYN-906-P00-30-HFTILT.wav
OD-UK112-GOV-DYN-906-P09-50-HFTILT.wav
OD-UK112-GOV-DYN-906-P10-30-HFTILT.wav
OD-UK112-GOV-DYN-906-P09-30-HFTILT.wav
OD-UK112-GOV-DYN-906-P00-50-HFTILT.wav
OD-UK112-GOV-DYN-906-P10-50-HFTILT.wav

RBN-160

OD-UK112-GOV-RBN-160-P20-100.wav
OD-UK112-GOV-RBN-160-P09-140.wav
OD-UK112-GOV-RBN-160-P00-140.wav
OD-UK112-GOV-RBN-160-P10-140.wav
OD-UK112-GOV-RBN-160-P10-70-LCUT.wav
OD-UK112-GOV-RBN-160-P12-140.wav
OD-UK112-GOV-RBN-160-P15-100.wav
OD-UK112-GOV-RBN-160-P05-100.wav
OD-UK112-GOV-RBN-160-P05-70-LCUT.wav
OD-UK112-GOV-RBN-160-P00-70-LCUT.wav
OD-UK112-GOV-RBN-160-P15-70-LCUT.wav
OD-UK112-GOV-RBN-160-P09-70-LCUT.wav
OD-UK112-GOV-RBN-160-P12-70-LCUT.wav
OD-UK112-GOV-RBN-160-P20-70-LCUT.wav
OD-UK112-GOV-RBN-160-P20-140.wav
OD-UK112-GOV-RBN-160-P00-100.wav
OD-UK112-GOV-RBN-160-P10-100.wav
OD-UK112-GOV-RBN-160-P20-70.wav
OD-UK112-GOV-RBN-160-P20-70-LCUT-BRIGHT.wav
OD-UK112-GOV-RBN-160-P09-100.wav
OD-UK112-GOV-RBN-160-P15-140.wav
OD-UK112-GOV-RBN-160-P05-140.wav
OD-UK112-GOV-RBN-160-P12-100.wav
OD-UK112-GOV-RBN-160-P15-70-LCUT-BRIGHT.wav

DYN-421

OD-UK112-GOV-DYN-421-P05-30-R1.wav
OD-UK112-GOV-DYN-421-P20-30.wav
OD-UK112-GOV-DYN-421-P10-30-R1.wav
OD-UK112-GOV-DYN-421-P10-30.wav
OD-UK112-GOV-DYN-421-P09-30-R1.wav
OD-UK112-GOV-DYN-421-P00-30.wav
OD-UK112-GOV-DYN-421-P12-30.wav
OD-UK112-GOV-DYN-421-P09-30.wav
OD-UK112-GOV-DYN-421-P05-30.wav
OD-UK112-GOV-DYN-421-P15-30-R1.wav
OD-UK112-GOV-DYN-421-P20-30-R1.wav
OD-UK112-GOV-DYN-421-P15-30.wav
OD-UK112-GOV-DYN-421-P12-30-R1.wav
OD-UK112-GOV-DYN-421-P00-30-R1.wav

DYN-US-6

OD-UK112-GOV-DYN-US-6-P15-20.wav
OD-UK112-GOV-DYN-US-6-P05-30.wav
OD-UK112-GOV-DYN-US-6-P09-30.wav
OD-UK112-GOV-DYN-US-6-P09-20.wav
OD-UK112-GOV-DYN-US-6-P05-20.wav
OD-UK112-GOV-DYN-US-6-P15-30.wav
OD-UK112-GOV-DYN-US-6-P00-20.wav
OD-UK112-GOV-DYN-US-6-P12-20.wav
OD-UK112-GOV-DYN-US-6-P10-30.wav
OD-UK112-GOV-DYN-US-6-P10-20.wav
OD-UK112-GOV-DYN-US-6-P12-30.wav
OD-UK112-GOV-DYN-US-6-P00-30.wav

RBN-CN-1

OD-UK112-GOV-RBN-CN-1-P00-140.wav
OD-UK112-GOV-RBN-CN-1-P05-80-LOWCUT.wav
OD-UK112-GOV-RBN-CN-1-P09-80-LCUT.wav
OD-UK112-GOV-RBN-CN-1-P15-80-LCUT.wav
OD-UK112-GOV-RBN-CN-1-P10-80-LCUT.wav
OD-UK112-GOV-RBN-CN-1-P20-80-LCUT-BRIGHT.wav
OD-UK112-GOV-RBN-CN-1-P00-200.wav
OD-UK112-GOV-RBN-CN-1-P20-80-LCUT.wav
OD-UK112-GOV-RBN-CN-1-P00-80-LOWCUT.wav
OD-UK112-GOV-RBN-CN-1-P12-80-LCUT.wav
OD-UK112-GOV-RBN-CN-1-P00-170.wav

CND-AU-1

OD-UK112-GOV-CND-AU-1-P20-50.wav
OD-UK112-GOV-CND-AU-1-P10-50.wav
OD-UK112-GOV-CND-AU-1-P09-70.wav
OD-UK112-GOV-CND-AU-1-P05-70.wav
OD-UK112-GOV-CND-AU-1-P12-50.wav
OD-UK112-GOV-CND-AU-1-P00-50.wav
OD-UK112-GOV-CND-AU-1-P15-70.wav
OD-UK112-GOV-CND-AU-1-P05-50.wav
OD-UK112-GOV-CND-AU-1-P09-50.wav
OD-UK112-GOV-CND-AU-1-P10-70.wav
OD-UK112-GOV-CND-AU-1-P15-50.wav
OD-UK112-GOV-CND-AU-1-P00-70.wav
OD-UK112-GOV-CND-AU-1-P12-70.wav
OD-UK112-GOV-CND-AU-1-P20-70.wav

DYN-7B

OD-UK112-GOV-DYN-7B-P15-50-HFTILT.wav
OD-UK112-GOV-DYN-7B-P20-40-HFTILT.wav
OD-UK112-GOV-DYN-7B-P09-40-HFTILT.wav
OD-UK112-GOV-DYN-7B-P05-50-HFTILT.wav
OD-UK112-GOV-DYN-7B-P12-50-HFTILT.wav
OD-UK112-GOV-DYN-7B-P10-40-HFTILT.wav
OD-UK112-GOV-DYN-7B-P00-40-HFTILT.wav
OD-UK112-GOV-DYN-7B-P12-40-HFTILT.wav
OD-UK112-GOV-DYN-7B-P05-40-HFTILT.wav
OD-UK112-GOV-DYN-7B-P09-50-HFTILT.wav
OD-UK112-GOV-DYN-7B-P20-50-HFTILT.wav
OD-UK112-GOV-DYN-7B-P15-40-HFTILT.wav
OD-UK112-GOV-DYN-7B-P00-50-HFTILT.wav
OD-UK112-GOV-DYN-7B-P10-50-HFTILT.wav

DYN-75B

OD-UK112-GOV-DYN-75B-P20-25.wav
OD-UK112-GOV-DYN-75B-P00-25.wav
OD-UK112-GOV-DYN-75B-P15-10.wav
OD-UK112-GOV-DYN-75B-P12-25.wav
OD-UK112-GOV-DYN-75B-P10-25.wav
OD-UK112-GOV-DYN-75B-P09-10.wav
OD-UK112-GOV-DYN-75B-P05-10.wav
OD-UK112-GOV-DYN-75B-P00-10.wav
OD-UK112-GOV-DYN-75B-P15-25.wav
OD-UK112-GOV-DYN-75B-P12-10.wav
OD-UK112-GOV-DYN-75B-P10-10.wav
OD-UK112-GOV-DYN-75B-P09-25.wav
OD-UK112-GOV-DYN-75B-P05-25.wav
OD-UK112-GOV-DYN-75B-P20-10.wav