IR – Zilla® Fatboy – 212 – Celestion® V30 – KT88 – Home Studio Edition – Free Guitar Cab Impulse Responses download
Terms and conditions
Before proceeding with download, please consult the terms of use, and more specifically the "impulse response" section : https://overdriven.fr/overdriven/index.php/fr/about/.
These impulse response files (IRs) are free and as mentioned in the Terms of Use, no warranty of any kind is provided with these files (issues, sound problems, inability to use them, sound quality, damages of any kind…).
The riffs and partial song covers presented here as samples are used for illustration and educational purposes (using amps and IRs). These riffs and songs remain the property of their copyright owners.
Cab and Mics
The cab used is a Zilla® Fatboy (2*12) rear-loaded with two Celestion® Vintage 30, 8 ohms, wired in serial. This collection contains the capture of one of the two Vintage 30 : I chose to capture mainly the smoothest one of the two (see remark below). The Zilla® Fatboy is a very good and balanced 2*12 custom cab, made to order by Zilla Cabs : check ZillaCabs website at https://www.zillacabs.com. The Fatboy is a 212 similar in size and volume to a Mesa Recto 212 or an Hesu 212.
The tone you can get from this first version of the collection is quite balanced and relatively dark : it provides good bass extension (the 36 cm depth of the cab helps in this matter), and a moderately scooped tone with the V30's. With bass heavy amps or settings, you will probably need to cut a little bit the low-end : an HPF and a shelf in the 100-400 Hz area may help you regain clarity and avoid the bass to overtake the whole tone. This first collection contains the closest positions (so the bass level of the IRs is quite important) : the collection will be upgraded with additional positions, further away from the cab to provide additional / clearer options.
The two V30s used are both 8 ohms : one of the two was new and not much used yet. I expected it to sound harsher and was surprised to find out that it was actually smoother with less aggressivity in the 6-10 kHz area :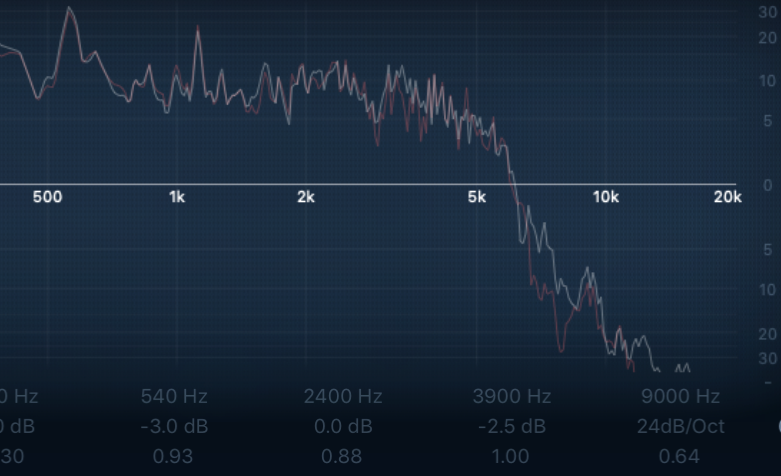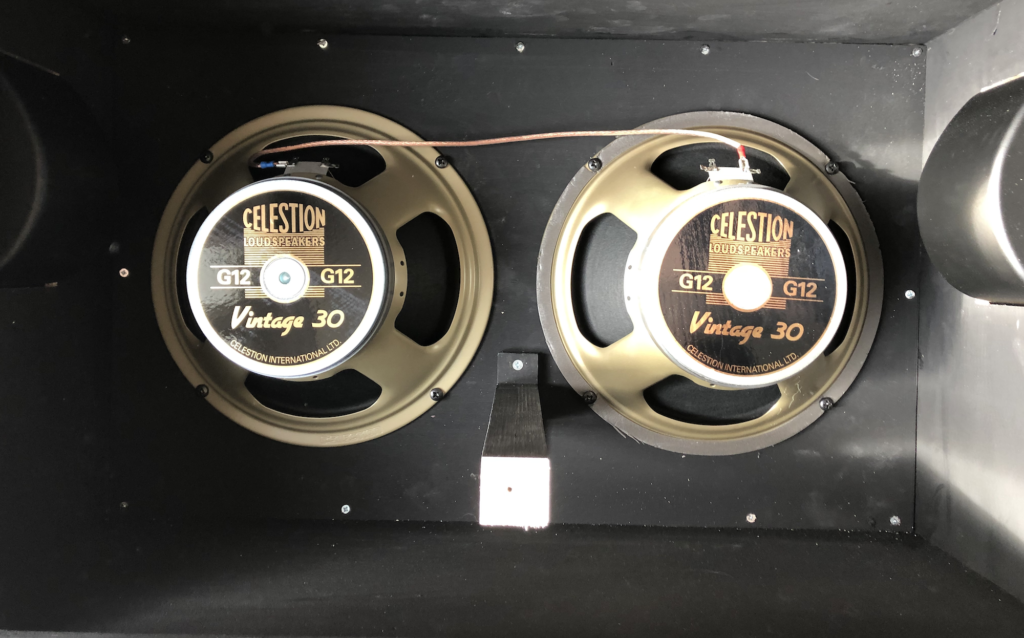 Check the condenser and the DYN-US-6 for more bite and definition. Check the RBN-160 for a smoother and darker feel. Quite balanced tone from the others dynamic mics.
Samples
Samples created with : EMG81 (drop D), Fishman Fluence WA (Drop C), Horizon Devices Precision Drive, Dark Terror / Thrasher50, Torpedo Reload, Nadir with Fatboy V30 IRs, FabFilter L2 (transparent mode), FabFilter Q2 for low-cut/high cut samples.
Remarks
Overdriven.fr is not affiliated with the brands mentioned on this page. These products and brand names are listed here to describe the hardware used for impulse capture. All brands belong to their respective owners. Check the legal disclaimer here : https://overdriven.fr/overdriven/index.php/about/
Download link
You can download the IR files from this page : https://overdriven.fr/overdriven/index.php/download/overdriven-fatboy-v30-ssp1-kt88/
Change log
March 7, 2021 : initial publication
March 14, 2021 : added samples
IR Files
This collection contains the following mics and IR files :
CND-2020

OD-FB-V30-CND-2020-P19-30.wav
OD-FB-V30-CND-2020-P15-30.wav
OD-FB-V30-CND-2020-P17-30.wav
OD-FB-V30-CND-2020-P09-30.wav
OD-FB-V30-CND-2020-P21-30.wav
OD-FB-V30-CND-2020-P12-30.wav
OD-FB-V30-CND-2020-P10-30.wav
OD-FB-V30-CND-2020-P20-30.wav

DYN-57

OD-FB-V30-DYN-57-P20-30.wav
OD-FB-V30-DYN-57-P20-20.wav
OD-FB-V30-DYN-57-P12-20.wav
OD-FB-V30-DYN-57-P17-10.wav
OD-FB-V30-DYN-57-P21-10.wav
OD-FB-V30-DYN-57-P20-40.wav
OD-FB-V30-DYN-57-P15-10.wav
OD-FB-V30-DYN-57-P10-20.wav
OD-FB-V30-DYN-57-P19-10.wav
OD-FB-V30-DYN-57-P15-20.wav
OD-FB-V30-DYN-57-P19-20.wav
OD-FB-V30-DYN-57-P10-10.wav
OD-FB-V30-DYN-57-P21-30.wav
OD-FB-V30-DYN-57-P12-10.wav
OD-FB-V30-DYN-57-P17-20.wav
OD-FB-V30-DYN-57-P21-20.wav
OD-FB-V30-DYN-57-P19-30.wav
OD-FB-V30-DYN-57-P20-10.wav
OD-FB-V30-DYN-57-P19-40.wav
OD-FB-V30-DYN-57-P21-40.wav

DYN-75B

OD-FB-V30-DYN-75B-P15-20.wav
OD-FB-V30-DYN-75B-P19-20.wav
OD-FB-V30-DYN-75B-P17-20.wav
OD-FB-V30-DYN-75B-P12-20.wav
OD-FB-V30-DYN-75B-P10-20.wav
OD-FB-V30-DYN-75B-P20-20.wav

DYN-7B

OD-FB-V30-DYN-7B-P20-30.wav
OD-FB-V30-DYN-7B-P20-20.wav
OD-FB-V30-DYN-7B-P10-30.wav
OD-FB-V30-DYN-7B-P17-10.wav
OD-FB-V30-DYN-7B-P09-10.wav
OD-FB-V30-DYN-7B-P12-20.wav
OD-FB-V30-DYN-7B-P12-30.wav
OD-FB-V30-DYN-7B-P19-10.wav
OD-FB-V30-DYN-7B-P10-20.wav
OD-FB-V30-DYN-7B-P15-10.wav
OD-FB-V30-DYN-7B-P09-30.wav
OD-FB-V30-DYN-7B-P17-30.wav
OD-FB-V30-DYN-7B-P10-10.wav
OD-FB-V30-DYN-7B-P19-20.wav
OD-FB-V30-DYN-7B-P15-20.wav
OD-FB-V30-DYN-7B-P15-30.wav
OD-FB-V30-DYN-7B-P19-30.wav
OD-FB-V30-DYN-7B-P17-20.wav
OD-FB-V30-DYN-7B-P09-20.wav
OD-FB-V30-DYN-7B-P12-10.wav
OD-FB-V30-DYN-7B-P20-10.wav

DYN-US-6

OD-FB-V30-DYN-US-6-P17-10.wav
OD-FB-V30-DYN-US-6-P21-10.wav
OD-FB-V30-DYN-US-6-P19-10.wav
OD-FB-V30-DYN-US-6-P15-10.wav
OD-FB-V30-DYN-US-6-P10-10.wav
OD-FB-V30-DYN-US-6-P12-10.wav
OD-FB-V30-DYN-US-6-P20-10.wav

RBN-160

OD-FB-V30-RBN-160-P15-40.wav
OD-FB-V30-RBN-160-P19-40.wav
OD-FB-V30-RBN-160-P12-60.wav
OD-FB-V30-RBN-160-P05-40.wav
OD-FB-V30-RBN-160-P09-40.wav
OD-FB-V30-RBN-160-P17-40.wav
OD-FB-V30-RBN-160-P10-60.wav
OD-FB-V30-RBN-160-P20-60.wav
OD-FB-V30-RBN-160-P20-40.wav
OD-FB-V30-RBN-160-P12-40.wav
OD-FB-V30-RBN-160-P19-60.wav
OD-FB-V30-RBN-160-P15-60.wav
OD-FB-V30-RBN-160-P10-40.wav
OD-FB-V30-RBN-160-P17-60.wav
OD-FB-V30-RBN-160-P09-60.wav
OD-FB-V30-RBN-160-P05-60.wav