UK-212 / Demon – KT88 – Home Studio Edition – Free Guitar Cab Impulse Responses download
Created : December 13, 2021
Updated : January 4, 2022
Terms and conditions
Before proceeding with download, please consult the terms of use, and more specifically the "impulse response" section : https://overdriven.fr/overdriven/index.php/fr/about/.
These impulse response files (IRs) are free and as mentioned in the Terms of Use, no warranty of any kind is provided with these files (issues, sound problems, inability to use them, sound quality, damages of any kind…).
The riffs and partial song covers presented here as samples are used for illustration and educational purposes (using amps and IRs). These riffs and songs remain the property of their copyright owners.
Cab and Mics
The cab used is a Zilla® Fatboy (2*12) rear-loaded with two Hesu® Demon, 8 ohms, wired in parallel. This collection contains captures of both speakers (the "new" one and the "old" one) : these are similar 8 ohms speakers but they provide two different and complementary flavors of the Demon tone. The "left" speaker (-L in the filenames) has both more bass and more bite and provides the most scooped tone of the two. The "right" one (-R) is more even, less scooped with less bass extension. It can give a "boxy" or tighter feeling on some of the captures (the "-EQ" ones, mostly). The Demon is made for rock and metal and these captures will work nicely with downtuned guitars. For standard tuning or drop-D you may have to slightly beef-up the low end (100-350 Hz), especially with dry pickups (say EMG 81) or amps.
The Zilla® Fatboy is a very good and balanced 2*12 custom cab, made to order by Zilla Cabs : check ZillaCabs website at https://www.zillacabs.com. The Fatboy is a 212 similar in size and volume to a Mesa Recto 212 or an Hesu 212.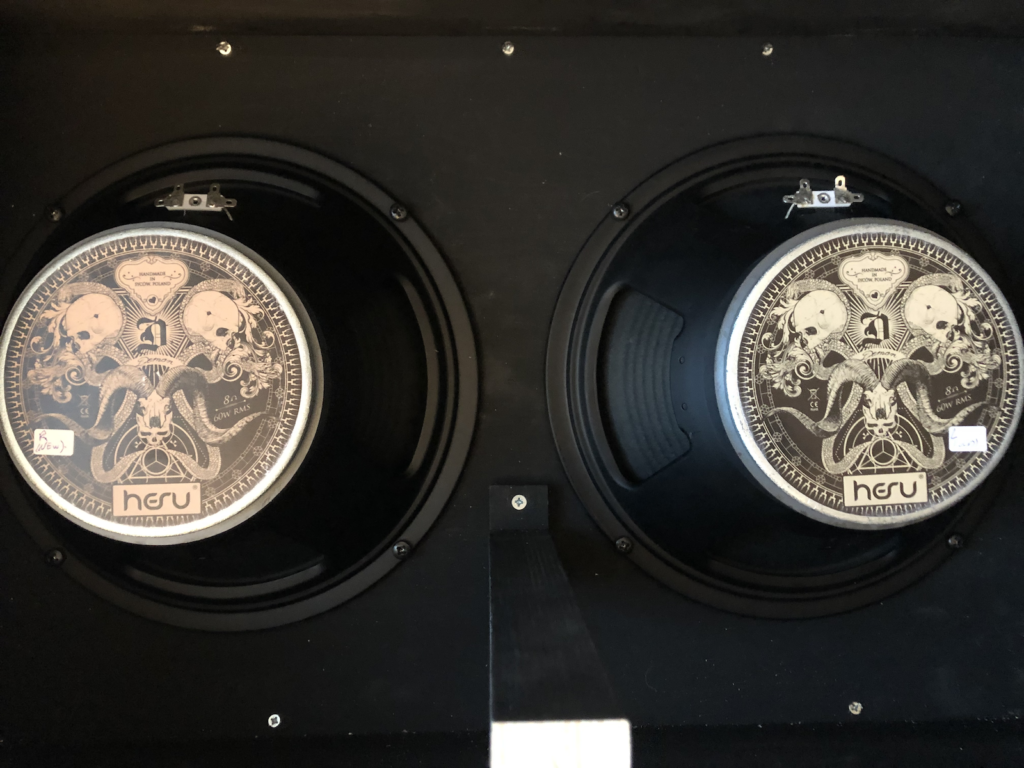 4 dynamic mics, 1 ribbon mic, 135 IR files in WAV 44 kHz forma

t, 50 m

s
5 microphones :

DYN-US-8 (EV RE-20)
DYN-US-6
RBN-160

Recorded in home studio conditions
Recorded with a KT88 power amp section only
-L suffix is Left speaker and the -R is for Right speaker
-EQ : big mids bump for less scooped tone
-LCUT : low-cut applied at capture time
Samples
The samples below are created with the following signal chain :
Fishman Willie Adler pickups, active voicing, drop C
Mooer GE300 (block used : FXA or OD, AMP, CAB)
USB recording in logic pro
Low-cut and high-cut to limit boominess and harshness
GE300 amps used :
Cali Dual 2 (24)
Shit Cow RD (91)
P-SAVAGE C4 (download pack on Mooer website)
Petey Satch UL (62)
Herby CH3 (65)
IRs used in the tracks :
FBDEM 01 : DYN-US-8
FBDEM 02 : RBN-160
FBDEM 03 : DYN-57
FBDEM 04 : DYN-US-6
Remarks
Overdriven.fr is not affiliated with the brands mentioned on this page. These products and brand names are listed here to describe the hardware used for impulse capture. All brands belong to their respective owners. Check the legal disclaimer here : https://overdriven.fr/overdriven/index.php/about/
Download link
You can download the IR Files under this link : https://overdriven.fr/overdriven/index.php/download/overdriven-uk-212-demon-ssp1-kt88/
Change log
December 13, 2021 : initial publication
December 19, 2021 : added samples, update to download page
January 4, 2022 : added missing Zilla paragraph
IR Files
This collection contains the following mics and IR files :
DYN-57

OD-FB-DEM-DYN-57-P09-20-L-CUT.wav
OD-FB-DEM-DYN-57-P09-20-L-EQ-CUT.wav
OD-FB-DEM-DYN-57-P09-20-L-EQ.wav
OD-FB-DEM-DYN-57-P09-20-L.wav
OD-FB-DEM-DYN-57-P09-20-R-CUT.wav
OD-FB-DEM-DYN-57-P09-20-R-EQ-CUT.wav
OD-FB-DEM-DYN-57-P09-20-R-EQ.wav
OD-FB-DEM-DYN-57-P09-20-R.wav
OD-FB-DEM-DYN-57-P10-20-L-CUT.wav
OD-FB-DEM-DYN-57-P10-20-L-EQ-CUT.wav
OD-FB-DEM-DYN-57-P10-20-L-EQ.wav
OD-FB-DEM-DYN-57-P10-20-L.wav
OD-FB-DEM-DYN-57-P10-20-R-CUT-EQ.wav
OD-FB-DEM-DYN-57-P10-20-R-CUT.wav
OD-FB-DEM-DYN-57-P10-20-R-EQ.wav
OD-FB-DEM-DYN-57-P10-20-R.wav
OD-FB-DEM-DYN-57-P12-20-L-CUT.wav
OD-FB-DEM-DYN-57-P12-20-L-EQ-CUT.wav
OD-FB-DEM-DYN-57-P12-20-L-EQ.wav
OD-FB-DEM-DYN-57-P12-20-L.wav
OD-FB-DEM-DYN-57-P12-20-R-CUT.wav
OD-FB-DEM-DYN-57-P12-20-R-EQ-CUT.wav
OD-FB-DEM-DYN-57-P12-20-R-EQ.wav
OD-FB-DEM-DYN-57-P12-20-R.wav
OD-FB-DEM-DYN-57-P15-20-L-EQ.wav
OD-FB-DEM-DYN-57-P15-20-L.wav
OD-FB-DEM-DYN-57-P15-20-R-CUT.wav
OD-FB-DEM-DYN-57-P15-20-R-EQ-CUT.wav
OD-FB-DEM-DYN-57-P15-20-R-EQ.wav
OD-FB-DEM-DYN-57-P15-20-R.wav

DYN-85B

OD-FB-DEM-DYN-85B-P00-30-L.wav
OD-FB-DEM-DYN-85B-P05-10-R.wav
OD-FB-DEM-DYN-85B-P05-30-L.wav
OD-FB-DEM-DYN-85B-P09-10-R.wav
OD-FB-DEM-DYN-85B-P09-30-L.wav
OD-FB-DEM-DYN-85B-P10-10-R.wav
OD-FB-DEM-DYN-85B-P10-30-L.wav
OD-FB-DEM-DYN-85B-P12-10-R.wav
OD-FB-DEM-DYN-85B-P12-30-L.wav
OD-FB-DEM-DYN-85B-P15-10-R.wav
OD-FB-DEM-DYN-85B-P15-30-L.wav
OD-FB-DEM-DYN-85B-P20-30-L.wav

DYN-US-6

OD-FB-DEM-DYN-US-6-P00-15-L.wav
OD-FB-DEM-DYN-US-6-P00-20-L.wav
OD-FB-DEM-DYN-US-6-P00-20-R.wav
OD-FB-DEM-DYN-US-6-P00-30-L.wav
OD-FB-DEM-DYN-US-6-P00-30-R.wav
OD-FB-DEM-DYN-US-6-P05-15-L.wav
OD-FB-DEM-DYN-US-6-P05-20-L.wav
OD-FB-DEM-DYN-US-6-P05-20-R.wav
OD-FB-DEM-DYN-US-6-P05-30-L.wav
OD-FB-DEM-DYN-US-6-P05-30-R.wav
OD-FB-DEM-DYN-US-6-P09-15-L.wav
OD-FB-DEM-DYN-US-6-P09-20-L.wav
OD-FB-DEM-DYN-US-6-P09-20-R.wav
OD-FB-DEM-DYN-US-6-P09-30-L.wav
OD-FB-DEM-DYN-US-6-P09-30-R.wav
OD-FB-DEM-DYN-US-6-P10-15-L-EQ.wav
OD-FB-DEM-DYN-US-6-P10-15-L.wav
OD-FB-DEM-DYN-US-6-P10-20-L.wav
OD-FB-DEM-DYN-US-6-P10-20-R.wav
OD-FB-DEM-DYN-US-6-P10-30-L.wav
OD-FB-DEM-DYN-US-6-P10-30-R.wav
OD-FB-DEM-DYN-US-6-P12-20-L.wav
OD-FB-DEM-DYN-US-6-P12-20-R.wav
OD-FB-DEM-DYN-US-6-P12-30-L.wav
OD-FB-DEM-DYN-US-6-P12-30-R.wav
OD-FB-DEM-DYN-US-6-P15-20-R.wav
OD-FB-DEM-DYN-US-6-P15-30-R.wav

DYN-US-8

OD-FB-DEM-DYN-US-8-P00-50-L.wav
OD-FB-DEM-DYN-US-8-P00-70-L-EQ.wav
OD-FB-DEM-DYN-US-8-P00-70-L.wav
OD-FB-DEM-DYN-US-8-P00-70-R-EQ.wav
OD-FB-DEM-DYN-US-8-P00-70-R.wav
OD-FB-DEM-DYN-US-8-P00-90-L-EQ.wav
OD-FB-DEM-DYN-US-8-P00-90-L.wav
OD-FB-DEM-DYN-US-8-P05-70-R-EQ.wav
OD-FB-DEM-DYN-US-8-P05-70-R.wav
OD-FB-DEM-DYN-US-8-P05-90-L-EQ.wav
OD-FB-DEM-DYN-US-8-P05-90-L.wav
OD-FB-DEM-DYN-US-8-P09-70-R-EQ.wav
OD-FB-DEM-DYN-US-8-P09-70-R.wav
OD-FB-DEM-DYN-US-8-P09-90-L-EQ.wav
OD-FB-DEM-DYN-US-8-P09-90-L.wav
OD-FB-DEM-DYN-US-8-P10-70-R-EQ.wav
OD-FB-DEM-DYN-US-8-P10-70-R.wav
OD-FB-DEM-DYN-US-8-P10-90-L-EQ.wav
OD-FB-DEM-DYN-US-8-P10-90-L.wav
OD-FB-DEM-DYN-US-8-P12-70-R-EQ.wav
OD-FB-DEM-DYN-US-8-P12-70-R.wav
OD-FB-DEM-DYN-US-8-P12-90-L-EQ.wav
OD-FB-DEM-DYN-US-8-P12-90-L.wav
OD-FB-DEM-DYN-US-8-P15-70-R-EQ.wav
OD-FB-DEM-DYN-US-8-P15-70-R.wav
OD-FB-DEM-DYN-US-8-P15-90-L-EQ.wav
OD-FB-DEM-DYN-US-8-P15-90-L.wav
OD-FB-DEM-DYN-US-8-P20-70-R-EQ.wav
OD-FB-DEM-DYN-US-8-P20-70-R.wav
OD-FB-DEM-DYN-US-8-P20-90-L-EQ.wav
OD-FB-DEM-DYN-US-8-P20-90-L.wav

RBN-160

OD-FB-DEM-RBN-160-P00-100-L-LCUT.wav
OD-FB-DEM-RBN-160-P00-170-L-EQ.wav
OD-FB-DEM-RBN-160-P00-170-L.wav
OD-FB-DEM-RBN-160-P00-170-R-EQ.wav
OD-FB-DEM-RBN-160-P00-170-R.wav
OD-FB-DEM-RBN-160-P05-100-L-LCUT.wav
OD-FB-DEM-RBN-160-P05-170-L-EQ.wav
OD-FB-DEM-RBN-160-P05-170-L.wav
OD-FB-DEM-RBN-160-P05-170-R-EQ.wav
OD-FB-DEM-RBN-160-P05-170-R.wav
OD-FB-DEM-RBN-160-P09-100-L-LCUT.wav
OD-FB-DEM-RBN-160-P09-170-L-EQ.wav
OD-FB-DEM-RBN-160-P09-170-L.wav
OD-FB-DEM-RBN-160-P09-170-R-EQ.wav
OD-FB-DEM-RBN-160-P09-170-R.wav
OD-FB-DEM-RBN-160-P10-100-L-LCUT.wav
OD-FB-DEM-RBN-160-P10-170-L-EQ.wav
OD-FB-DEM-RBN-160-P10-170-L.wav
OD-FB-DEM-RBN-160-P10-170-R-EQ.wav
OD-FB-DEM-RBN-160-P10-170-R.wav
OD-FB-DEM-RBN-160-P12-100-L-LCUT.wav
OD-FB-DEM-RBN-160-P12-170-L-EQ.wav
OD-FB-DEM-RBN-160-P12-170-L.wav
OD-FB-DEM-RBN-160-P12-170-R-EQ.wav
OD-FB-DEM-RBN-160-P12-170-R.wav
OD-FB-DEM-RBN-160-P15-100-L-LCUT.wav
OD-FB-DEM-RBN-160-P15-170-L-EQ.wav
OD-FB-DEM-RBN-160-P15-170-L.wav
OD-FB-DEM-RBN-160-P15-170-R-EQ.wav
OD-FB-DEM-RBN-160-P15-170-R.wav
OD-FB-DEM-RBN-160-P20-100-L-LCUT.wav
OD-FB-DEM-RBN-160-P20-170-L-EQ.wav
OD-FB-DEM-RBN-160-P20-170-L.wav
OD-FB-DEM-RBN-160-P20-170-R-EQ.wav
OD-FB-DEM-RBN-160-P20-170-R.wav