IR – UK-112 – Hesu® Demon – Home Studio Edition – Free Guitar Cab Impulse Responses download
Created : January 2, 2021
Updated : January 3, 2021
Terms and conditions
Before proceeding with download, please consult the terms of use, and more specifically the "impulse response" section : https://overdriven.fr/overdriven/index.php/fr/about/.
These impulse response files (IRs) are free and as mentioned in the Terms of Use, no warranty of any kind is provided with these files (issues, sound problems, inability to use them, sound quality, damages of any kind…).
CAB and mics
The guitar cabinet used for this collection is a UK 112 CAB, rear-loaded with an Hesu® Demon speaker (8 ohms). This collection provides a much more balanced and darker version of the Demon tone compared to the previously published collection (German-112 Cab), and should be more useable for many players. This version is less scooped and less aggressive : it should fit more amps and pedals without too many tweaks….
Check the IR positions explanation here (microphone placement) : https://overdriven.fr/overdriven/index.php/irdownloads/ and here : https://overdriven.fr/overdriven/index.php/2020/07/30/home-studio-upgrade-and-2nd-gen-irs/
The preamp used is the "SSP1" (solid state preamp).
UK 112 cabinet read-loaded with an Hesu® Demon 8 ohms
These IRs are less scooped and darker than the German-112 ones : so this time, you may need to go for dust cap positions and/or raise your presence and treble to get more clarity.
"S2" is a distinct power-amp setting.
8 dynamic mics, 2 ribbon mics, 101 IR files in WAV 44 kHz format
10 microphones :

DYN-57
DYN-906
RBN-160
DYN-421
DYN-7B
DYN-I5
DYN-US-6
DYN-R20
DYN-58
RBN-CN-2

Recorded in home studio conditions
Recorded with a KT88 power amp section only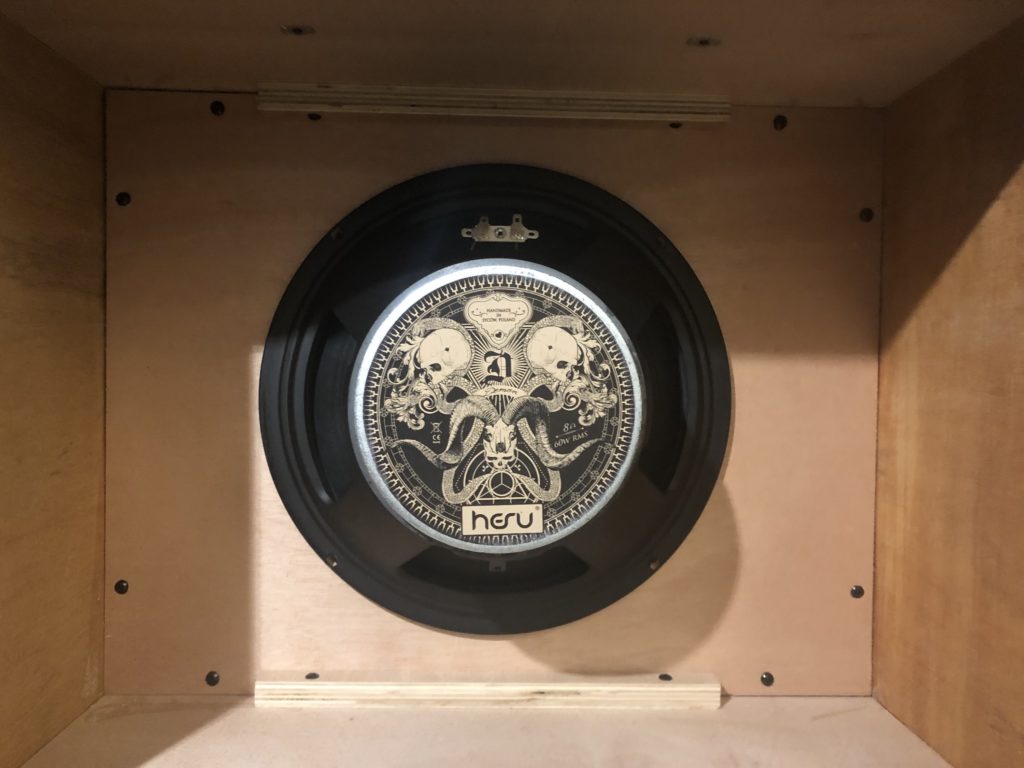 Note : the readme file of 1.0 version contains a wrong speaker description. This will be fixed in the next version.
Samples
The following samples were created with the UK-112 Demon IRs and with the following gear : EMG-81 or AHB2 – (Spark on some samples) – OD808 – Dark Terror – Torpedo Reload – Logic Pro X – Nadir.
Remarks
Overdriven.fr is not affiliated with the brands mentioned on this page. These products and brand names are listed here to describe the hardware used for impulse capture. All brands belong to their respective owners. Check the legal disclaimer here : https://overdriven.fr/overdriven/index.php/about/
Download link
You can download the IR files from this page : https://overdriven.fr/overdriven/index.php/download/overdriven-uk-112-demon-ssp1-v1-0-zip/
Change log
January 2, 2021 : initial publication
January 3, 2021 : added samples
IR Files
This collection contains the following mics and IR files :
DYN-57

OD-UK112-DEMON-DYN-57-P15-50-S2.wav
OD-UK112-DEMON-DYN-57-P05-30-S2.wav
OD-UK112-DEMON-DYN-57-P20-50.wav
OD-UK112-DEMON-DYN-57-P20-50-S2.wav
OD-UK112-DEMON-DYN-57-P00-50-S2.wav
OD-UK112-DEMON-DYN-57-P10-30-S2.wav
OD-UK112-DEMON-DYN-57-P10-50.wav
OD-UK112-DEMON-DYN-57-P09-30-S2.wav
OD-UK112-DEMON-DYN-57-P12-50.wav
OD-UK112-DEMON-DYN-57-P12-50-S2.wav
OD-UK112-DEMON-DYN-57-P00-50.wav
OD-UK112-DEMON-DYN-57-P05-50.wav
OD-UK112-DEMON-DYN-57-P09-50.wav
OD-UK112-DEMON-DYN-57-P05-50-S2.wav
OD-UK112-DEMON-DYN-57-P15-50.wav
OD-UK112-DEMON-DYN-57-P10-50-S2.wav
OD-UK112-DEMON-DYN-57-P00-30-S2.wav
OD-UK112-DEMON-DYN-57-P09-50-S2.wav

DYN-906

OD-UK112-DEMON-DYN-906-P15-30-HFTILT.wav
OD-UK112-DEMON-DYN-906-P05-30-HFTILT.wav
OD-UK112-DEMON-DYN-906-P12-30-HFTILT.wav
OD-UK112-DEMON-DYN-906-P12-30-HFTILT-S2.wav
OD-UK112-DEMON-DYN-906-P09-30-HFTILT-S2.wav
OD-UK112-DEMON-DYN-906-P05-30-HFTILT-S2.wav
OD-UK112-DEMON-DYN-906-P09-30-HFTILT.wav
OD-UK112-DEMON-DYN-906-P15-30-HFTILT-S2.wav
OD-UK112-DEMON-DYN-906-P00-30-HFTILT.wav
OD-UK112-DEMON-DYN-906-P10-30-HFTILT-S2.wav
OD-UK112-DEMON-DYN-906-P10-30-HFTILT.wav
OD-UK112-DEMON-DYN-906-P00-30-HFTILT-S2.wav

RBN-160

OD-UK112-DEMON-RBN-160-P09-70-S2-BRIGHT.wav
OD-UK112-DEMON-RBN-160-P12-70-S2-BRIGHT.wav
OD-UK112-DEMON-RBN-160-P00-120-S2.wav
OD-UK112-DEMON-RBN-160-P00-100-S2.wav
OD-UK112-DEMON-RBN-160-P05-100-S2.wav
OD-UK112-DEMON-RBN-160-P00-70-S2-BRIGHT.wav
OD-UK112-DEMON-RBN-160-P00-70-S2.wav
OD-UK112-DEMON-RBN-160-P10-70-S2-BRIGHT.wav
OD-UK112-DEMON-RBN-160-P12-100-S2.wav
OD-UK112-DEMON-RBN-160-P15-100-S2.wav
OD-UK112-DEMON-RBN-160-P09-100-S2.wav
OD-UK112-DEMON-RBN-160-P15-70-S2-BRIGHT.wav
OD-UK112-DEMON-RBN-160-P10-100-S2.wav
OD-UK112-DEMON-RBN-160-P05-70-S2-BRIGHT.wav

DYN-421

OD-UK112-DEMON-DYN-421-P00-25-S2.wav
OD-UK112-DEMON-DYN-421-P05-25-S2-R1.wav
OD-UK112-DEMON-DYN-421-P10-25-S2-R1.wav
OD-UK112-DEMON-DYN-421-P12-25-S2.wav
OD-UK112-DEMON-DYN-421-P09-25-S2-R1.wav
OD-UK112-DEMON-DYN-421-P15-25-S2.wav
OD-UK112-DEMON-DYN-421-P10-25-S2.wav
OD-UK112-DEMON-DYN-421-P09-25-S2.wav
OD-UK112-DEMON-DYN-421-P05-25-S2.wav
OD-UK112-DEMON-DYN-421-P00-25-S2-R1.wav
OD-UK112-DEMON-DYN-421-P15-25-S2-R1.wav
OD-UK112-DEMON-DYN-421-P12-25-S2-R1.wav

DYN-7B

OD-UK112-DEMON-DYN-7B-P15-50-S2.wav
OD-UK112-DEMON-DYN-7B-P12-50-S2.wav
OD-UK112-DEMON-DYN-7B-P00-50-S2.wav
OD-UK112-DEMON-DYN-7B-P05-50-S2.wav
OD-UK112-DEMON-DYN-7B-P10-50-S2.wav
OD-UK112-DEMON-DYN-7B-P09-50-S2.wav

DYN-I5

OD-UK112-DEMON-DYN-I5-P05-30-S2.wav
OD-UK112-DEMON-DYN-I5-P10-30-S2.wav
OD-UK112-DEMON-DYN-I5-P09-30-S2.wav
OD-UK112-DEMON-DYN-I5-P15-30-S2.wav
OD-UK112-DEMON-DYN-I5-P20-30-S2.wav
OD-UK112-DEMON-DYN-I5-P12-30-S2.wav

DYN-US-6

OD-UK112-DEMON-DYN-US-6-P10-20.wav
OD-UK112-DEMON-DYN-US-6-P12-20.wav
OD-UK112-DEMON-DYN-US-6-P20-20.wav
OD-UK112-DEMON-DYN-US-6-P09-20.wav
OD-UK112-DEMON-DYN-US-6-P05-20.wav
OD-UK112-DEMON-DYN-US-6-P15-20.wav
OD-UK112-DEMON-DYN-US-6-P20-20-S2.wav

DYN-R20

OD-UK112-DEMON-DYN-R20-P09-60-S2.wav
OD-UK112-DEMON-DYN-R20-P10-60-S2.wav
OD-UK112-DEMON-DYN-R20-P10-25-S2.wav
OD-UK112-DEMON-DYN-R20-P05-40-S2.wav
OD-UK112-DEMON-DYN-R20-P09-25-S2.wav
OD-UK112-DEMON-DYN-R20-P05-60-S2.wav
OD-UK112-DEMON-DYN-R20-P09-40-S2.wav
OD-UK112-DEMON-DYN-R20-P05-25-S2.wav
OD-UK112-DEMON-DYN-R20-P10-40-S2.wav

DYN-58

OD-UK112-DEMON-DYN-58-P10-50.wav
OD-UK112-DEMON-DYN-58-P00-50.wav
OD-UK112-DEMON-DYN-58-P10-50-BRIGHT.wav
OD-UK112-DEMON-DYN-58-P10-30.wav
OD-UK112-DEMON-DYN-58-P00-30.wav
OD-UK112-DEMON-DYN-58-P09-30.wav
OD-UK112-DEMON-DYN-58-P05-30.wav
OD-UK112-DEMON-DYN-58-P15-50-S2.wav
OD-UK112-DEMON-DYN-58-P09-50.wav
OD-UK112-DEMON-DYN-58-P05-50.wav
OD-UK112-DEMON-DYN-58-P15-50-BRIGHT.wav
OD-UK112-DEMON-DYN-58-P12-50-BRIGHT.wav

RBN-CN-2

OD-UK112-DEMON-RBN-CN-2-P10-150-S2-BRIGHT.wav
OD-UK112-DEMON-RBN-CN-2-P10-170-S2.wav
OD-UK112-DEMON-RBN-CN-2-P00-150-S2.wav
OD-UK112-DEMON-RBN-CN-2-P00-150-S2-BRIGHT.wav
OD-UK112-DEMON-RBN-CN-2-P05-170-S2.wav