IR – Calif-R112 – Celestion® V30 – Home Studio Edition – Free Guitar Cab Impulse Responses download
Created December 13, 2020
Updated December 20, 2020
Terms and conditions
Before proceeding with download, please consult the terms of use, and more specifically the "impulse response" section : https://overdriven.fr/overdriven/index.php/fr/about/.
These impulse response files (IRs) are free and as mentioned in the Terms of Use, no warranty of any kind is provided with these files (issues, sound problems, inability to use them, sound quality, damages of any kind…).
CAB and mics
The guitar cabinet used for this collection is a 1×12 Mesa/Boogie® Mini Recto® 19, rear-loaded with a Celestion® V30 UK (8 ohms). This collection is named Calif-R112 and is more balanced than the previously published 6L6 collection (the IRs are still slightly scooped : I'd suggest to keep your mids high in the first place). The tone you get from this cab is surprisingly balanced and full : it has a great low end despite its small size and the beam blocker on the front does a great job to adjust the bite and the harshness with distorted tone.
Recorded in home studio conditions
Recorded with a KT88 power amp section only
For microphone information, positions and file names explanations, please check : https://overdriven.fr/overdriven/index.php/irdownloads/
This collection is slightly less scooped and more balanced than the previously published collection recorded with a 6L6 power amp.
IRs files using -M1 to -M5/-M7b suffixes are mid boosted by EQ to achieve less scooped results at capture time. Files with -COMP are recorded with a compressor to tighten the result (room position).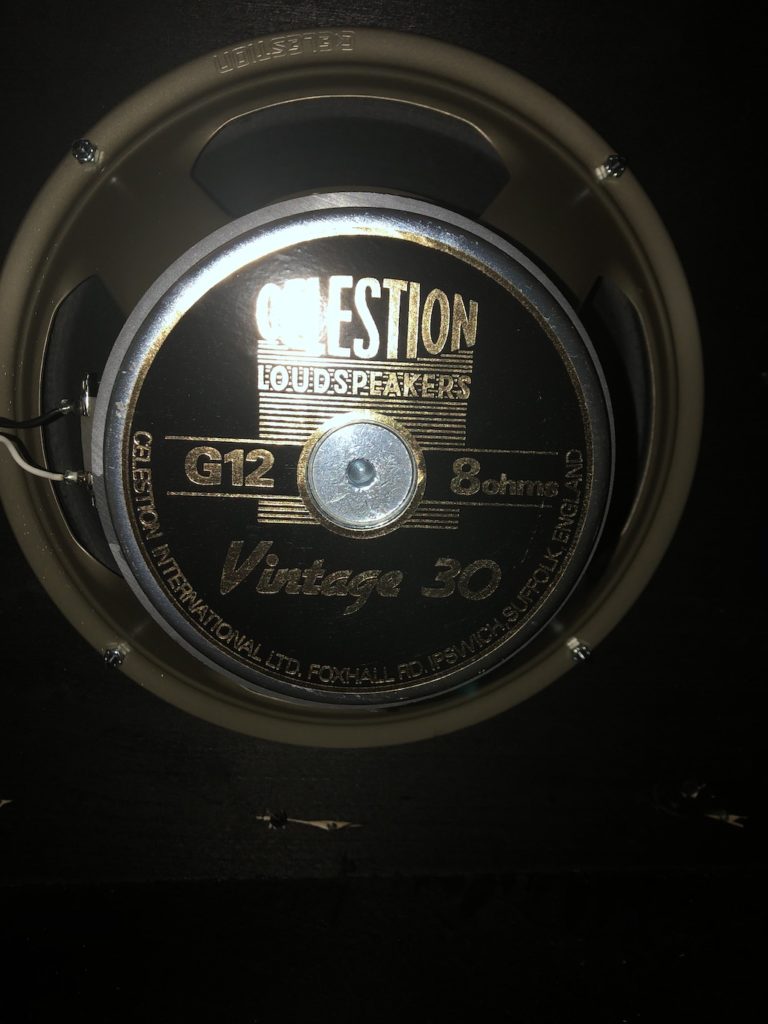 Samples
The small samples below were created with a Randall Thrasher 50, a Torpedo Reload and Nadir under Logic Pro X. The pickup/overdrive and IR used are in the sample titles.
Remarks
Overdriven.fr is not affiliated with the brands mentioned on this page. These products and brand names are listed here to describe the hardware used for impulse capture. All brands belong to their respective owners. Check the legal disclaimer here : https://overdriven.fr/overdriven/index.php/about/
Download link
You can download the IR files from this page : https://overdriven.fr/overdriven/index.php/download/overdriven-calif-r112-v30-tubepreamp2-v1-0-zip/
My top picks
Here are the IRs I enjoy the most from this collection, for distorted and clean tone :
DYN-57
DYN-CN-7
DYN-R20
RBN-160
Please check also DYN-GB-1 and DYN-AT-2 as they provide a sweeter/less aggressive top-end (DYN-AT-2 is also more scooped). DYN-US-6 is really interesting as well.
I'd suggest you start exploring this collection by picking these ones first…
Change log
December 13, 2020 : 1.0 , initial publication
December 30, 2020 : samples added
IR Files
This collection contains the following mics and IR files :
DYN-57

OD-R112-V30-DYN-57-P20-00-BRIGHT-M7b.wav
OD-R112-V30-DYN-57-P20-30.wav
OD-R112-V30-DYN-57-P20-30-BRIGHT.wav
OD-R112-V30-DYN-57-P20-00-M7b.wav
OD-R112-V30-DYN-57-P09-30-BRIGHT.wav
OD-R112-V30-DYN-57-P15-00.wav
OD-R112-V30-DYN-57-P09-30-M2.wav
OD-R112-V30-DYN-57-P10-30.wav
OD-R112-V30-DYN-57-P09-10.wav
OD-R112-V30-DYN-57-P09-30-M3.wav
OD-R112-V30-DYN-57-P09-30-M1.wav
OD-R112-V30-DYN-57-P10-30-BRIGHT.wav
OD-R112-V30-DYN-57-P09-30-M4.wav
OD-R112-V30-DYN-57-P20-00-BRIGHT.wav
OD-R112-V30-DYN-57-P12-30.wav
OD-R112-V30-DYN-57-P09-00.wav
OD-R112-V30-DYN-57-P15-10-BRIGHT.wav
OD-R112-V30-DYN-57-P15-10.wav
OD-R112-V30-DYN-57-P12-00.wav
OD-R112-V30-DYN-57-P12-30-BRIGHT.wav
OD-R112-V30-DYN-57-P09-30.wav
OD-R112-V30-DYN-57-P10-10.wav
OD-R112-V30-DYN-57-P15-30.wav
OD-R112-V30-DYN-57-P10-00.wav
OD-R112-V30-DYN-57-P15-30-BRIGHT.wav
OD-R112-V30-DYN-57-P12-10.wav
OD-R112-V30-DYN-57-P15-00-BRIGHT.wav
OD-R112-V30-DYN-57-P20-10-BRIGHT.wav
OD-R112-V30-DYN-57-P20-10.wav
OD-R112-V30-DYN-57-P20-00.wav

DYN-R20

OD-R112-V30-DYN-R20-P15-00.wav
OD-R112-V30-DYN-R20-P19-00.wav
OD-R112-V30-DYN-R20-P10-00-BRIGHT.wav
OD-R112-V30-DYN-R20-P09-00.wav
OD-R112-V30-DYN-R20-P21-00.wav
OD-R112-V30-DYN-R20-P09-00-M7b.wav
OD-R112-V30-DYN-R20-P09-00-BRIGHT.wav
OD-R112-V30-DYN-R20-P19-00-BRIGHT.wav
OD-R112-V30-DYN-R20-P20-00-BRIGHT.wav
OD-R112-V30-DYN-R20-P09-20-M2.wav
OD-R112-V30-DYN-R20-P09-20-M3.wav
OD-R112-V30-DYN-R20-P21-00-BRIGHT.wav
OD-R112-V30-DYN-R20-P09-20-M1.wav
OD-R112-V30-DYN-R20-P09-20-BRIGHT.wav
OD-R112-V30-DYN-R20-P20-00.wav
OD-R112-V30-DYN-R20-P09-20-M4.wav
OD-R112-V30-DYN-R20-P12-00.wav
OD-R112-V30-DYN-R20-P15-00-BRIGHT.wav
OD-R112-V30-DYN-R20-P20-00-BRIGHT-2.wav
OD-R112-V30-DYN-R20-P12-00-BRIGHT.wav
OD-R112-V30-DYN-R20-P10-00.wav
OD-R112-V30-DYN-R20-P09-20.wav

DYN-906

OD-R112-V30-DYN-906-P12-10.wav
OD-R112-V30-DYN-906-P15-10-BRIGHT.wav
OD-R112-V30-DYN-906-P10-10.wav
OD-R112-V30-DYN-906-P15-10.wav
OD-R112-V30-DYN-906-P05-10.wav
OD-R112-V30-DYN-906-P09-10.wav
OD-R112-V30-DYN-906-P05-20-M3.wav
OD-R112-V30-DYN-906-P05-20-M2.wav
OD-R112-V30-DYN-906-P05-20-M1.wav
OD-R112-V30-DYN-906-P05-20-M4.wav

DYN-I5

OD-R112-V30-DYN-I5-P09-10-M3.wav
OD-R112-V30-DYN-I5-P10-10-M1.wav
OD-R112-V30-DYN-I5-P09-10-M2.wav
OD-R112-V30-DYN-I5-P09-10-M1.wav
OD-R112-V30-DYN-I5-P09-10-M5.wav
OD-R112-V30-DYN-I5-P20-00.wav
OD-R112-V30-DYN-I5-P09-10-M4.wav
OD-R112-V30-DYN-I5-P12-00.wav
OD-R112-V30-DYN-I5-P20-00-BRIGHT.wav
OD-R112-V30-DYN-I5-P10-00.wav
OD-R112-V30-DYN-I5-P12-10-M1.wav
OD-R112-V30-DYN-I5-P15-00.wav
OD-R112-V30-DYN-I5-P09-00.wav

CND-AU-1

OD-R112-V30-CND-AU-1-P09-90.wav
OD-R112-V30-CND-AU-1-P10-75-M4.wav
OD-R112-V30-CND-AU-1-P10-60.wav
OD-R112-V30-CND-AU-1-P09-80.wav
OD-R112-V30-CND-AU-1-P05-75-M4.wav
OD-R112-V30-CND-AU-1-P05-75-M1.wav
OD-R112-V30-CND-AU-1-P05-75-M3.wav
OD-R112-V30-CND-AU-1-P05-75-M2.wav
OD-R112-V30-CND-AU-1-P09-70.wav
OD-R112-V30-CND-AU-1-P09-60.wav

CND-AU-2

OD-R112-V30CND-AU-2-P09-45-M1.wav
OD-R112-V30CND-AU-2-P09-45-M2.wav
OD-R112-V30CND-AU-2-P09-45-M3.wav
OD-R112-V30CND-AU-2-P09-45-M4.wav
OD-R112-V30CND-AU-2-P09-45.wav

CND-2020

OD-R112-V30-CND-2020-P09-40.wav
OD-R112-V30-CND-2020-P10-60.wav
OD-R112-V30-CND-2020-P12-60.wav
OD-R112-V30-CND-2020-P09-50.wav
OD-R112-V30-CND-2020-P05-60-M2.wav
OD-R112-V30-CND-2020-P05-60-M3.wav
OD-R112-V30-CND-2020-P12-40-BRIGHT.wav
OD-R112-V30-CND-2020-P05-80-M1.wav
OD-R112-V30-CND-2020-P10-40.wav
OD-R112-V30-CND-2020-P05-80-M3.wav
OD-R112-V30-CND-2020-P12-50.wav
OD-R112-V30-CND-2020-P09-60.wav
OD-R112-V30-CND-2020-P12-40.wav
OD-R112-V30-CND-2020-P10-50.wav

DYN-201

OD-R112-V30-DYN-201-P09-20-M5.wav
OD-R112-V30-DYN-201-P09-20-M4.wav
OD-R112-V30-DYN-201-P09-20-M3.wav
OD-R112-V30-DYN-201-P09-20-M2.wav
OD-R112-V30-DYN-201-P09-20-M1.wav
OD-R112-V30-DYN-201-P15-20.wav
OD-R112-V30-DYN-201-P09-20.wav
OD-R112-V30-DYN-201-P12-20.wav
OD-R112-V30-DYN-201-P10-20.wav

RBN-160

OD-R112-V30-RBN-160-P10-90.wav
OD-R112-V30-RBN-160-P12-90.wav
OD-R112-V30-RBN-160-P12-90-BRIGHT.wav
OD-R112-V30-RBN-160-P09-60.wav
OD-R112-V30-RBN-160-P05-80-M2-BRIGHT.wav
OD-R112-V30-RBN-160-P12-60-BRIGHT.wav
OD-R112-V30-RBN-160-P05-80-M4-BRIGHT.wav
OD-R112-V30-RBN-160-P09-90-BRIGHT.wav
OD-R112-V30-RBN-160-P05-80-M1-BRIGHT.wav
OD-R112-V30-RBN-160-P10-60-BRIGHT.wav
OD-R112-V30-RBN-160-P12-60.wav
OD-R112-V30-RBN-160-P09-60-BRIGHT.wav
OD-R112-V30-RBN-160-P09-90.wav
OD-R112-V30-RBN-160-P10-90-BRIGHT.wav
OD-R112-V30-RBN-160-P10-60.wav
OD-R112-V30-RBN-160-P05-80-M3-BRIGHT.wav

DYN-421

OD-R112-V30-DYN-421-P09-10-R1.wav
OD-R112-V30-DYN-421-P10-10-R1.wav
OD-R112-V30-DYN-421-P10-00-R1.wav
OD-R112-V30-DYN-421-P10-10-M2.wav
OD-R112-V30-DYN-421-P10-10-M3.wav
OD-R112-V30-DYN-421-P10-10-M1.wav
OD-R112-V30-DYN-421-P19-00.wav
OD-R112-V30-DYN-421-P15-00.wav
OD-R112-V30-DYN-421-P10-00.wav
OD-R112-V30-DYN-421-P12-10-R1.wav
OD-R112-V30-DYN-421-P19-00-R1.wav
OD-R112-V30-DYN-421-P12-00-R1.wav
OD-R112-V30-DYN-421-P19-10-R1.wav
OD-R112-V30-DYN-421-P20-00-BRIGHT.wav
OD-R112-V30-DYN-421-P19-00-BRIGHT.wav
OD-R112-V30-DYN-421-P12-00.wav
OD-R112-V30-DYN-421-P20-00-R1.wav
OD-R112-V30-DYN-421-P15-00-R1.wav
OD-R112-V30-DYN-421-P20-00.wav
OD-R112-V30-DYN-421-P20-10-R1.wav
OD-R112-V30-DYN-421-P15-10-R1.wav

RBN-DE-2

OD-R112-V30-RBN-DE-2-P05-170.wav
OD-R112-V30-RBN-DE-2-P05-200-M2-BRIGHT.wav
OD-R112-V30-RBN-DE-2-P05-170-BRIGHT.wav
OD-R112-V30-RBN-DE-2-P05-200-M5-BRIGHT.wav
OD-R112-V30-RBN-DE-2-P05-280-BRIGHT-COMP.wav
OD-R112-V30-RBN-DE-2-P05-230-BRIGHT.wav
OD-R112-V30-RBN-DE-2-P05-230-BRIGHT-COMP.wav
OD-R112-V30-RBN-DE-2-P05-170-BRIGHT-M7b.wav
OD-R112-V30-RBN-DE-2-P05-280-COMP.wav
OD-R112-V30-RBN-DE-2-P05-220-BRIGHT-M7b.wav
OD-R112-V30-RBN-DE-2-P05-280-BRIGHT.wav
OD-R112-V30-RBN-DE-2-P05-280.wav
OD-R112-V30-RBN-DE-2-P05-200-M3-BRIGHT.wav
OD-R112-V30-RBN-DE-2-P05-220-BRIGHT.wav
OD-R112-V30-RBN-DE-2-P05-200-M4-BRIGHT.wav
OD-R112-V30-RBN-DE-2-P05-200-M1-BRIGHT.wav
OD-R112-V30-RBN-DE-2-P05-220.wav

DYN-58

OD-R112-V30-DYN-58-P09-10.wav
OD-R112-V30-DYN-58-P10-30.wav
OD-R112-V30-DYN-58-P10-10-BRIGHT.wav
OD-R112-V30-DYN-58-P09-00.wav
OD-R112-V30-DYN-58-P09-30-M2-BRIGHT.wav
OD-R112-V30-DYN-58-P09-10-BRIGHT.wav
OD-R112-V30-DYN-58-P09-50.wav
OD-R112-V30-DYN-58-P09-30-M4-BRIGHT.wav
OD-R112-V30-DYN-58-P09-30-M1-BRIGHT.wav
OD-R112-V30-DYN-58-P12-10-BRIGHT.wav
OD-R112-V30-DYN-58-P09-30-M1.wav
OD-R112-V30-DYN-58-P09-30-M3.wav
OD-R112-V30-DYN-58-P10-10.wav
OD-R112-V30-DYN-58-P10-30-BRIGHT.wav
OD-R112-V30-DYN-58-P09-30.wav
OD-R112-V30-DYN-58-P09-30-M2.wav
OD-R112-V30-DYN-58-P12-10.wav
OD-R112-V30-DYN-58-P09-30-M3-BRIGHT.wav
OD-R112-V30-DYN-58-P09-30-M5.wav
OD-R112-V30-DYN-58-P09-30-M4.wav

DYN-GB-1

OD-R112-V30-DYN-GB-1-V4-P09-70-M2-BRIGHT.wav
OD-R112-V30-DYN-GB-1-V1-P09-00-BRIGHT.wav
OD-R112-V30-DYN-GB-1-V1-P10-00-BRIGHT.wav
OD-R112-V30-DYN-GB-1-V4-P09-70-M5-BRIGHT.wav
OD-R112-V30-DYN-GB-1-V1-P10-00.wav
OD-R112-V30-DYN-GB-1-V1-P12-00.wav
OD-R112-V30-DYN-GB-1-V2-P09-00.wav
OD-R112-V30-DYN-GB-1-V4-P09-60-M5-BRIGHT.wav
OD-R112-V30-DYN-GB-1-V2-P12-00.wav
OD-R112-V30-DYN-GB-1-V1-P09-00-M5.wav
OD-R112-V30-DYN-GB-1-V1-P12-00-BRIGHT.wav
OD-R112-V30-DYN-GB-1-V4-P09-70-M3-BRIGHT.wav
OD-R112-V30-DYN-GB-1-V1-P09-00.wav
OD-R112-V30-DYN-GB-1-V1-P09-00-M2.wav
OD-R112-V30-DYN-GB-1-V1-P09-00-M3.wav
OD-R112-V30-DYN-GB-1-V1-P09-00-M1.wav
OD-R112-V30-DYN-GB-1-V2-P10-00.wav
OD-R112-V30-DYN-GB-1-V4-P09-60-M5.wav
OD-R112-V30-DYN-GB-1-V4-P09-70-M1-BRIGHT.wav
OD-R112-V30-DYN-GB-1-V4-P09-70-M4-BRIGHT.wav

DYN-7B

OD-R112-V30-DYN-7B-P12-10-BRIGHT-2.wav
OD-R112-V30-DYN-7B-P12-40.wav
OD-R112-V30-DYN-7B-P05-30-M5.wav
OD-R112-V30-DYN-7B-P05-30-M4.wav
OD-R112-V30-DYN-7B-P05-30-M1.wav
OD-R112-V30-DYN-7B-P12-20-BRIGHT.wav
OD-R112-V30-DYN-7B-P10-00-BRIGHT.wav
OD-R112-V30-DYN-7B-P05-30-M2.wav
OD-R112-V30-DYN-7B-P05-30-M3-BRIGHT.wav
OD-R112-V30-DYN-7B-P12-20.wav
OD-R112-V30-DYN-7B-P12-10-2.wav
OD-R112-V30-DYN-7B-P09-00-BRIGHT.wav
OD-R112-V30-DYN-7B-P09-10.wav
OD-R112-V30-DYN-7B-P12-10-BRIGHT.wav
OD-R112-V30-DYN-7B-P12-40-BRIGHT.wav
OD-R112-V30-DYN-7B-P05-30-M1-BRIGHT.wav
OD-R112-V30-DYN-7B-P09-00.wav
OD-R112-V30-DYN-7B-P10-10-BRIGHT.wav
OD-R112-V30-DYN-7B-P12-00.wav
OD-R112-V30-DYN-7B-P05-30.wav
OD-R112-V30-DYN-7B-P05-30-BRIGHT.wav
OD-R112-V30-DYN-7B-P05-30-M2-BRIGHT.wav
OD-R112-V30-DYN-7B-P12-10.wav
OD-R112-V30-DYN-7B-P10-00.wav
OD-R112-V30-DYN-7B-P12-00-BRIGHT.wav
OD-R112-V30-DYN-7B-P09-10-BRIGHT.wav

DYN-75B

OD-R112-V30-DYN-75B-P15-00-BRIGHT.wav
OD-R112-V30-DYN-75B-P15-00.wav
OD-R112-V30-DYN-75B-P09-00.wav
OD-R112-V30-DYN-75B-P20-00-BRIGHT.wav
OD-R112-V30-DYN-75B-P12-00.wav
OD-R112-V30-DYN-75B-P10-00.wav

RBN-CN-1

OD-R112-V30-RBN-CN-1-P09-170.wav
OD-R112-V30-RBN-CN-1-ROOM-BRIGHT.wav
OD-R112-V30-RBN-CN-1-P09-200.wav
OD-R112-V30-RBN-CN-1-P05-65-M7b.wav
OD-R112-V30-RBN-CN-1-P09-200-BRIGHT-M7b.wav
OD-R112-V30-RBN-CN-1-P05-65-BRIGHT-M7b.wav
OD-R112-V30-RBN-CN-1-ROOM.wav
OD-R112-V30-RBN-CN-1-P05-200-BRIGHT-COMP.wav
OD-R112-V30-RBN-CN-1-P09-140-BRIGHT-M7b.wav
OD-R112-V30-RBN-CN-1-P05-200-BRIGHT.wav
OD-R112-V30-RBN-CN-1-ROOM-BRIGHT-COMP.wav
OD-R112-V30-RBN-CN-1-P09-90-BRIGHT-M7b.wav
OD-R112-V30-RBN-CN-1-P05-250-BRIGHT.wav
OD-R112-V30-RBN-CN-1-P09-200-BRIGHT.wav
OD-R112-V30-RBN-CN-1-P09-170-BRIGHT-M7b.wav
OD-R112-V30-RBN-CN-1-ROOM-COMP.wav
OD-R112-V30-RBN-CN-1-P09-170-BRIGHT.wav

RBN-CN-2

OD-R112-V30-RBN-CN-2-P05-140-M5-BRIGHT.wav
OD-R112-V30-RBN-CN-2-P12-100-BRIGHT.wav
OD-R112-V30-RBN-CN-2-P09-100.wav
OD-R112-V30-RBN-CN-2-P05-100-M2-BRIGHT.wav
OD-R112-V30-RBN-CN-2-P00-120-M5-BRIGHT.wav
OD-R112-V30-RBN-CN-2-P09-100-BRIGHT.wav
OD-R112-V30-RBN-CN-2-P09-80.wav
OD-R112-V30-RBN-CN-2-P00-120-M2-BRIGHT.wav
OD-R112-V30-RBN-CN-2-P05-100-M5-BRIGHT.wav
OD-R112-V30-RBN-CN-2-P12-100.wav
OD-R112-V30-RBN-CN-2-P09-80-BRIGHT-M7b.wav
OD-R112-V30-RBN-CN-2-P05-100-M3-BRIGHT.wav
OD-R112-V30-RBN-CN-2-P12-100-BRIGHT-M7b.wav
OD-R112-V30-RBN-CN-2-P05-100-M1-BRIGHT.wav
OD-R112-V30-RBN-CN-2-P09-100-BRIGHT-M7b.wav
OD-R112-V30-RBN-CN-2-P09-80-BRIGHT.wav
OD-R112-V30-RBN-CN-2-P05-140-M3-BRIGHT.wav
OD-R112-V30-RBN-CN-2-P00-120-M3-BRIGHT.wav
OD-R112-V30-RBN-CN-2-P05-100-M4-BRIGHT.wav

DYN-CN-7

OD-R112-V30-DYN-CN-7-P10-20.wav
OD-R112-V30-DYN-CN-7-P21-00.wav
OD-R112-V30-DYN-CN-7-P09-30-M4.wav
OD-R112-V30-DYN-CN-7-P09-30-M2.wav
OD-R112-V30-DYN-CN-7-P09-30-M3.wav
OD-R112-V30-DYN-CN-7-P09-10.wav
OD-R112-V30-DYN-CN-7-P20-00-BRIGHT.wav
OD-R112-V30-DYN-CN-7-P09-30-M1.wav
OD-R112-V30-DYN-CN-7-P12-20.wav
OD-R112-V30-DYN-CN-7-P15-00.wav
OD-R112-V30-DYN-CN-7-P19-00.wav
OD-R112-V30-DYN-CN-7-P09-30-BRIGHT.wav
OD-R112-V30-DYN-CN-7-P12-00-M7b.wav
OD-R112-V30-DYN-CN-7-P20-00.wav
OD-R112-V30-DYN-CN-7-P10-00-M7b.wav
OD-R112-V30-DYN-CN-7-P09-20.wav
OD-R112-V30-DYN-CN-7-P10-00.wav
OD-R112-V30-DYN-CN-7-P21-00-BRIGHT.wav
OD-R112-V30-DYN-CN-7-P19-20.wav
OD-R112-V30-DYN-CN-7-P10-10.wav
OD-R112-V30-DYN-CN-7-P15-20.wav
OD-R112-V30-DYN-CN-7-P12-00.wav
OD-R112-V30-DYN-CN-7-P09-30.wav

DYN-AT-2

OD-R112-V30-DYN-AT-2-P10-40-BRIGHT.wav
OD-R112-V30-DYN-AT-2-P09-10.wav
OD-R112-V30-DYN-AT-2-P10-10-M1.wav
OD-R112-V30-DYN-AT-2-P10-10-M3.wav
OD-R112-V30-DYN-AT-2-P10-10-M2.wav
OD-R112-V30-DYN-AT-2-P09-20-BRIGHT.wav
OD-R112-V30-DYN-AT-2-P09-10-BRIGHT.wav
OD-R112-V30-DYN-AT-2-P09-40-BRIGHT-M7b.wav
OD-R112-V30-DYN-AT-2-P10-40.wav
OD-R112-V30-DYN-AT-2-P10-20-BRIGHT.wav
OD-R112-V30-DYN-AT-2-P12-50-BRIGHT.wav
OD-R112-V30-DYN-AT-2-P05-10-M2-BRIGHT.wav
OD-R112-V30-DYN-AT-2-P05-10-M1.wav
OD-R112-V30-DYN-AT-2-P05-10-M3.wav
OD-R112-V30-DYN-AT-2-P09-40-BRIGHT.wav
OD-R112-V30-DYN-AT-2-P05-10-M2.wav
OD-R112-V30-DYN-AT-2-P05-10-M1-BRIGHT.wav
OD-R112-V30-DYN-AT-2-P05-20-BRIGHT.wav
OD-R112-V30-DYN-AT-2-P09-40-BRIGHT-2.wav
OD-R112-V30-DYN-AT-2-P12-20-BRIGHT.wav
OD-R112-V30-DYN-AT-2-P10-50-BRIGHT.wav
OD-R112-V30-DYN-AT-2-P05-10-M3-BRIGHT.wav
OD-R112-V30-DYN-AT-2-P05-20-M1-BRIGHT.wav
OD-R112-V30-DYN-AT-2-P09-50-BRIGHT.wav
OD-R112-V30-DYN-AT-2-P12-40-BRIGHT.wav
OD-R112-V30-DYN-AT-2-P05-30-M1-BRIGHT.wav

DYN-AT-1

OD-R112-V30-DYN-AT-1-P20-70.wav
OD-R112-V30-DYN-AT-1-P10-10.wav
OD-R112-V30-DYN-AT-1-P12-00.wav
OD-R112-V30-DYN-AT-1-P12-10.wav
OD-R112-V30-DYN-AT-1-P10-00.wav
OD-R112-V30-DYN-AT-1-P15-30.wav
OD-R112-V30-DYN-AT-1-P21-90.wav
OD-R112-V30-DYN-AT-1-P19-40.wav
OD-R112-V30-DYN-AT-1-P09-40.wav
OD-R112-V30-DYN-AT-1-P12-40.wav
OD-R112-V30-DYN-AT-1-P19-00-BRIGHT.wav
OD-R112-V30-DYN-AT-1-P10-40.wav
OD-R112-V30-DYN-AT-1-P12-20.wav
OD-R112-V30-DYN-AT-1-P09-10.wav
OD-R112-V30-DYN-AT-1-P19-00.wav
OD-R112-V30-DYN-AT-1-P15-00.wav

DYN-US-6

OD-R112-V30-DYN-US-6-P10-10-M3.wav
OD-R112-V30-DYN-US-6-P10-10-M2.wav
OD-R112-V30-DYN-US-6-P10-10-M1.wav
OD-R112-V30-DYN-US-6-P22-00-BRIGHT.wav
OD-R112-V30-DYN-US-6-P19-00.wav
OD-R112-V30-DYN-US-6-P15-00.wav
OD-R112-V30-DYN-US-6-P09-10.wav
OD-R112-V30-DYN-US-6-P20-10-BRIGHT.wav
OD-R112-V30-DYN-US-6-P09-00.wav
OD-R112-V30-DYN-US-6-P15-10.wav
OD-R112-V30-DYN-US-6-P21-00.wav
OD-R112-V30-DYN-US-6-P19-10.wav
OD-R112-V30-DYN-US-6-P12-00.wav
OD-R112-V30-DYN-US-6-P10-10-2.wav
OD-R112-V30-DYN-US-6-P10-10.wav
OD-R112-V30-DYN-US-6-P10-00.wav
OD-R112-V30-DYN-US-6-P12-10.wav
OD-R112-V30-DYN-US-6-P22-00.wav
OD-R112-V30-DYN-US-6-P20-10.wav
OD-R112-V30-DYN-US-6-P20-00.wav