IR – Zilla® Fatboy – 212 – Celestion® G12K100 – KT88 – Home Studio Edition – Free Guitar Cab Impulse Responses download
Created : March 7, 2021
Updated : July 5, 2021
Terms and conditions
Before proceeding with download, please consult the terms of use, and more specifically the "impulse response" section : https://overdriven.fr/overdriven/index.php/fr/about/.
These impulse response files (IRs) are free and as mentioned in the Terms of Use, no warranty of any kind is provided with these files (issues, sound problems, inability to use them, sound quality, damages of any kind…).
The riffs and partial song covers presented here as samples are used for illustration and educational purposes (using amps and IRs). These riffs and songs remain the property of their copyright owners.
Cab and Mics
The cab used is a Zilla® Fatboy (2*12) rear-loaded with two Celestion® G12K100, 8 ohms, wired in serial. This collection contains the captures of the two G12K100 : I originally chose to capture the oldest one in the first round of recording, but I found the second one interesting as well, as the IR feel and results are a little bit different between the two speakers (see remarks below).
The Zilla® Fatboy is a very good and balanced 2*12 custom cab, made to order by Zilla Cabs : check ZillaCabs website at https://www.zillacabs.com. The Fatboy is a 212 similar in size and volume to a Mesa Recto 212 or an Hesu 212.
Equipped with 2x G12K100, the distorted tone you can get from the Fatboy is massive : lots of low-end, less scooped than with a V30, but a little bit more boxy. The G12K100 are also a little bit less aggressive than V30's in the first place (I mean if you are set-up using V30's) : raise your treble/presence a little bit with the K100 if you are a V30 aficionado, as G12K100 have volume drops between 3,5 kHz and approximately 5 kHz : this soften the treble and changes considerably the overall result. Very fun to play in the room, and they seem to be able to pair well with many amps.
The tone you get here with the IRs is -IMHO- very balanced. The low-end of these IRs is very present and quite generous : depending on your amp/pedal/pickups and settings, you may have to cut with an HPF and/or a shelf filter.
The two G12K100 used here are both 8 ohms : one of the two was new and not much used so far, the other one is a G12K100 I bought 3 years ago and previously used in my « German 112 » cab. I decided to capture and publish the two speakers because they provide two alternate and interesting results of the same speaker (IMHO) : one is a little bit more boxy, the other is a little bit more opened and scooped.
The following screenshot illustrates the small differences in frequency responses of the two G12K100 speakers: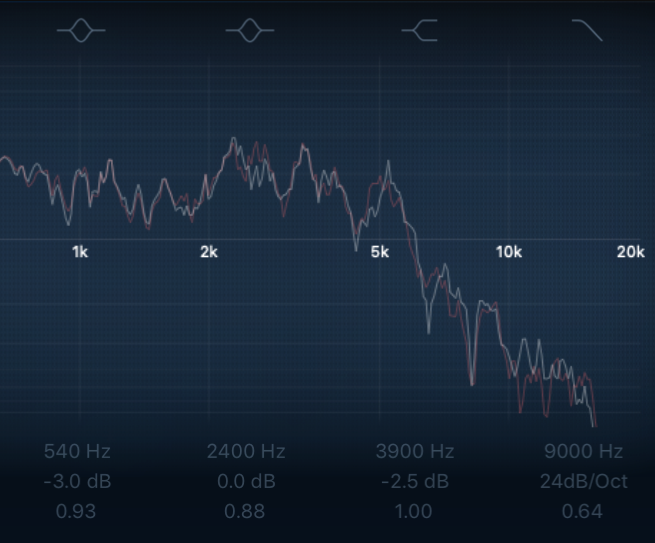 The next one illustrates the differences between a V30 and the G12K100 same cab, same mic (SM57), same position / distance :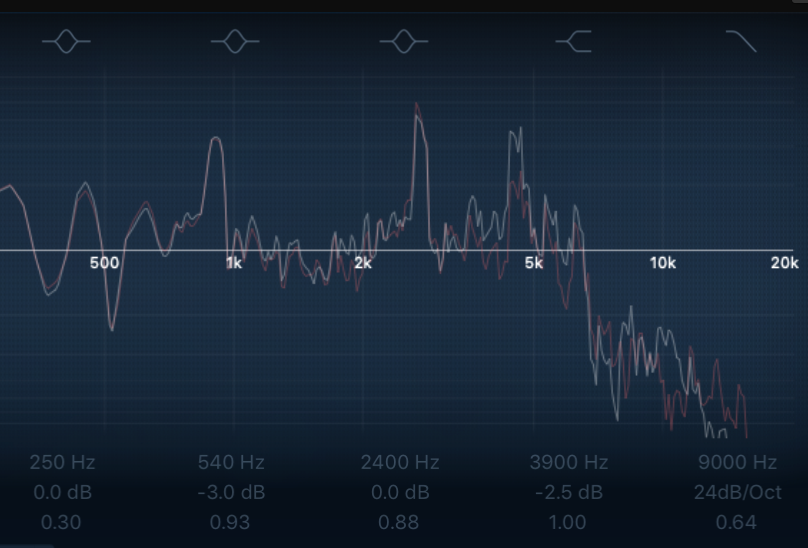 Check the IR positions explanation here (microphone placement) : https://overdriven.fr/overdriven/index.php/irdownloads/  and here : https://overdriven.fr/overdriven/index.php/2020/07/30/home-studio-upgrade-and-2nd-gen-irs/ 
The preamp used is the "SSP1" (solid state preamp).
Zilla Cabs ® Fatboy 212 cabinet read-loaded with two Celestion® G12K100, 8 ohms
5 dynamic mics, 1 ribbon mic, 2 condenser mics, 203 266 340 IR files in WAV 44 kHz format (update 1.2)
8 microphones :

CND-2020
CND-AU-1
DYN-57
DYN-7B
DYN-US-6
RBN-160
DYN-906
DYN-CN-7

1 PROCESSED IRs directory containing Fredman-style IRs and other IR mixes
Recorded in home studio conditions
Recorded with a KT88 power amp section only
-L suffix is Left speaker (old) and the -R is for Right speaker (new one)
EQ2-2, EQ2-3, EQ3-2, EQ3-3 are EQ'd versions at capture time to boost mids and low-mids (update 1.1)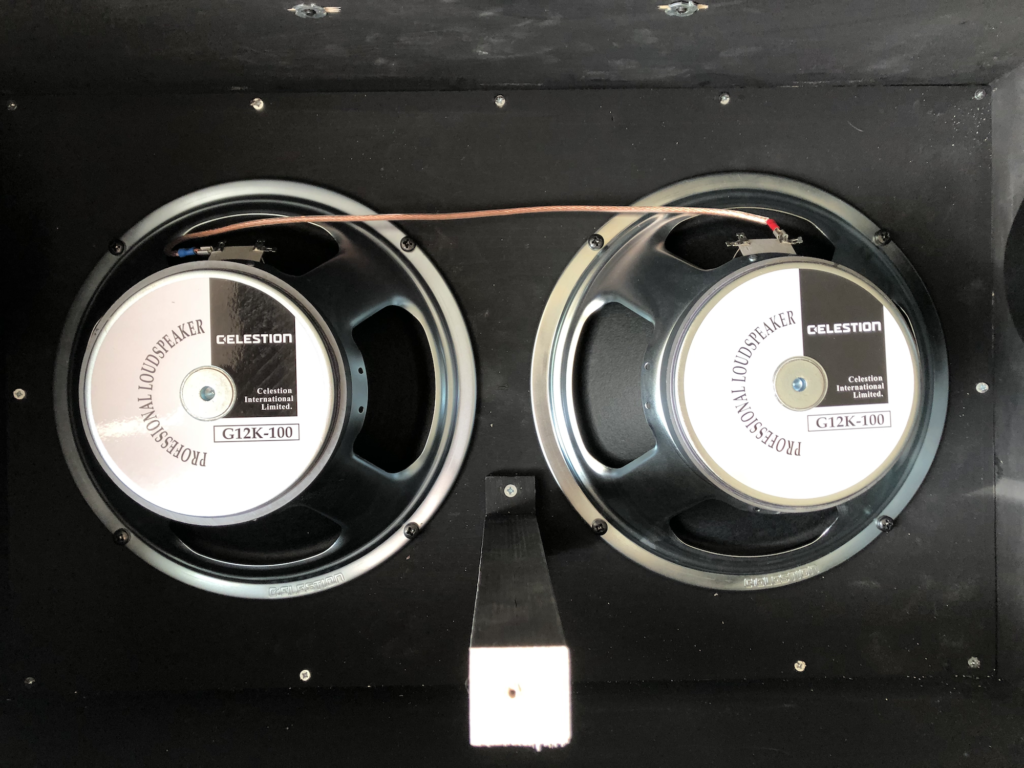 Check the two condensers and the DYN-US-6 for more bite and definition. Check the RBN-160 for a smoother and darker feel. Quite balanced tone from the others dynamic mics : the 906 and 7B provide a very full and massive tone, IMHO.
Samples
Samples created with : EMG808, EMG57 (e-flat), Fishman Willie Adler (Drop C), overdrive, Dark Terror, Torpedo Reload, Nadir with Fatboy G12K100 IRs. Sample 4 starts in Fishman WA voice 1 (passive) and switch to active (voice 2) at 0:30 approx.
Remarks
Overdriven.fr is not affiliated with the brands mentioned on this page. These products and brand names are listed here to describe the hardware used for impulse capture. All brands belong to their respective owners. Check the legal disclaimer here : https://overdriven.fr/overdriven/index.php/about/
Download link
You can download the IR files from this page : https://overdriven.fr/overdriven/index.php/download/overdriven-fatboy-k100-ssp1-kt88/
Change log
March 7, 2021 : initial publication
March 13, 2021 : added samples
May 11, 2021 : update to 1.1, added 63 IRs with EQ'd captures for additional tone options
July 5, 2021 : update to 1.2, added processed IRs directory
IR Files
This collection contains the following mics and IR files :
CND-2020

OD-FB-K100-CND-2020-P05-30-L.wav
OD-FB-K100-CND-2020-P09-30-L.wav
OD-FB-K100-CND-2020-P10-30-L.wav
OD-FB-K100-CND-2020-P10-50-L.wav
OD-FB-K100-CND-2020-P12-30-L.wav
OD-FB-K100-CND-2020-P12-50-L.wav
OD-FB-K100-CND-2020-P19-30-L.wav
OD-FB-K100-CND-2020-P19-50-L.wav
OD-FB-K100-CND-2020-P20-30-L.wav
OD-FB-K100-CND-2020-P20-50-L.wav
OD-FB-K100-CND-2020-P25-30-L.wav
OD-FB-K100-CND-2020-P25-50-L.wav

CND-AU-1

OD-FB-K100-CND-AU-1-P00-30-L.wav
OD-FB-K100-CND-AU-1-P05-30-L.wav
OD-FB-K100-CND-AU-1-P05-50-L.wav
OD-FB-K100-CND-AU-1-P05-70-L.wav
OD-FB-K100-CND-AU-1-P09-30-L.wav
OD-FB-K100-CND-AU-1-P09-50-L.wav
OD-FB-K100-CND-AU-1-P09-70-L.wav
OD-FB-K100-CND-AU-1-P10-30-L.wav
OD-FB-K100-CND-AU-1-P10-50-L.wav
OD-FB-K100-CND-AU-1-P10-70-L.wav
OD-FB-K100-CND-AU-1-P12-30-L.wav
OD-FB-K100-CND-AU-1-P12-50-L.wav
OD-FB-K100-CND-AU-1-P12-70-L.wav
OD-FB-K100-CND-AU-1-P20-30-L.wav
OD-FB-K100-CND-AU-1-P20-50-L.wav
OD-FB-K100-CND-AU-1-P20-70-L.wav

DYN-57

OD-FB-K100-DYN-57-P05-10-L.wav
OD-FB-K100-DYN-57-P05-10-R.wav
OD-FB-K100-DYN-57-P05-20-L.wav
OD-FB-K100-DYN-57-P05-20-R-EQ2-2.wav
OD-FB-K100-DYN-57-P05-20-R-EQ2-3.wav
OD-FB-K100-DYN-57-P05-20-R.wav
OD-FB-K100-DYN-57-P05-30-L-EQ2-2.wav
OD-FB-K100-DYN-57-P05-30-L-EQ2-3.wav
OD-FB-K100-DYN-57-P05-30-L-EQ3-2.wav
OD-FB-K100-DYN-57-P05-30-L-EQ3-3.wav
OD-FB-K100-DYN-57-P05-30-R.wav
OD-FB-K100-DYN-57-P05-40-L-EQ3-2.wav
OD-FB-K100-DYN-57-P05-40-L-EQ3-3.wav
OD-FB-K100-DYN-57-P05-40-L.wav
OD-FB-K100-DYN-57-P05-40-R.wav
OD-FB-K100-DYN-57-P09-10-L.wav
OD-FB-K100-DYN-57-P09-10-R.wav
OD-FB-K100-DYN-57-P09-20-L.wav
OD-FB-K100-DYN-57-P09-20-R-EQ2-2.wav
OD-FB-K100-DYN-57-P09-20-R-EQ2-3.wav
OD-FB-K100-DYN-57-P09-20-R.wav
OD-FB-K100-DYN-57-P09-30-L-EQ2-2.wav
OD-FB-K100-DYN-57-P09-30-L-EQ2-3.wav
OD-FB-K100-DYN-57-P09-30-L-EQ3-2.wav
OD-FB-K100-DYN-57-P09-30-L-EQ3-3.wav
OD-FB-K100-DYN-57-P09-30-L.wav
OD-FB-K100-DYN-57-P09-30-R.wav
OD-FB-K100-DYN-57-P09-40-L-EQ3-2.wav
OD-FB-K100-DYN-57-P09-40-L-EQ3-3.wav
OD-FB-K100-DYN-57-P09-40-L.wav
OD-FB-K100-DYN-57-P09-40-R.wav
OD-FB-K100-DYN-57-P10-10-L.wav
OD-FB-K100-DYN-57-P10-10-R.wav
OD-FB-K100-DYN-57-P10-20-L.wav
OD-FB-K100-DYN-57-P10-20-R-EQ2-2.wav
OD-FB-K100-DYN-57-P10-20-R-EQ2-3.wav
OD-FB-K100-DYN-57-P10-20-R.wav
OD-FB-K100-DYN-57-P10-30-L-EQ2-2.wav
OD-FB-K100-DYN-57-P10-30-L-EQ2-3.wav
OD-FB-K100-DYN-57-P10-30-L-EQ3-2.wav
OD-FB-K100-DYN-57-P10-30-L-EQ3-3.wav
OD-FB-K100-DYN-57-P10-30-L.wav
OD-FB-K100-DYN-57-P10-30-R.wav
OD-FB-K100-DYN-57-P10-40-L-EQ3-2.wav
OD-FB-K100-DYN-57-P10-40-L-EQ3-3.wav
OD-FB-K100-DYN-57-P10-40-L.wav
OD-FB-K100-DYN-57-P10-40-R.wav
OD-FB-K100-DYN-57-P12-10-L.wav
OD-FB-K100-DYN-57-P12-10-R.wav
OD-FB-K100-DYN-57-P12-20-L.wav
OD-FB-K100-DYN-57-P12-20-R-EQ2-2.wav
OD-FB-K100-DYN-57-P12-20-R-EQ2-3.wav
OD-FB-K100-DYN-57-P12-20-R.wav
OD-FB-K100-DYN-57-P12-30-L-EQ2-2.wav
OD-FB-K100-DYN-57-P12-30-L-EQ2-3.wav
OD-FB-K100-DYN-57-P12-30-L-EQ3-2.wav
OD-FB-K100-DYN-57-P12-30-L-EQ3-3.wav
OD-FB-K100-DYN-57-P12-30-L.wav
OD-FB-K100-DYN-57-P12-30-R.wav
OD-FB-K100-DYN-57-P12-40-L-EQ3-2.wav
OD-FB-K100-DYN-57-P12-40-L-EQ3-3.wav
OD-FB-K100-DYN-57-P12-40-L.wav
OD-FB-K100-DYN-57-P12-40-R.wav
OD-FB-K100-DYN-57-P19-40-L.wav
OD-FB-K100-DYN-57-P19-40-R.wav
OD-FB-K100-DYN-57-P20-20-R-EQ2-2.wav
OD-FB-K100-DYN-57-P20-20-R-EQ2-3.wav
OD-FB-K100-DYN-57-P20-30-L-EQ2-2.wav
OD-FB-K100-DYN-57-P20-30-L-EQ2-3.wav
OD-FB-K100-DYN-57-P20-30-L-EQ3-2.wav
OD-FB-K100-DYN-57-P20-30-L-EQ3-3.wav
OD-FB-K100-DYN-57-P20-40-L-EQ3-2.wav
OD-FB-K100-DYN-57-P20-40-L-EQ3-3.wav
OD-FB-K100-DYN-57-P20-40-L.wav
OD-FB-K100-DYN-57-P20-40-R.wav
OD-FB-K100-DYN-57-P20-50-R.wav

DYN-7B

OD-FB-K100-DYN-7B-P00-50-L-EQ3-2.wav
OD-FB-K100-DYN-7B-P00-50-L-EQ3-3.wav
OD-FB-K100-DYN-7B-P00-70-L-EQ3-2.wav
OD-FB-K100-DYN-7B-P00-70-L-EQ3-3.wav
OD-FB-K100-DYN-7B-P05-30-L.wav
OD-FB-K100-DYN-7B-P05-40-L.wav
OD-FB-K100-DYN-7B-P05-50-L-EQ2-2.wav
OD-FB-K100-DYN-7B-P05-50-L-EQ2-3.wav
OD-FB-K100-DYN-7B-P05-50-L-EQ3-2.wav
OD-FB-K100-DYN-7B-P05-50-L-EQ3-3.wav
OD-FB-K100-DYN-7B-P05-50-L-LCUT.wav
OD-FB-K100-DYN-7B-P05-50-L.wav
OD-FB-K100-DYN-7B-P05-50-R-LCUT.wav
OD-FB-K100-DYN-7B-P05-60-L.wav
OD-FB-K100-DYN-7B-P05-70-L-EQ3-2.wav
OD-FB-K100-DYN-7B-P05-70-L-EQ3-3.wav
OD-FB-K100-DYN-7B-P05-70-L.wav
OD-FB-K100-DYN-7B-P09-30-L-HFTILT.wav
OD-FB-K100-DYN-7B-P09-50-L-EQ2-2.wav
OD-FB-K100-DYN-7B-P09-50-L-EQ2-3.wav
OD-FB-K100-DYN-7B-P09-50-L-EQ3-2.wav
OD-FB-K100-DYN-7B-P09-50-L-EQ3-3.wav
OD-FB-K100-DYN-7B-P09-50-L-LCUT.wav
OD-FB-K100-DYN-7B-P09-50-R-LCUT.wav
OD-FB-K100-DYN-7B-P09-70-L-EQ3-3.wav
OD-FB-K100-DYN-7B-P10-30-L-HFTILT.wav
OD-FB-K100-DYN-7B-P10-30-L.wav
OD-FB-K100-DYN-7B-P10-30-R.wav
OD-FB-K100-DYN-7B-P10-40-R.wav
OD-FB-K100-DYN-7B-P10-50-L-EQ2-2.wav
OD-FB-K100-DYN-7B-P10-50-L-EQ2-3.wav
OD-FB-K100-DYN-7B-P10-50-L-EQ3-2.wav
OD-FB-K100-DYN-7B-P10-50-L-EQ3-3.wav
OD-FB-K100-DYN-7B-P10-50-L-HFTILT.wav
OD-FB-K100-DYN-7B-P10-50-L-LCUT.wav
OD-FB-K100-DYN-7B-P10-50-L.wav
OD-FB-K100-DYN-7B-P10-50-R-LCUT.wav
OD-FB-K100-DYN-7B-P10-50-R.wav
OD-FB-K100-DYN-7B-P10-70-L.wav
OD-FB-K100-DYN-7B-P10-70-R.wav
OD-FB-K100-DYN-7B-P10-90-L.wav
OD-FB-K100-DYN-7B-P10-90-R.wav
OD-FB-K100-DYN-7B-P12-30-L-HFTILT.wav
OD-FB-K100-DYN-7B-P12-50-L-EQ2-2.wav
OD-FB-K100-DYN-7B-P12-50-L-EQ2-3.wav
OD-FB-K100-DYN-7B-P12-50-L-EQ3-2.wav
OD-FB-K100-DYN-7B-P12-50-L-EQ3-3.wav
OD-FB-K100-DYN-7B-P12-50-L-HFTILT.wav
OD-FB-K100-DYN-7B-P19-30-L-HFTILT.wav
OD-FB-K100-DYN-7B-P19-50-L-HFTILT.wav
OD-FB-K100-DYN-7B-P20-30-L-HFTILT.wav
OD-FB-K100-DYN-7B-P20-50-L-HFTILT.wav
OD-FB-K100-DYN-7B-P25-30-L-HFTILT.wav
OD-FB-K100-DYN-7B-P25-50-L-HFTILT.wav

DYN-906

OD-FB-K100-DYN-906-P00-30-L.wav
OD-FB-K100-DYN-906-P00-30-R.wav
OD-FB-K100-DYN-906-P00-50-L.wav
OD-FB-K100-DYN-906-P00-50-R.wav
OD-FB-K100-DYN-906-P05-30-L-HTFILT-EQ2-2.wav
OD-FB-K100-DYN-906-P05-30-L-HTFILT-EQ2-3.wav
OD-FB-K100-DYN-906-P05-30-L-HTFILT-EQ3-2.wav
OD-FB-K100-DYN-906-P05-30-L-HTFILT-EQ3-3.wav
OD-FB-K100-DYN-906-P05-30-L-HTFILT.wav
OD-FB-K100-DYN-906-P05-30-L.wav
OD-FB-K100-DYN-906-P05-30-R.wav
OD-FB-K100-DYN-906-P05-50-L.wav
OD-FB-K100-DYN-906-P05-50-R.wav
OD-FB-K100-DYN-906-P09-30-L-HTFILT-EQ2-2.wav
OD-FB-K100-DYN-906-P09-30-L-HTFILT-EQ2-3.wav
OD-FB-K100-DYN-906-P09-30-L-HTFILT-EQ3-2.wav
OD-FB-K100-DYN-906-P09-30-L-HTFILT-EQ3-3.wav
OD-FB-K100-DYN-906-P09-30-L-HTFILT.wav
OD-FB-K100-DYN-906-P09-30-L.wav
OD-FB-K100-DYN-906-P09-30-R.wav
OD-FB-K100-DYN-906-P09-50-L.wav
OD-FB-K100-DYN-906-P09-50-R.wav
OD-FB-K100-DYN-906-P10-30-L-HTFILT-EQ2-2.wav
OD-FB-K100-DYN-906-P10-30-L-HTFILT-EQ2-3.wav
OD-FB-K100-DYN-906-P10-30-L-HTFILT-EQ3-2.wav
OD-FB-K100-DYN-906-P10-30-L-HTFILT-EQ3-3.wav
OD-FB-K100-DYN-906-P10-30-L-HTFILT.wav
OD-FB-K100-DYN-906-P10-30-L.wav
OD-FB-K100-DYN-906-P10-30-R.wav
OD-FB-K100-DYN-906-P10-50-L.wav
OD-FB-K100-DYN-906-P10-50-R.wav
OD-FB-K100-DYN-906-P12-30-L.wav
OD-FB-K100-DYN-906-P12-50-L.wav
OD-FB-K100-DYN-906-P12-50-R.wav
OD-FB-K100-DYN-906-P19-50-L.wav
OD-FB-K100-DYN-906-P19-50-R.wav
OD-FB-K100-DYN-906-P20-50-L.wav
OD-FB-K100-DYN-906-P20-50-R.wav
OD-FB-K100-DYN-906-P25-50-L.wav
OD-FB-K100-DYN-906-P25-50-R.wav
OD-FB-K100-DYN-CN-7-P00-30-L.wav

DYN-CN-7

OD-FB-K100-DYN-CN-7-P00-30-R.wav
OD-FB-K100-DYN-CN-7-P00-50-L.wav
OD-FB-K100-DYN-CN-7-P00-50-R.wav
OD-FB-K100-DYN-CN-7-P05-30-L.wav
OD-FB-K100-DYN-CN-7-P05-30-R.wav
OD-FB-K100-DYN-CN-7-P05-50-L.wav
OD-FB-K100-DYN-CN-7-P05-50-R.wav
OD-FB-K100-DYN-CN-7-P09-30-L.wav
OD-FB-K100-DYN-CN-7-P09-30-R.wav
OD-FB-K100-DYN-CN-7-P09-40-L-EQ2-2.wav
OD-FB-K100-DYN-CN-7-P09-40-L.wav
OD-FB-K100-DYN-CN-7-P09-50-L.wav
OD-FB-K100-DYN-CN-7-P09-50-R.wav
OD-FB-K100-DYN-CN-7-P10-30-L.wav
OD-FB-K100-DYN-CN-7-P10-30-R.wav
OD-FB-K100-DYN-CN-7-P10-40-L-EQ2-2.wav
OD-FB-K100-DYN-CN-7-P10-40-L.wav
OD-FB-K100-DYN-CN-7-P10-50-L.wav
OD-FB-K100-DYN-CN-7-P10-50-R.wav
OD-FB-K100-DYN-CN-7-P12-30-L.wav
OD-FB-K100-DYN-CN-7-P12-30-R.wav
OD-FB-K100-DYN-CN-7-P12-50-L.wav
OD-FB-K100-DYN-CN-7-P20-30-L.wav
OD-FB-K100-DYN-CN-7-P20-30-R.wav
OD-FB-K100-DYN-CN-7-P20-50-L.wav
OD-FB-K100-DYN-CN-7-P20-50-R.wav

DYN-US-6

OD-FB-K100-DYN-US-6-P05-00-L.wav
OD-FB-K100-DYN-US-6-P05-00-R.wav
OD-FB-K100-DYN-US-6-P05-10-L.wav
OD-FB-K100-DYN-US-6-P05-10-R.wav
OD-FB-K100-DYN-US-6-P05-15-L.wav
OD-FB-K100-DYN-US-6-P05-15-R.wav
OD-FB-K100-DYN-US-6-P09-00-L.wav
OD-FB-K100-DYN-US-6-P09-00-R.wav
OD-FB-K100-DYN-US-6-P09-10-L-EQ2-2.wav
OD-FB-K100-DYN-US-6-P09-10-L-EQ2-3.wav
OD-FB-K100-DYN-US-6-P09-10-L-EQ3-2.wav
OD-FB-K100-DYN-US-6-P09-10-L-EQ3-3.wav
OD-FB-K100-DYN-US-6-P09-10-L.wav
OD-FB-K100-DYN-US-6-P09-10-R.wav
OD-FB-K100-DYN-US-6-P09-15-L.wav
OD-FB-K100-DYN-US-6-P09-15-R.wav
OD-FB-K100-DYN-US-6-P10-00-L.wav
OD-FB-K100-DYN-US-6-P10-00-R.wav
OD-FB-K100-DYN-US-6-P10-10-L-EQ2-2.wav
OD-FB-K100-DYN-US-6-P10-10-L-EQ2-3.wav
OD-FB-K100-DYN-US-6-P10-10-L-EQ3-2.wav
OD-FB-K100-DYN-US-6-P10-10-L-EQ3-3.wav
OD-FB-K100-DYN-US-6-P10-10-L.wav
OD-FB-K100-DYN-US-6-P10-10-R-EQ2-2.wav
OD-FB-K100-DYN-US-6-P10-10-R-EQ2-3.wav
OD-FB-K100-DYN-US-6-P10-10-R-EQ3-2.wav
OD-FB-K100-DYN-US-6-P10-10-R-EQ3-3.wav
OD-FB-K100-DYN-US-6-P10-10-R.wav
OD-FB-K100-DYN-US-6-P10-15-L.wav
OD-FB-K100-DYN-US-6-P10-15-R.wav
OD-FB-K100-DYN-US-6-P12-00-L.wav
OD-FB-K100-DYN-US-6-P12-00-R.wav
OD-FB-K100-DYN-US-6-P12-10-L.wav
OD-FB-K100-DYN-US-6-P12-10-R.wav
OD-FB-K100-DYN-US-6-P12-15-L.wav
OD-FB-K100-DYN-US-6-P12-15-R.wav
OD-FB-K100-DYN-US-6-P19-00-L.wav
OD-FB-K100-DYN-US-6-P19-00-R.wav
OD-FB-K100-DYN-US-6-P19-10-L-EQ2-2.wav
OD-FB-K100-DYN-US-6-P19-10-L-EQ2-3.wav
OD-FB-K100-DYN-US-6-P19-10-L-EQ3-2.wav
OD-FB-K100-DYN-US-6-P19-10-L-EQ3-3.wav
OD-FB-K100-DYN-US-6-P19-10-L.wav
OD-FB-K100-DYN-US-6-P19-10-R.wav
OD-FB-K100-DYN-US-6-P19-15-L.wav
OD-FB-K100-DYN-US-6-P19-15-R.wav
OD-FB-K100-DYN-US-6-P20-00-L.wav
OD-FB-K100-DYN-US-6-P20-00-R.wav
OD-FB-K100-DYN-US-6-P20-10-L.wav
OD-FB-K100-DYN-US-6-P20-10-R.wav
OD-FB-K100-DYN-US-6-P20-15-L.wav
OD-FB-K100-DYN-US-6-P20-15-R.wav
OD-FB-K100-DYN-US-6-P25-00-L.wav
OD-FB-K100-DYN-US-6-P25-00-R.wav
OD-FB-K100-DYN-US-6-P25-10-L.wav
OD-FB-K100-DYN-US-6-P25-10-R.wav
OD-FB-K100-DYN-US-6-P25-15-L.wav
OD-FB-K100-DYN-US-6-P25-15-R.wav

RBN-160

OD-FB-K100-RBN-160-P00-40-L.wav
OD-FB-K100-RBN-160-P00-40-R.wav
OD-FB-K100-RBN-160-P00-60-L.wav
OD-FB-K100-RBN-160-P00-60-R.wav
OD-FB-K100-RBN-160-P05-40-L.wav
OD-FB-K100-RBN-160-P05-40-R.wav
OD-FB-K100-RBN-160-P05-60-L.wav
OD-FB-K100-RBN-160-P05-60-R.wav
OD-FB-K100-RBN-160-P09-40-L.wav
OD-FB-K100-RBN-160-P09-40-R.wav
OD-FB-K100-RBN-160-P09-60-L.wav
OD-FB-K100-RBN-160-P09-60-R.wav
OD-FB-K100-RBN-160-P10-40-L.wav
OD-FB-K100-RBN-160-P10-40-R.wav
OD-FB-K100-RBN-160-P10-60-L.wav
OD-FB-K100-RBN-160-P10-60-R.wav
OD-FB-K100-RBN-160-P12-60-L.wav
OD-FB-K100-RBN-160-P12-60-R.wav
OD-FB-K100-RBN-160-P19-60-L.wav
OD-FB-K100-RBN-160-P19-60-R.wav
OD-FB-K100-RBN-160-P20-60-L.wav
OD-FB-K100-RBN-160-P20-60-R.wav
OD-FB-K100-RBN-160-P25-60-L.wav
OD-FB-K100-RBN-160-P25-60-R.wav

PROCESSED

OD-FB-K100-DYN-57-FRED-L-01.wav
OD-FB-K100-DYN-57-FRED-L-02.wav
OD-FB-K100-DYN-57-FRED-L-03.wav
OD-FB-K100-DYN-58-FRED-L-04.wav
OD-FB-K100-DYN-58-FRED-L-05.wav
OD-FB-K100-DYN-58-FRED-R-01.wav
OD-FB-K100-DYN-CN-7-FRED-L-01.wav
OD-FB-K100-DYN-CN-7-FRED-L-02.wav
OD-FB-K100-DYN-CN-7-FRED-L-03.wav
OD-FB-K100-DYN-CN-7-FRED-L-04.wav
OD-FB-K100-DYN-CN-7-FRED-R-01.wav
OD-FB-K100-DYN-CN-7-FRED-R-02.wav
OD-FB-K100-DYN-CN-7-FRED-R-03.wav
OD-FB-K100-DYN-CN-7-FRED-R-04.wav
OD-FB-K100-MIX-001.wav
OD-FB-K100-MIX-002.wav
OD-FB-K100-MIX-003.wav
OD-FB-K100-MIX-006.wav
OD-FB-K100-MIX-007.wav
OD-FB-K100-MIX-009.wav
OD-FB-K100-MIX-009a.wav
OD-FB-K100-MIX-010.wav
OD-FB-K100-MIX-011.wav
OD-FB-K100-MIX-012.wav
OD-FB-K100-MIX-013.wav
OD-FB-K100-MIX-014.wav
OD-FB-K100-MIX-015.wav
OD-FB-K100-MIX-017.wav
OD-FB-K100-MIX-018.wav
OD-FB-K100-MIX-019.wav
OD-FB-K100-MIX-020.wav
OD-FB-K100-MIX-021.wav
OD-FB-K100-MIX-022.wav