Introduction
We presented the Mooer Radar (IR Loader pedal) in a first review, and this time we are reviewing the Two-Notes Audio Engineering C.A.B M (which stands for "Cabinet in A Box").
Launched at Namm 2019 (so 15 months ago), the Torpedo CAB M is a pedal format guitar cabinet simulator based on impulse response technology : it can use Two-Notes enhanced impulse response format or traditional impulse responses. This pedal is the second version from Two-Notes : the previous Torpedo CAB is replaced by this "M" version. This CAB M is a complete Swiss army knife for the guitar player : it is packed with features, provides a large option of connections and comes with high-quality control software that you can run on your PC or Mac. New with this pedal : the capability to control and change parameters from an IOS or an Android application directly connected to the pedal through a Bluetooth link (Torpedo Wireless Remote). Small review ? Let's go….
About Two-Notes
Two-Notes Audio Engineering has become a leader in the guitar cabinet simulation space with dedicated software and hardware solutions. These French guys are everywhere : you can find Two Notes products in many studios, live venues, concerts and many guitar players use their solutions on the road or at home. The high quality of Two Notes products is very often praised and recognized, and year after year they acquired a very solid reputation.
Two-Notes nowadays has a complete range of hardware products : load-boxes, numeric load-boxes, pedal format IR loader (the CAB M), preamps…. On the software side they deliver a plugin for DAWs named Torpedo Wall Of Sound (WOS) which comes with some of their hardware or that can be bought standalone (or for free during these special COVID-19 times : check here). The hardware products come with a control and configuration software : the Torpedo Remote.
The French company has also managed to create an online store of virtual cabinets : the quality of the cabs available there is usually very good or excellent. The Two-Notes cabinets available through "La Boutique" are either captured by Two-Notes or third-party vendors : this provides a high-quality ecosystem of vendors. And third party -here- means names like Mesa Boogie, Celestion, Suhr, Revv, Kalthallen Studio, Fortin or -very recently- Engl.
Two-Notes has perfectly understood that one of the keys to guitar cab simulation is the ability to provide a large and high-quality cab offering (the best hardware in the world will not provide good results with bad or average IRs….).
Most of the Two-Notes hardware comes with a licence of Wall Of Sound and includes a (predefined) set of guitar cabs. If you buy multiple products from Two-Notes you can attach your sets of cabs to your account and you will then be able to use all these cabs on all the Two-Notes solutions that you own. You can also buy new cabs or cab packs from La Boutique and attach these to your account, to expand your tone options.
The .tur format
Two-Notes uses a proprietary file format : the .tur files. This format is only accepted and decoded by Two-Notes hardware and software. This .tur format allows Two-Notes and the 3rd party vendors to protect the cabs with a license key. The .tur file is actually able to embed multiple IRs (multiple positions) and multiple microphones (up to 8 microphones). Two-Notes leverages the impulse response technology as well as custom interpolation algorithms to generate intermediate IRs (ie positions). If you want to learn a little bit more on this (and practice your French) you can listen to this interview at Audiofanzine, with Guillaume Pile, CEO of Two-Notes : https://fr.audiofanzine.com/simulateur-de-hp-pour-ampli-guitare/editorial/dossiers/podcast-avec-guillaume-pille-de-two-notes-lpdlp-d-octobre-2018.html.
Torpedo C.A.B. M : introduction
So the Torpedo CAB M is the new version of the older Torpedo CAB : the form factor has changed, connectivity has also changed and MIDI capabilities were removed. The price of the CAB M is lower than it's predecessor price.
This pedal-format cab and IR loader can accommodate multiple situations : rehearsal, practice, studio, live… It can be used as the main CAB device or it can compliment a real CAB to output sound to a recording device or a PA system.
The device looks pretty solid and when you use it you immediately feel a high level of quality.
When you unbox it, you get :
The Torpedo CAB M pedal (approx 450 g)
the power transformer (12 volts, the pedal requires 200 mA)
an USB cable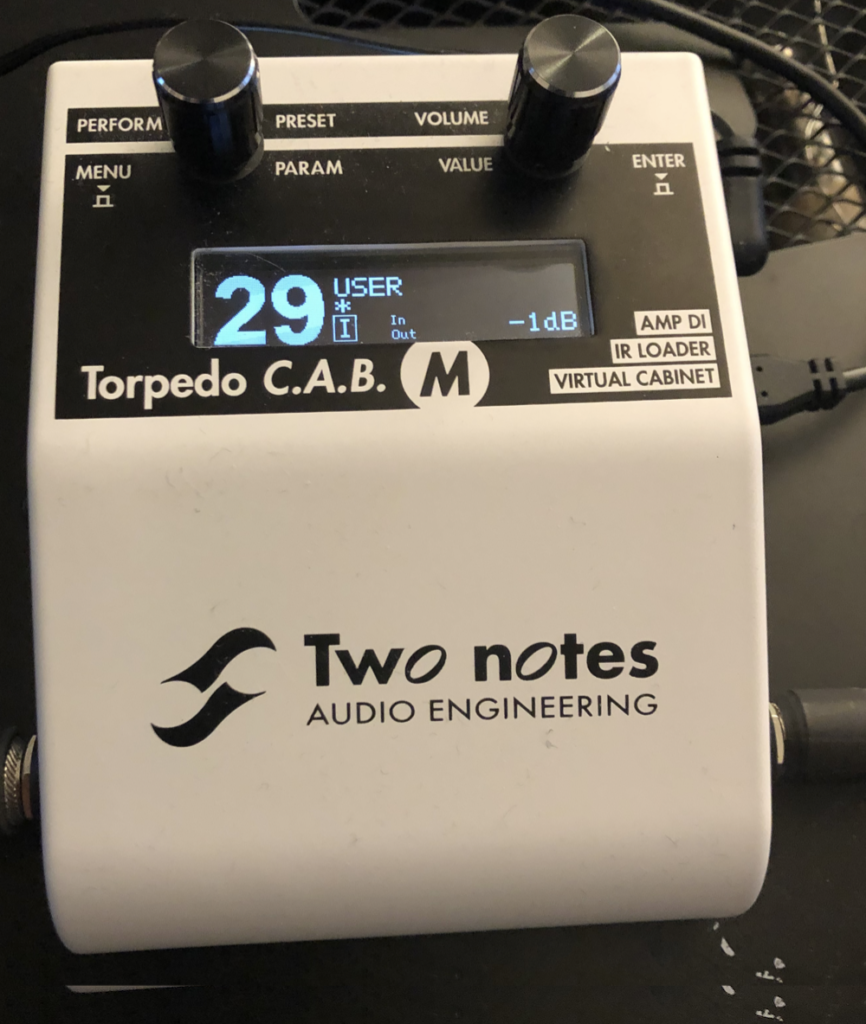 The main technical specifications are the following :
24 bits A/D D/A converters, 96 KHZ
frequency response : from 12 Hz to 19 kHz
Signal / noise ratio : over 95 dB
1,7 ms latency
IRs length : up to 200 ms
support for Two-Notes format (.tur) and regular IRs (wav or aiff, 16 or 24 bits, from 44,1 kHz to 96 kHz)
32 virtual cabinets provided and stored on internal memory
memory card (pre-installed) for 3rd party IRs storage (the card provided with the pedal has a 256 MB capacity, the slot can handle cards up to 32 GB)
Two rotary buttons allow for menu navigation and parameter changes. They cannot be used as footswitches to operate the device. The first rotary button allows for preset change or to select a parameter for modification, the second one allows for volume adjustment and editing of the parameter values.
The small white OLED display is very useable and provides a good reading of the current parameters and settings. It displays real-time white bars to show the current level of the input and output signal, and this is really a handy feature to leverage the device and get the best sounds out of it. While it is cool to be able to tweak parameters directly on the pedal with the buttons, manually editing all the parameters can quickly become cumbersome and annoying, especially when setting up the pedal (ie when editing or creating multiple presets). Instead, you will be better using the provided applications. Two types of applications are available with the pedal : a classical stand-alone app for PC or MAC named Torpedo Remote, and the Torpedo Remote Wireless that you can install on your IOS or Android phone. The PC or MAC app will allow you to edit parameters, edit or create presets, change the cabs stored on the pedal, add new cabs or IRs, while the wireless version will allow you to change presets and adjust parameters (but no IR or CAB loading capability). The phone app will leverage the bluetooth capability of the pedal and will connect your phone directly to the pedal : you will then really become a 21st century guitar player 😉
The pedal is able to run two cabs or two IRs simultaneously, that you can mix the way you want (you can set the level of each cab/ir). You can choose to use only one of the two, mute one, or mix the two the way you want…
Note: the numeric load box Torpedo Live used to be able to process only 1 cab at a time. Two-Notes took the time to upgrade the firmware in order to support this 2 cabs capability on this device as well. Two-Notes users will appreciate : the Torpedo Live has been on the market for years and it is still getting interesting upgrades.
Two-Notes has been using 20 ms cab/irs for a long time : this new generation of devices enhances the IR length support, and now IRs up to 200 ms are accepted.
Connections
The CAB M is pretty complete in terms of connectivity :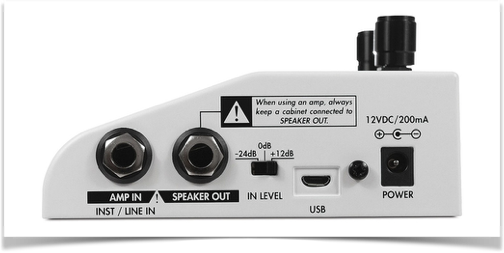 The USB port is used to connect the pedal to your Mac or PC, for control through the Torpedo Remote application (the pedal does not behave as a sound card, this port is only for the application control and cab upload to the pedal)
The "AMP/INST/Line in" allows you to connect a preamp pedal, an FX Loop out or even the CAB out from your guitar amp directly to the pedal. WARNING : in this case, the pedal sits between your amp and you real CAB or a load-box. The CAB M is NOT a load-box : in this scenario YOU MUST CONNECT A LOAD to the pedal, else you risk to cause damages to your amp. The in-level selector has three positions, to accommodate the level of signal you are using : -24/0/+12 db. This affects as well the input impedance : 47 kOhms, 57 kOhms, or 1 MOhms.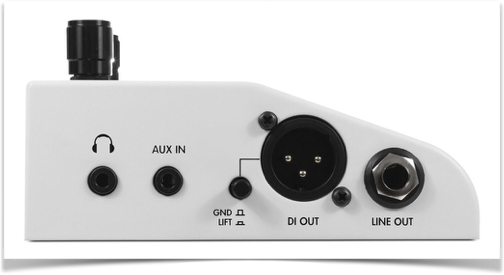 The outputs connectors allow you to connect the pedal to various targets : a sound card, a mixer, an FRFR or studio monitor,… The sound output can be taken either from the XLR DI out or the jack line out. Two jack connectors (small format) are also present : with "Aux In" you can input a backing track or any audio to the pedal (aux input is stereo, and mixed down to mono by the pedal). And the pedal has also an headphone connector (which is quite powerful).
The documentation is complete, clear and accessible online : https://wiki.two-notes.com/doku.php?id=torpedo_cab_m:torpedo_c.a.b._m_user_s_manual for English. It is also available in French and German. Multiple connection diagrams are presented in the documentation.
Getting started
The pedal startup is nearly immediate (it "boots" in less than 2 seconds). The rotary butons are easy to use : navigating, selecting and changing parameters is simple.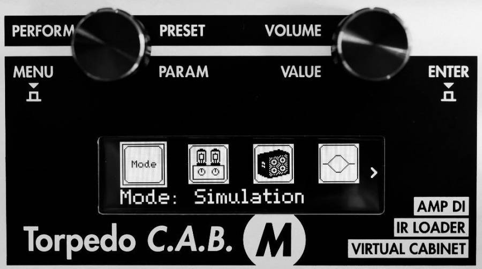 Settings are organized through presets that you will name when you save them. Presets are using either 1 or 2 Two-Notes cabs, or 1 or 2 impulse responses.
Three configuration modes are available, depending on your preset configuration :
Arcade mode: it is a simplified mode
Simulation : the complete and classical mode for Two Notes cabs
IR : impulse response mode
For each preset, you can :
select the cab(s) or IR(s)
select a microphone and its position (CAB only, not for IRs)
select and configure a power-amp simulation (optional)
select and configure a reverb (optional)
configure and apply some equalization settings (optional)
In the arcade mode, Two-Notes has trimmed-down the parameter set, to simplify and help beginners to get started. In simulation mode, you access the full set of parameters. And in IR Loader mode, you can use all parameters excepted microphone and positions changes (as the conventional IRs are "static" compared to Two Notes cabs). All the other parameters are available in the IR Loader mode.
The pedal has a master volume setting and each preset also has a preset volume. Cabs / mics / IRs can be more or less loud : this is a very welcome feature to adjust the levels of your presets. This allows you to align your output levels (useful when changing presets) or to plan for a boost when using your solo presets for example. Some concurrent pedals do not have this feature (the Mooer Radar for example) : it is IMHO a very useful feature when using this kind of devices extensively.
Torpedo Remote : control your CAB
As mentioned, Two-Notes provides two applications for remote controlling the pedal :
Torpedo Remote for Mac / PC : control, configure and upload cabs from your computer (from the install banner, it is the same software used for the Torpedo Studio, the Torpedo Live, the Revv G20 or the Audient device with embedded Two-Notes technology)
The Torpedo Wireless Remote : control and configure the pedal from your phone
Let's directly say that the software quality is amazing : it is clean, well designed, fast, and the GUI is very useable.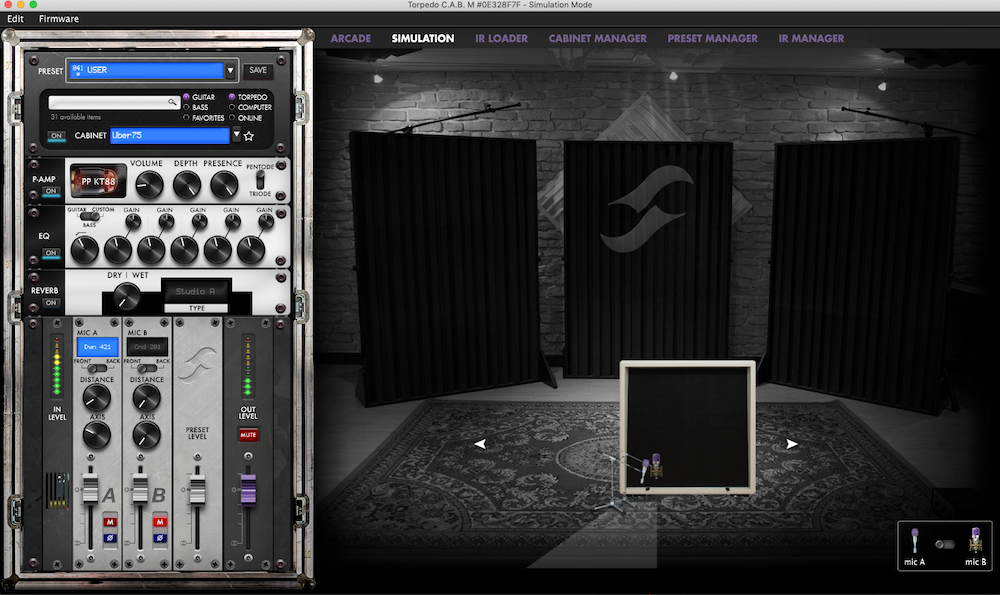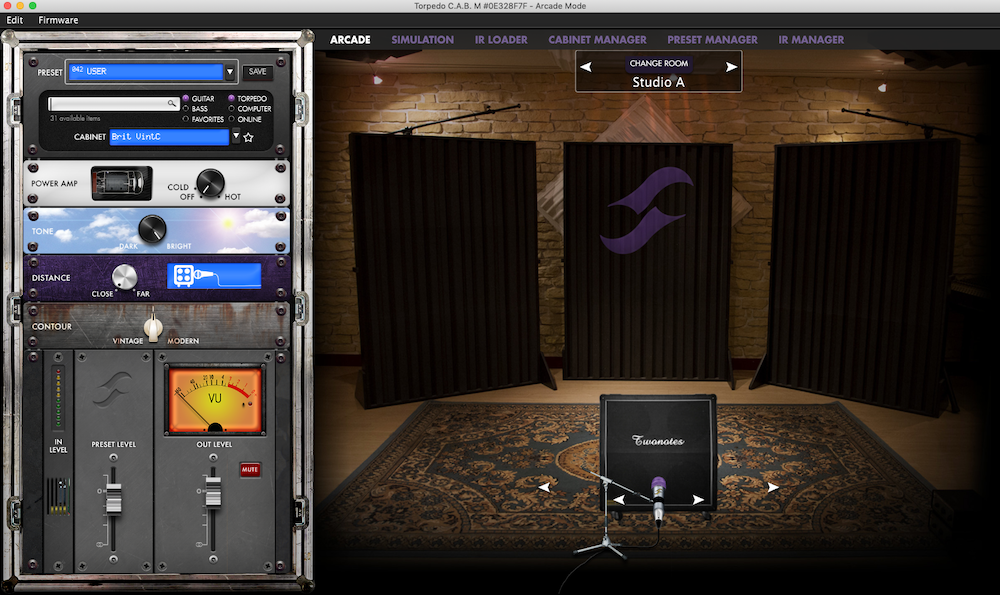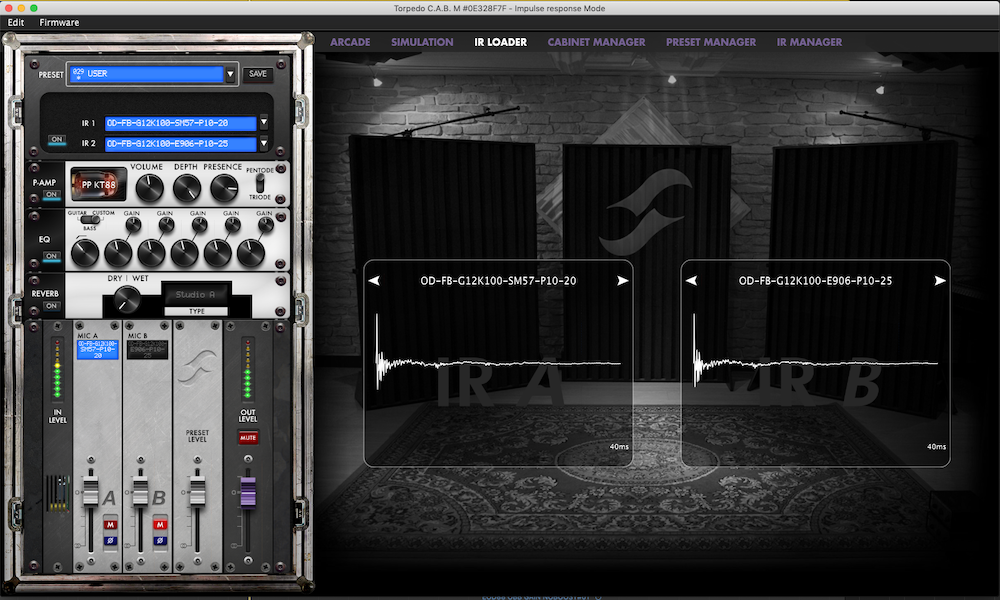 After pairing your phone with the pedal via Bluetooth (pin code configurable on the pedal) your phone or tablet will turn into a luxury remote control. The app is amazing: very reactive, the GUI is great. If you have big fingers like me, you'll enjoy having a large smartphone screen or using a tablet. If you are connected at the same time from the PC or Mac application, any parameter change from any source (PC / pedal / smartphone) is immediately reflected on the 3 devices… Nice ! 😉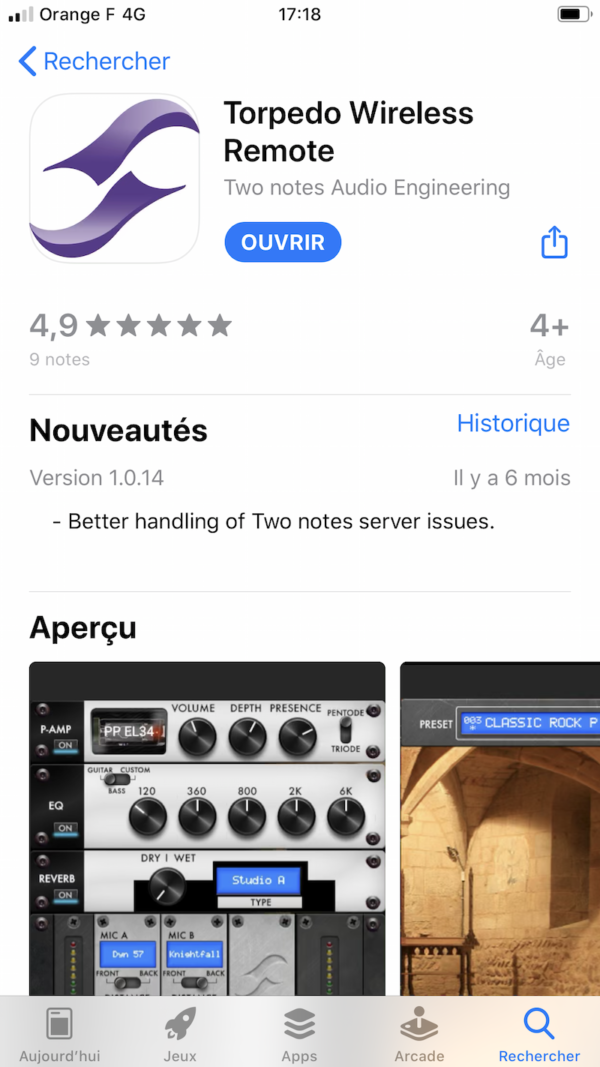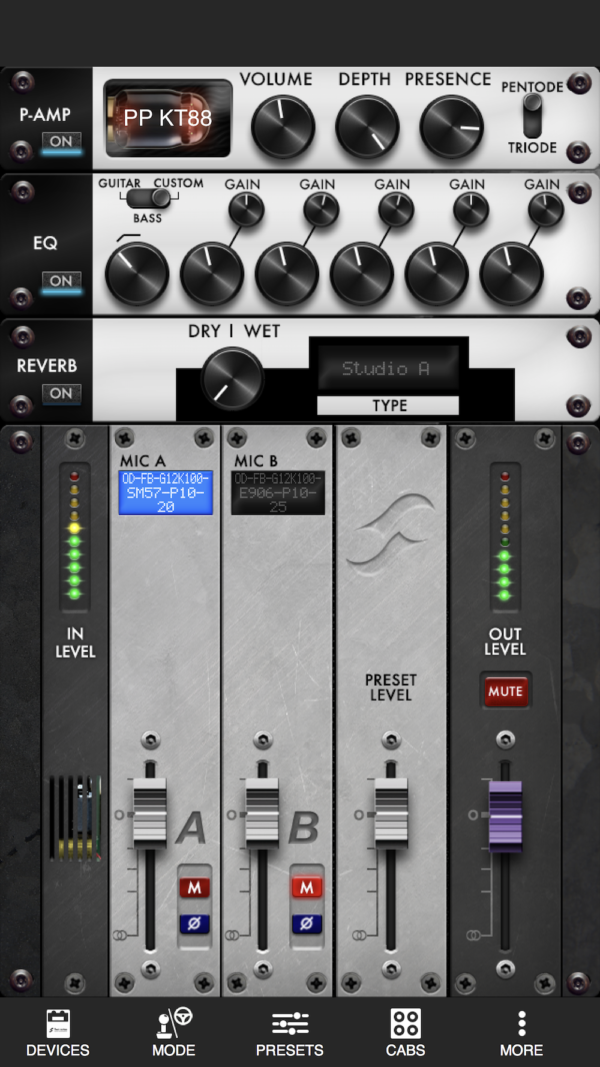 Equalizers
Three different equalizers are available, with the capabilty to tweak the gain by +/- 20 dB on each frequency band (!!)
Standard guitar EQ : 120Hz, 360Hz, 800Hz, 2000Hz, 6000Hz
Bass EQ : 50Hz, 120Hz, 360Hz, 800Hz, 4000Hz
Parametric EQ :

Low Cut: 10 – 500Hz (12 dB per octave slope)
Low: 60 – 240 Hz, +/-20dB
LMid: 180 – 720 Hz, +/-20dB
Mid: 400 – 1600 Hz, +/-20dB
HMid: 1 – 4 kHz, +/-20dB
High: 3 – 12 kHz, +/-20dB


I personally use the Wall Of Sound plugin very often and I am used to the bands layout of the standard Two-Notes EQ : I am simply missing the low-cut here (as I need to switch to the parametric EQ…). EQs are very efficient, and do not alter the phase of the signal (or at least I can't hear or detect any change).
The CABs !
The pedal comes with the following cabs:
Uber75 : 4×12 with Celestion® G12T-75 and V30.
Brownyback: 4×12 Peavey 5150® with Celestion® speakers
Tanger Fat : PPC412HP© 4×12 Orange® with Celestion® Heritage G12H (55Hz) and Celestion© G12M Heritage Greenback
BigBeast : Zilla® 4×12 closed, 16 Ohms. with Celestion® Vintage 30
RackHero : Suhr® CAA 4×12" CB Alien Transformer® 20W Greenback clones
BoGreen : Bogner® 4×12 Greenbacks G12M25 Reissue 16ohms
Calif StdC : Mesa/Boogie® Rectifier® Standard 4×12" Celestion® V30 closed
Calif StdO : Mesa/Boogie® Rectifier® Standard 4×12" Celestion® V30 open
Free Rock : VHT® Deliverance 4×12″ Eminence® P50E
Brit 65C : Marshall® 1965A 4×10" Celestion® G10L-35 closed
Revv 2×12 Open Back V1 : Revv 212 open with Warehouse Guitar Speakers Vet 30 and ET 90 drivers
Revv 2×12 Closed Back V1 : Revv 212 closed with Warehouse Guitar Speakers Vet 30 and ET 90 drivers
Greatsh : Gretsch® 6159 with two Jensen® C12-PS
Prime A : Divided by Thirteen® FTR37 2×12" OB Celestion® Blue & G12H30 70th Anniversary
Silver77 : Fender® Twin Reverb® 2×12″ with orange JBL®
Vibro Utah : Vintage 1961 Fender® Vibrolux® 1×12" with the original Utah speaker
Vibro V30 : Vintage 1961 Fender® Vibrolux® 1×12" Celestion® V30
Voice 30 : Original Vox® AC30 JMI 2×12" Celestion® « Silver Bell »
Eddie : Peavey® 5150 2×12" Sheffield 1200
Brit Std : Marshall® JCM900 2×12″ Celestion® G12T
Watt FanC : Hiwatt® 2×12" Fane closed
Revv 1×12 ET90 : Revv 112 with a Warehouse Guitar Speakers ET90 driver
CalifOver : Mesa/Boogie® 1×12 with a Blackshadow® C90 speaker.
LuxTweeDe : Fender® Blues Deluxe Reissue with Eminence® speaker
Rand RD112 : Randall® RD112 1×12 with a Celestion® Vintage 30
Silver10:Fender® Princeton Reverb® with Jensen® P10Q
JubilV30 : Marshall® 2556AV 2×12″ Celestion® Vintage 30
For bass guitar players :
Green18 : Trace Elliot© 1818T
Fat Mama : Ampeg© SVT-410HE 4×10
WGrandBlvd : Ampeg® B15N 1×15" CB Jensen® C15N
Heaven Top : David Eden® 4×10"
Marco : Markbass® 2×10"
A very interesting cabs and speakers selection : with Bogner, Orange, Peavey, Zillacabs, Revv cabs, and many different flavors of speakers : G12T75, V30, GreenBack, WGS Vet 30, Fane, Eminence… Many interesting speakers for rock and metal players to explore !
The available microphones are the typical ones : you will find SM57, MD421, M160, … and many more. The different providers of CABs do not always use the same set of 8 microphones, so you will probably discover new microphones here and there…
The Torpedo Remote software allows you to manage the Two-Notes cabs on the pedal : if you decide to buy additional cabs from La Boutique, you can upload the new cabs to the pedal (32 Two-Notes cab max on the pedal : so you may have to replace some of the cabs already present. You will be able to re-upload them to the pedal at any time).
Power-amps
These are the classical from Two-Notes : 8 simulations are available. You can check this blog post to learn more about them : https://overdriven.fr/overdriven/index.php/2020/01/23/impulse-responses-part-4/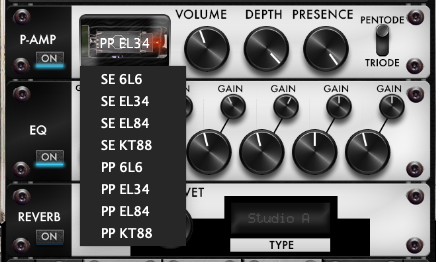 Audio quality
Two-Notes product are known to provide great audio quality : and it is the case for this pedal, the sound you get is very good. I get similar or better results with the pedal compared to my entry-level/mid-level sound card (do the dedicated converters or impedance and levels of the input connector make the difference ?).
Loading 3rd party IRs
No issues loading 3rd party IRs on the pedal : they are processed and stored on the pedal without problems.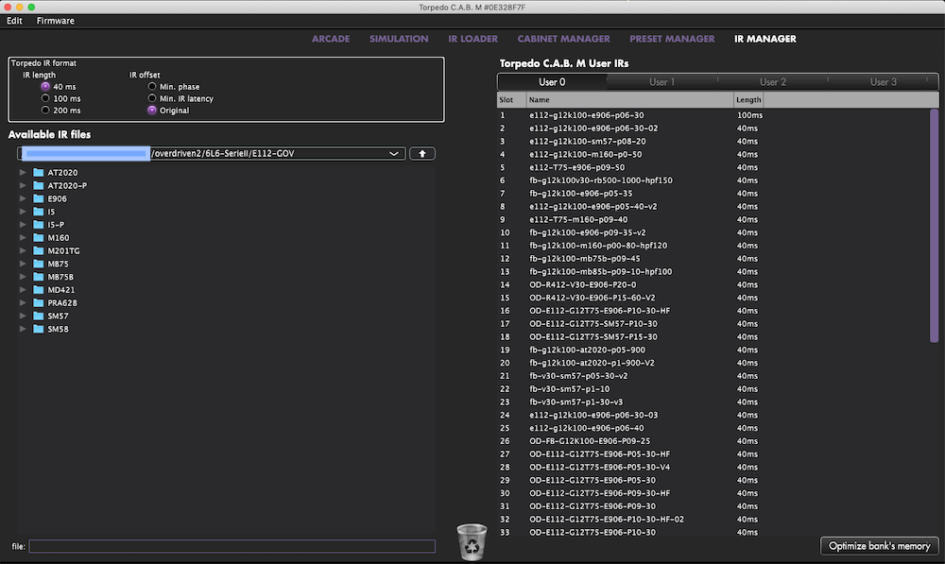 For the free IRs available on overdriven.fr, use the "ORIGINAL" offset setting for accurate results. 40 ms is enough.
A few samples
Let's get back in time with a small sample using a few bars from Candlemass / Bewitched (D#). In the first samples, the riffs are recorded through a Torpedo Reload and using a cab available on the pedal : Uber75 with an MD421. The guitar pickup is an EMG 57.
There is no EQ on the cabs and no LPF in these samples. The tracks are compressed with Fabfilter Pro C-2 but it processes the guitars quite transparently.
Sample 1 : Randall EOD 88, direct, gain boost, Uber 75 / MD421
Sample 2 : Randall EOD 88, OD9, gain no boost, Uber 75 / MD421
Sample 3 : Randall EOD 88, Okko Black Beast, gain no boost, Uber 75 / MD421
Sample 4 : Randall Thrasher 50, OD9, gain boost, Uber 75 / MD421
Sample 5 : Randall Thrasher 50, OD9, less gain, no boost, Uber 75 / MD421
Sample 1
Sample 2
Sample 3
Sample 4
Sample 5
The next samples are captured with the pedal with the following signal chain : Mooer Buffer, preamp pedal, Torpedo Cab M, sound card then Logic Pro X.
Sample 6 : VH4-2 pedal, lead channel , Uber 75 / MD421
Sample 7 : VH4-2 pedal, lead channel, Big Beast (Zilla 412) / SM57
Sample 8 : VH4-2 pedal, lead channel, Revv 212 closed / SM57
Sample 9 : CaliMK3 pedal, Recto412 closed / SM57
Sample 10 : CaliDual pedal, Recto212 WTE / SM57 *
Sample 11: CaliDual pedal, IR Overdriven.fr G12K100/SM57 *
Sample 12 : CaliDual pedal, IR OwnHammer, Marshall 412 G12T75 / M160 *
Entries with '*' : custom CAB or IR loaded on the pedal, not part of the default configuration
Samples 6 to 9 use a 6L6 power amp simulation, samples 10 to 12 use a KT88 simulation
Sample 6
Sample 7
Sample 8
Sample 9
Sample 10
Sample 11
Sample 12
With a guitar amp
This is probably with this configuration that users will be fully able to leverage the pedal and get the best tone. You can connect directly the output of your guitar amp to the pedal : in this case, remember you have to also connect a real cab or a load-box to provide a load to your amp.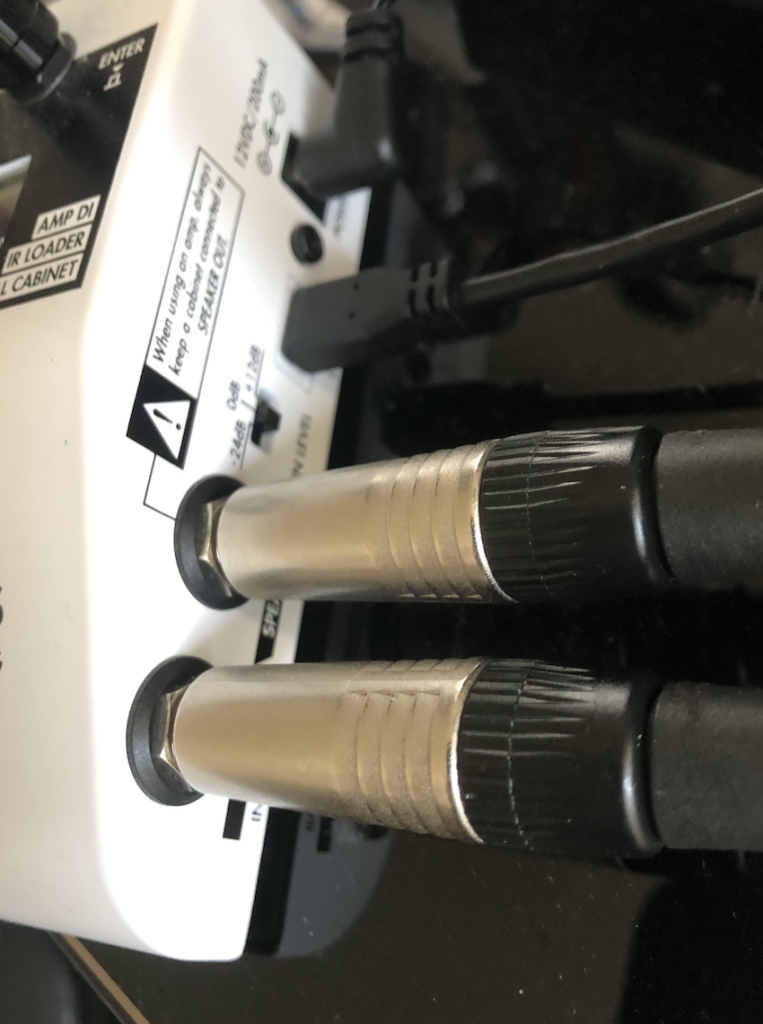 In this scenario, make sure you have deactivated the power amp simulation in the settings : the signal carries already a power-amp colour in this case.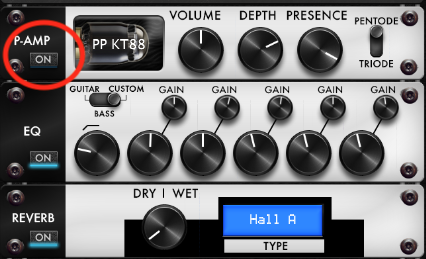 Then you will need to tweak your guitar amp volume and/or master and select the pedal input sensitivity to get the best level adjustment.
A few samples with this setup:
Sample 1
EMG 81 – OD9 – Randall RD20 – CabM (Uber75)
Sample 2
BKP NailBomb – OD9 – Randall RD20 – CabM (IR Overdriven) – 4 tracks directly recorded through the pedal. Introduction of Demented by Pentagram.
Conclusion
Packed with features, this pedal is close to perfect : from the sound quality to the good cab selection associated with the product, from the excellent software to the large cab ecosystem. The provided cabs should keep rock and metal players happy for some time and they will always be able to access new sounds by buying additional cabs through La Boutique. Users will also be able to leverage IRs from other vendors.
Similarly to the Torpedo Live, some specific effects available in Wall Of Sound or with the Torpedo Studio are not present on the CAB M : the variphase or the exciter effect for example. This is not really a problem as the target for the pedal is more live, rehearsal or nomad use, and probably less the studio where a DAW and WOS will provide more flexibility for recording. The Two Notes cabs are phase aligned : so you should not have any issues mixing them on the Cab M (thus you will probably not miss the variphase effect).
If we dig really hard to find some things that would miss or could be better , we could say :
more options to tweak the input level when using a real amp could be helpful : it would provide more flexibility in setting the amp master and volume
there is no footswitch so you can't control the pedal with the foot (live situation for example) : there may be some room for a small -additional- bluetooth or USB footswitch ?
The pedal is available from Thomann : 300 $ (including shipping : https://www.thomannmusic.com/two_notes_torpedo_c_a_b._m_speaker_sim.htm) or MusicStore : 232 Euros + VAT + Shipping (https://www.musicstore.com/en_OT/EUR/Two-Notes-Torpedo-C-A-B-M/art-GIT0049326-000). Prices on April 2020, 17.
This pedal is the entry-level from Two-Notes for its Torpedo range of products and has -IMHO- an excellent features/price/quality ratio. If you are looking for a device of this kind, and if you already own a guitar amp, you should probably also have a look to the Torpedo Live (or the Captor-X, a new compact device from Two-Notes) or the Torpedo Captor that can compliment the C.A.B. M.