The FS07 was launched on the market in July 2021 by Flamma Innovation, a Chinese company founded in 2019: it is a 'budget' brand that seems more or less related to Mooer, judging by the very strong resemblance of certain materials or certain functionalities. For instance, the Flamma FX100 looks very much like the Harley Benton FxGit, which itself seems to be a clone of the Mooer GE150… and the Flamma FX200 looks like an upgraded version of the GE250….
This review is dedicated to the FS07: a hardware IR loader, in a pedal format, offering stereo support for IRs, and which seems to be a clone quite close to the Mooer CAB X2, but offered at a much more attractive price: 77 Euros at Thomann on 04/05/2023, against 149 Euros for the Cab X2. Little review….
Presentation
The FS07 is a standard sized pedal (same dimensions as a JHS Bonsai for example) that comes in an orange livery and seems quite sturdy and well built (although mine took a small chip on an edge during a fall) . Its format is very slightly different from the Mooer Cab X2 from which it seems to take it's inspiration from in terms of functionality and controls.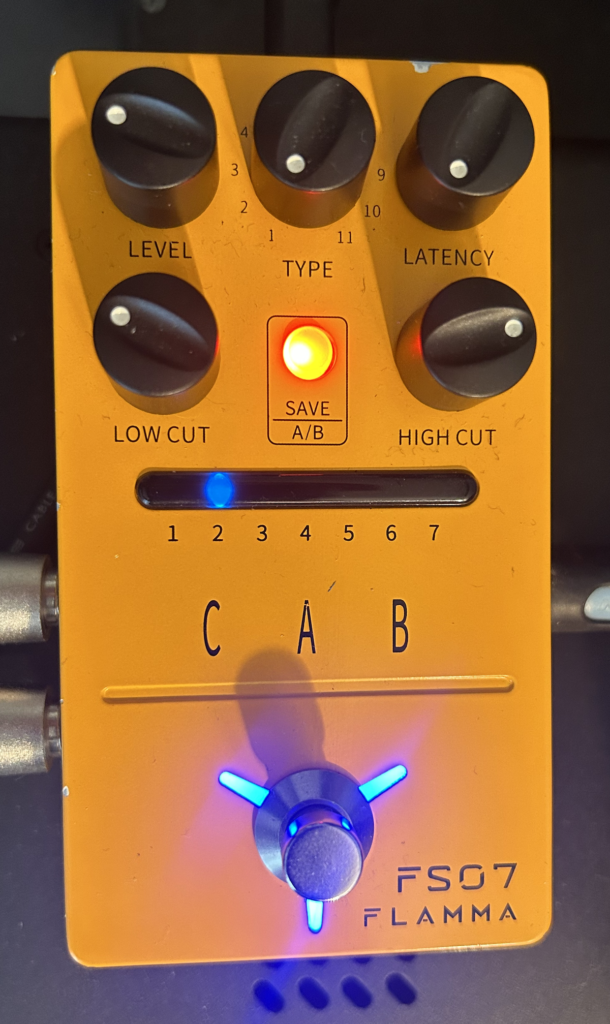 It comes without a power supply (it requires 9V and 300 mA), with a small start-up guide, a sticker, and a USB to micro USB cable… It has a small ramp of 7 multicolored LEDs allowing you to locate the current preset.
Its main features and specifications are as follows:
2 input jacks on the right side: left (mono) and right
2 output jacks on the left side: left and right, the jacks are unbalanced
a ramp of LEDs indicating the current preset (7 presets)
11 IR slots (the pedal comes with 11 original cabs)
5 control buttons, a "save" button and a footswitch
a micro USB port for loading IRs and simplified management of presets
A small control software is available for Windows and Mac OS: you can download it from the product page here: https://flammainnovation.com/single.html?id=64. You can also download the manual in English, in PDF format.
The controls available on the pedal allow you to:
adjust the output level
choose the cab or the IR ("Type" selector)
change preset (foot switch)
apply a latency between 0 and 25 ms on the cab, allowing you to obtain a small spatialization effect
apply a low-cut (off, 34 Hz to 500 Hz) and/or a hi-cut (off, 3 kHz to 20 kHz)
save your settings in the current preset ("save" button)
One of the interesting features of the FS07 is that it operates in both mono and stereo: you can enter with a mono signal and benefit from a stereo output or you can enter with a stereo signal and apply an IR to each channel.
You can use it on your pedal board, behind preamps and effects pedals or even with a multi-effect, either at the output or in the effects loop, if your system has one.
It comes with 11 original cabs, which are as follows:
US DLX 112: Based on Fender® 65 Deluxe reverb 112 cabinet
BLUES 112: Based on Fender® Blues Deluxe 112 cabinet
SONIC 112: Based on Fender® Super Sonic 112 cabinet
US BASS 410: Based on Fender® 59 Bassman 410 cabinet
US TWN 212: Based on Fender® 65 Twin Reverb 212 cabinet
UK 212: Based on VOX® AC30 212 cabinet
BLUENO 212: Based on Bruno® 212 Football cabinet
REC 412: Based on MESA/Boogie® Rectifier® STD 412 cabinet
CALI 412-1: Based on MESA/Boogie® Recto Trad 412 cabinet
VHS 412: Based on Diezel® 412 FV 412 cabinet
EV 5050 412: Based on EVH® 5150 412 cabinet
The cab names are similar to those found in Mooer multi-effects manuals. Note, however, that the microphones used are not mentioned… Not a big deal, as it is likely that you will be using your own IRs instead of the original ones.
In addition, Flamma does not provide official indications concerning the length of the IRs supported or the latency of the pedal.
Operation
You will need the software provided to be able to load your IRs on the pedal: the software is easy to use and supports all the settings of the pedal.
You will then be able to:
load your IRs on the pedal
define the left and right IR of each of the 7 presets
for each channel: definition of volume, latency, low-cut and high-cut (which are OFF when positioned on the minimum position, button turned to the left for each of these two controls, the high-cut is comprising as on the left OFF then 20 kHz up to a minimum of 3 kHz on the right…)
operate a backup and a restore of your presets
reset the pedal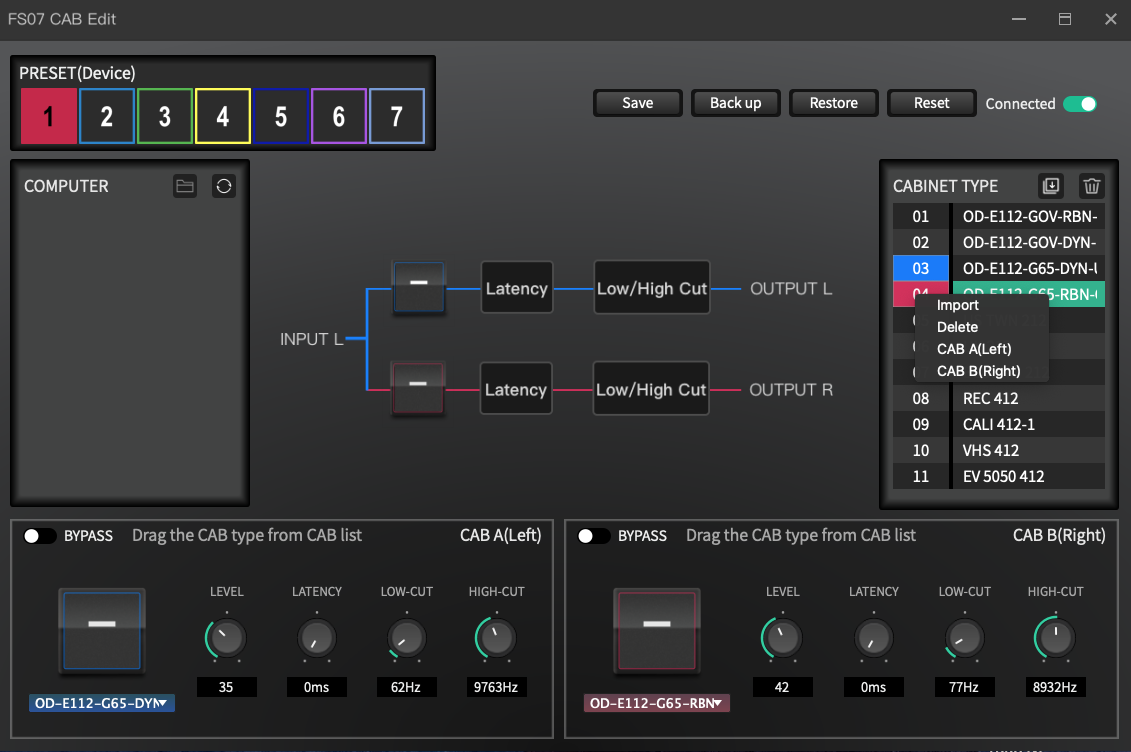 The following diagrams are taken from the Flamma manual and illustrate some of the possible usage scenarios:


You will therefore be able to use the pedal in classic mono mode if you wish (1 input, 1 IR, 1 output), in mono mode to stereo output (1 input, 2 IRs, 2 outputs: left IR on left channel, right IR on right channel) and stereo to stereo (2 inputs, 2 IRs, 2 outputs, 1 IR/channel). The use of two different IRs in the first mode makes it possible to obtain interesting volume / depth effects (this is a technique that I sometimes use with Nadir under Logic while playing with headphones).
The latency feature is also interesting to add a little bit of space and depth between the two channels: be careful, and don't expect miracles from it either, it's not a doubler and it uses a fixed delay (there is no delay or pitch variation) and which can also produce phase effects that are not necessarily interesting or desirable. But you can limit this aspect by playing with the lo-cut a little bit aggressively.
For use with preamplifier pedals or preamps like the systems offered by Synergy, we regret the absence of power amp simulation or, failing that, an EQ or a resonance control…. So, it might sound a bit "dry" in these scenarios….
The mixing of the two IRs in mono mode is not implemented : this could have offered a range of additional possibilities…
Rendering
The pedal behaves well and offers a good tone, with good sound quality. Some of the proposed IRs may be to your liking, for my part I found that they sounded a little bit generic, a bit flat…. No problem when loading third-party IRs: I tested loading and using Overdriven.fr IRs as well as OwnHammer (mpt) IRs: the rendering seemed good and fairly accurate.
The demos below use the Tonex system with amp models in DI mode (no IR on the Tonex) and sent to the FS07 for the first 5 examples, the last two examples using a Mooer Cali Dual pedal. Examples 2.3 and 5 use latency: 1 ms for sample 2 and sample 3. 6 ms for sample 5. The first three examples use the factory cabs, the others use Overdriven.fr IRs.
Latency
Flamma does not communicate latency information. When playing through the pedal, you can barely notice any latency. So, I carried out my own test by comparing the recording of the same signal directly to my sound card and via the FS07: according to this test, I could estimate that the latency seems to be around 2 to 3 ms, which is an excellent value.
Supported IR length
Flamma also does not provide an indication of the supported IR length. So I did also some research and carried out my own tests.
According to the measurements made by a user, the length of the IRs supported on the FS07 would be 1024 points or samples: see this link: https://www.thegearpage.net/board/index.php?threads/flamma-fs07- iridium-acs1-simplifier-etc-watch-out.2300165/page-3.
Then I carried out my own tests using a 200 ms OwnHammer IR:
First by loading and comparing on both channels the original IR to a truncated version at 2048 points, 1024 points and 512 points.
Then comparing the original IR loaded on the FS07 to the same IR loaded on the CAB X2, feeding both pedals with the same split signal (EMG81 – Precision Drive – Wampler Triple Wreck).
For reference, the Cab X2 supports rendering on 2048 points (i.e. a little bit over 46 ms).
On the first test, I could see with the Logic Pro X equalizer that the right and left response curves are strictly identical when using the original IR and the 1024-points truncated IR. On the second test (CabX2 vs FS07), there are slight differences between 20 and 150-200 Hz approximately between the two pedal, suing the same original IR : the bottom of the spectrum seems slightly less precise and a little bit more floating on the FS07 (which would be a typical difference between a 1024 points loader and a 2048 points loader). We can therefore reasonably deduce from these two tests that the FS07 is effectively limited to rendering on 1024 points.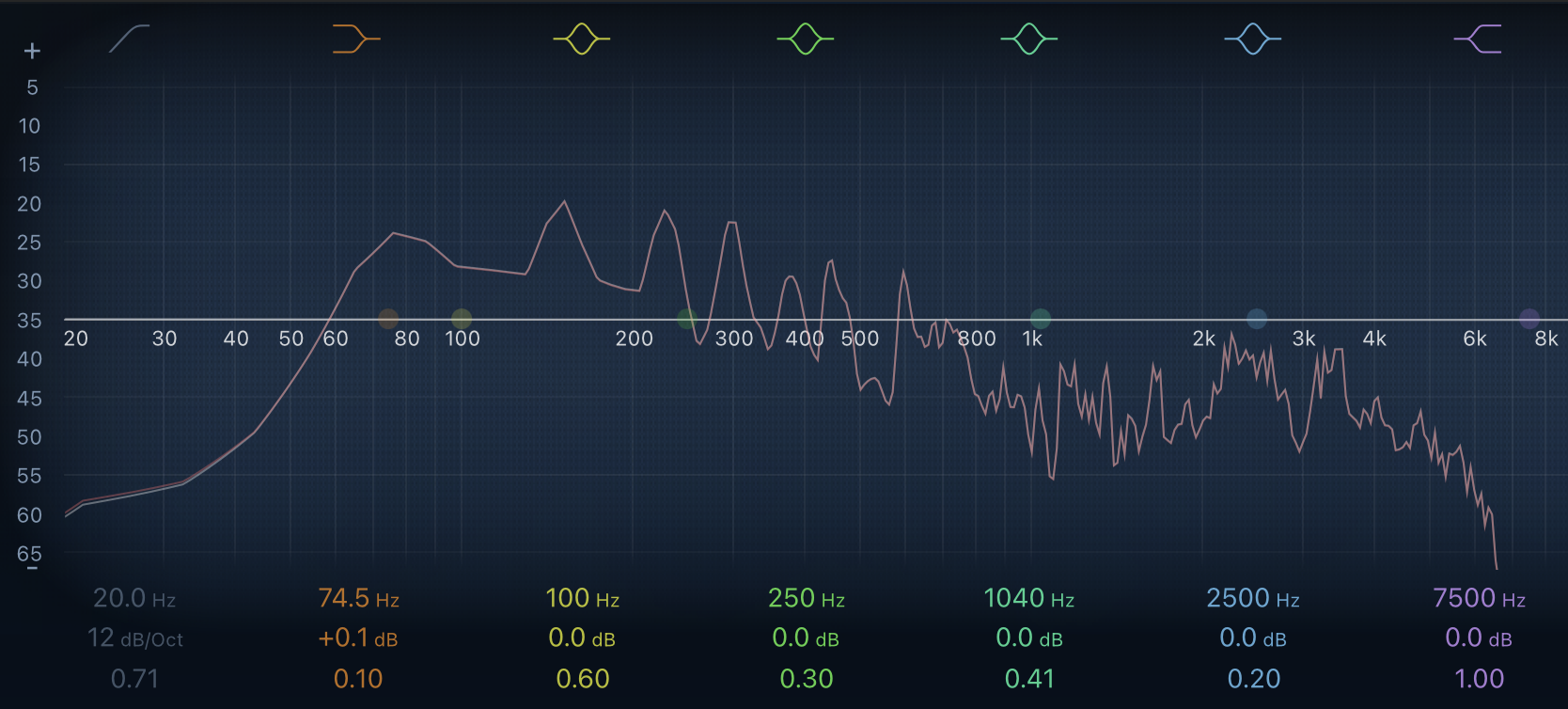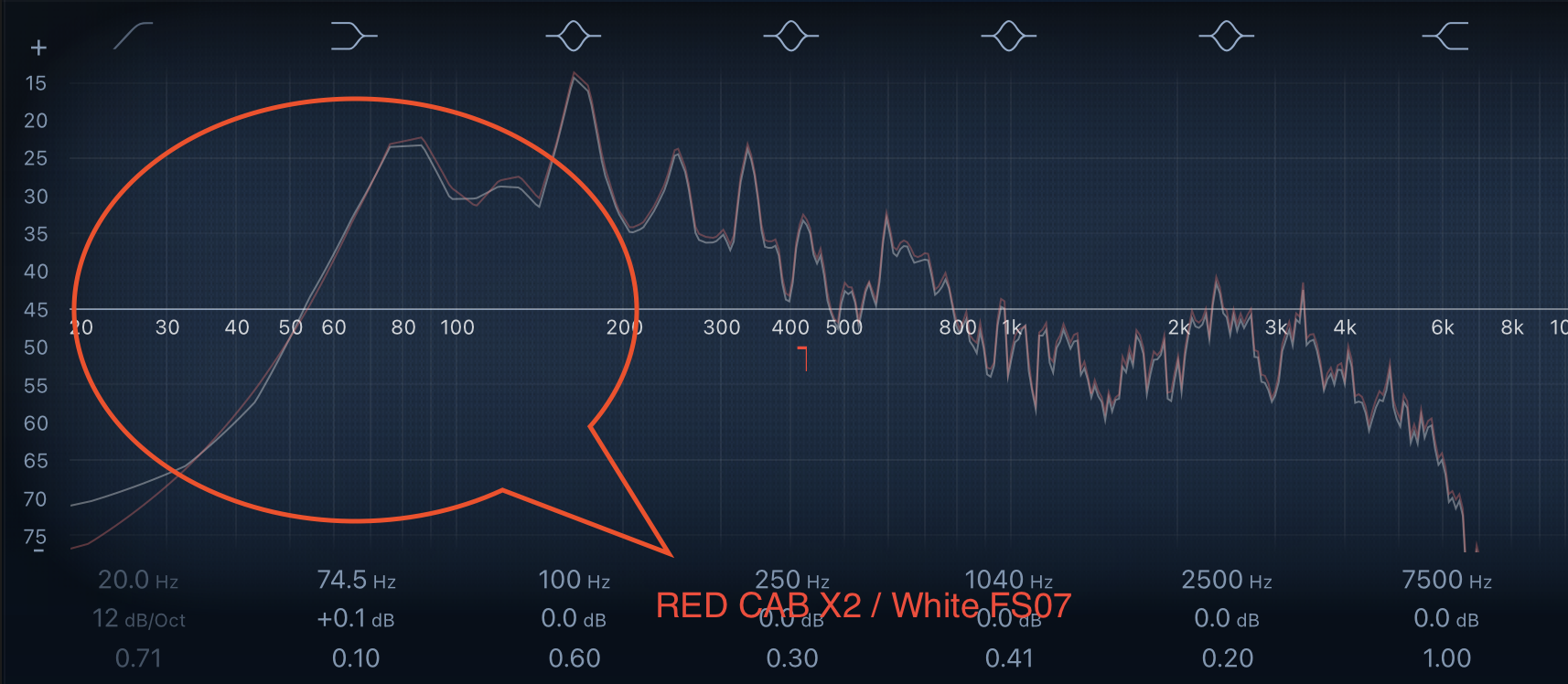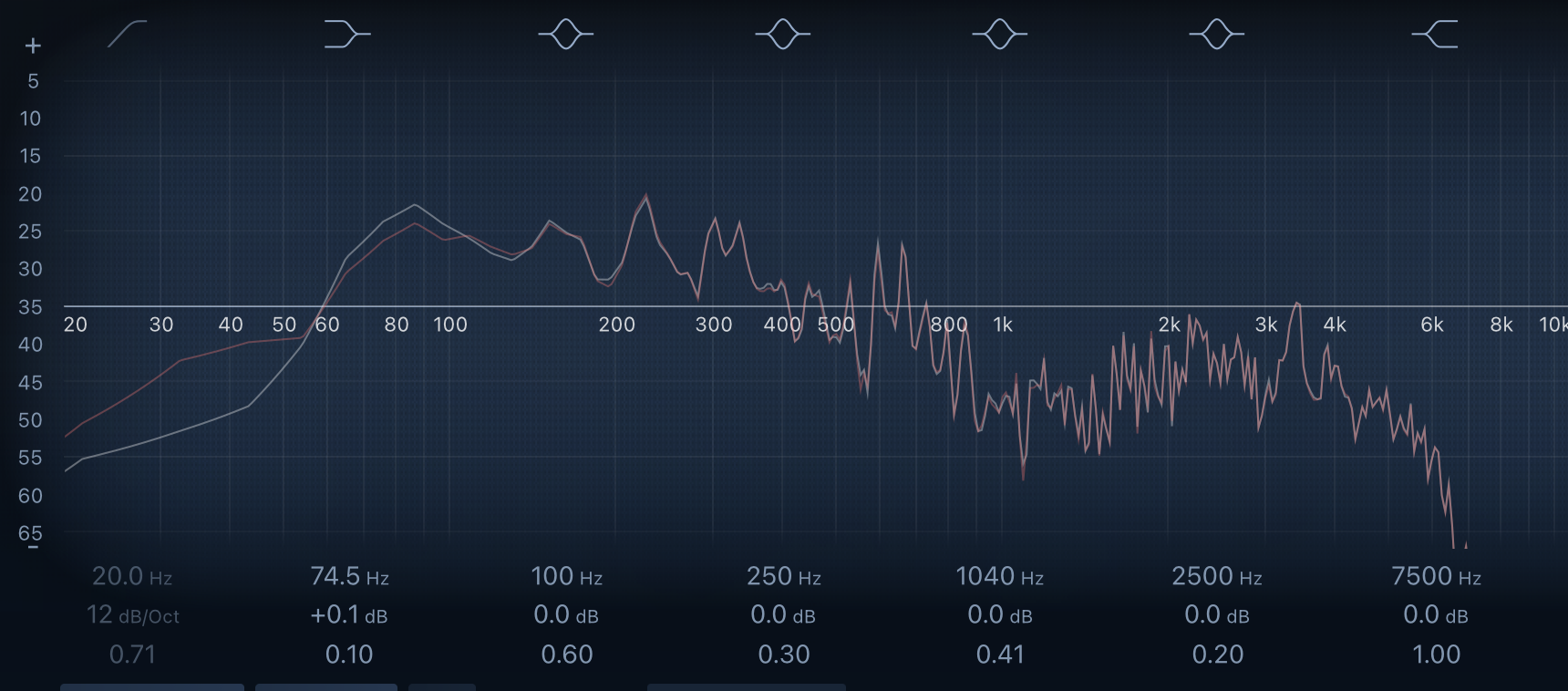 Conclusion
For a very affordable price, Flamma offers a good hardware loader, compact and easy to use, with a very simple software: the FS07 is indeed a very good 'budget' hardware loader…
We appreciate :
stereo operation, mono mode to 2 IRs (stereo output with two different IRs)
the latency function to spatialize a little
the low-cut and high-cut directly accessible on the pedal

We regret:
the absence of power-amp simulation
the absence of EQ or resonance to color the result a little
the impossibility of mixing the two IRs in mono mode (mono in -> mix IR -> mono out)
the absence of clipping indicators (especially for input)

In the end, the Flamma FS07 pedal does better than the Sonicake IR: for a slightly higher price, it offers a dedicated software, controls on the pedal, lo-cut and hi-cut functions, and operates with very low latency… The FS07 therefore offers excellent value for money if you are looking for a good hardware loader in pedal format. The possibilities of using it in stereo are a plus, but its rendering and its price make it attractive even for simple mono use, in my opinion. Also note that unlike the Cab X2, the FS07 does not offer a headphone output.
If you want to know more about the line of pedals offered by Flamma, I recommend this post from JHS Pedals: https://thejhsshow.com/articles/have-you-seen-flamma
Links
Change log
Created : May 7, 2023
Updated : May 21, 2023
Updated : May 26, 2023