IR – Zilla® Fatboy – 212 – Celestion® G12K100 – KT88 – Home Studio Edition – Guitar Cab Impulse Responses Patreon edition
Created : January 6, 2022
Updated :

January 8 , 2022
Terms and conditions
Before proceeding with download, please consult the terms of use, and more specifically the "impulse response" section : https://overdriven.fr/overdriven/index.php/fr/about/.

These impulse response files (IRs) are made available as a Patreon sponsored download. You can become a Patron here :
Become a Patron!
As mentioned in the Terms of Use, no warranty of any kind is provided with these files (issues, sound problems, inability to use them, sound quality, damages of any kind…).
The riffs and partial song covers presented here as samples are used for illustration and educational purposes (using amps and IRs). These riffs and songs remain the property of their copyright owners.
Cab and Mics
You can check the Free Edition of these IRs to get a description of the guitar Cab used here : https://overdriven.fr/overdriven/index.php/ir-zilla-fatboy-212-celestion-g12k100-kt88-home-studio-edition-free-guitar-cab-impulse-responses-download/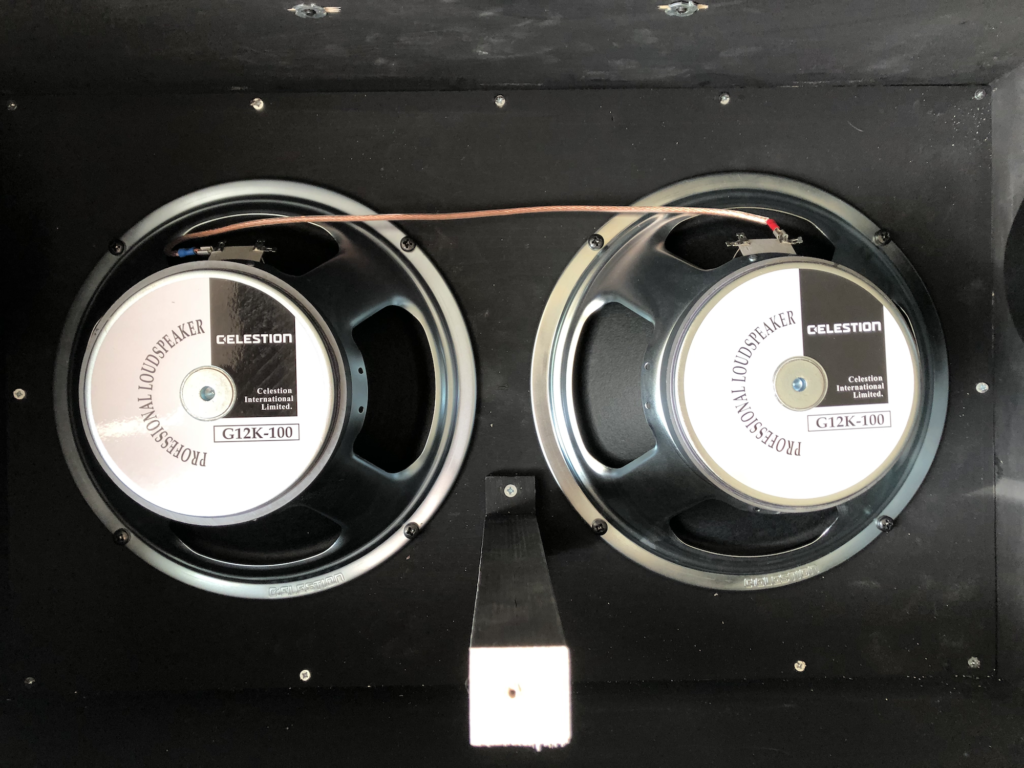 5 microphones :
CND-JP-1
DYN-58
DYN-421
DYN-GB-1
DYN-201
Recorded in home studio conditions
Recorded with a KT88 power amp section only
-L suffix is Left speaker (old) and the -R is for Right speaker (new one)
EQ2-2, EQ2-3, EQ3-2, EQ3-3 are EQ'd versions at capture time to boost mids and low-mids
For DYN-421 : LCUT is a preamp low cut, R1 is the first level of roll-off on the mic itself
Samples
Samples created with : EMG808, EMG57 (e-flat), Fishman Willie Adler (Drop C), overdrive, Dark Terror, Torpedo Reload, Nadir with Fatboy G12K100 IRs. Sample 4 starts in Fishman WA voice 1 (passive) and switch to active (voice 2) at 0:30 approx.
Remarks
Overdriven.fr is not affiliated with the brands mentioned on this page. These products and brand names are listed here to describe the hardware used for impulse capture. All brands belong to their respective owners. Check the legal disclaimer here : https://overdriven.fr/overdriven/index.php/about/
Download link
The Patreon Edition of the CAB requires a password : you can pay a sponsorship fee for this download on my Patreon account, where you will get the password.
Click this link to access the Overdriven.fr Patreon home page : check the "How does it work ?" section.
To Access this collection : become a Patron and unlock "Fatboy K100 KT88 Impulse Responses – Patreon Edition"
You will then be able to use the following download link : https://overdriven.fr/overdriven/index.php/download/overdriven-fatboy-k100-ssp1-kt88-patreon-edition/
Change log
January 6, 2022 : creation
January 8, 2022 : added Patreon links
IR Files
This collection contains the following files :
CND-JP-1

OD-FB-K100-CND-JP-1-P00-50-L.wav
OD-FB-K100-CND-JP-1-P00-50-R.wav
OD-FB-K100-CND-JP-1-P05-30-L.wav
OD-FB-K100-CND-JP-1-P05-30-R.wav
OD-FB-K100-CND-JP-1-P05-50-L.wav
OD-FB-K100-CND-JP-1-P05-50-R.wav
OD-FB-K100-CND-JP-1-P09-30-L.wav
OD-FB-K100-CND-JP-1-P09-30-R.wav
OD-FB-K100-CND-JP-1-P09-50-L.wav
OD-FB-K100-CND-JP-1-P09-50-R.wav
OD-FB-K100-CND-JP-1-P10-30-L.wav
OD-FB-K100-CND-JP-1-P10-30-R.wav
OD-FB-K100-CND-JP-1-P10-50-L.wav
OD-FB-K100-CND-JP-1-P10-50-R.wav
OD-FB-K100-CND-JP-1-P12-30-L.wav
OD-FB-K100-CND-JP-1-P12-30-R.wav
OD-FB-K100-CND-JP-1-P12-50-L.wav
OD-FB-K100-CND-JP-1-P12-50-R.wav

DYN-201

OD-FB-K100-DYN-201-P05-30-L.wav
OD-FB-K100-DYN-201-P05-30-R.wav
OD-FB-K100-DYN-201-P05-50-L.wav
OD-FB-K100-DYN-201-P05-50-R.wav
OD-FB-K100-DYN-201-P09-30-L.wav
OD-FB-K100-DYN-201-P09-30-R.wav
OD-FB-K100-DYN-201-P09-50-L.wav
OD-FB-K100-DYN-201-P09-50-R.wav
OD-FB-K100-DYN-201-P10-30-L.wav
OD-FB-K100-DYN-201-P10-30-R.wav
OD-FB-K100-DYN-201-P10-50-L.wav
OD-FB-K100-DYN-201-P10-50-R.wav
OD-FB-K100-DYN-201-P12-30-L.wav
OD-FB-K100-DYN-201-P12-30-R.wav
OD-FB-K100-DYN-201-P12-50-L.wav
OD-FB-K100-DYN-201-P12-50-R.wav
OD-FB-K100-DYN-201-P20-30-L.wav
OD-FB-K100-DYN-201-P20-30-R.wav
OD-FB-K100-DYN-201-P20-50-L.wav
OD-FB-K100-DYN-201-P20-50-R.wav

DYN-421

OD-FB-K100-DYN-421-P05-10-L-LCUT.wav
OD-FB-K100-DYN-421-P05-10-L-R1.wav
OD-FB-K100-DYN-421-P05-10-L.wav
OD-FB-K100-DYN-421-P05-10-R-1.wav
OD-FB-K100-DYN-421-P05-10-R-LCUT.wav
OD-FB-K100-DYN-421-P05-10-R.wav
OD-FB-K100-DYN-421-P05-20-L-EQ2-R1.wav
OD-FB-K100-DYN-421-P05-20-L-EQ3-R1.wav
OD-FB-K100-DYN-421-P05-30-L-EQ2-R1.wav
OD-FB-K100-DYN-421-P05-30-L-EQ3-R1.wav
OD-FB-K100-DYN-421-P05-30-L-R1.wav
OD-FB-K100-DYN-421-P05-30-L.wav
OD-FB-K100-DYN-421-P05-30-R-R1.wav
OD-FB-K100-DYN-421-P05-30-R.wav
OD-FB-K100-DYN-421-P09-10-L-LCUT.wav
OD-FB-K100-DYN-421-P09-10-L-R1.wav
OD-FB-K100-DYN-421-P09-10-L.wav
OD-FB-K100-DYN-421-P09-10-R-LCUT.wav
OD-FB-K100-DYN-421-P09-10-R-R1.wav
OD-FB-K100-DYN-421-P09-10-R.wav
OD-FB-K100-DYN-421-P09-20-L-EQ2-R1.wav
OD-FB-K100-DYN-421-P09-20-L-EQ3-R1.wav
OD-FB-K100-DYN-421-P09-30-L-EQ2-R1-MIDASOFF.wav
OD-FB-K100-DYN-421-P09-30-L-EQ2-R1.wav
OD-FB-K100-DYN-421-P09-30-L-EQ3-R1.wav
OD-FB-K100-DYN-421-P09-30-L-R1.wav
OD-FB-K100-DYN-421-P09-30-L.wav
OD-FB-K100-DYN-421-P09-30-R-R1.wav
OD-FB-K100-DYN-421-P09-30-R.wav
OD-FB-K100-DYN-421-P10)10-R-LCUT.wav
OD-FB-K100-DYN-421-P10-10-L-LCUT.wav
OD-FB-K100-DYN-421-P10-10-L-R1.wav
OD-FB-K100-DYN-421-P10-10-L.wav
OD-FB-K100-DYN-421-P10-10-R-R1.wav
OD-FB-K100-DYN-421-P10-10-R.wav
OD-FB-K100-DYN-421-P10-20-L-EQ2-R1.wav
OD-FB-K100-DYN-421-P10-20-L-EQ3-R1.wav
OD-FB-K100-DYN-421-P10-30-L-EQ2-R1.wav
OD-FB-K100-DYN-421-P10-30-L-EQ3-R1.wav
OD-FB-K100-DYN-421-P10-30-L-EQ3.wav
OD-FB-K100-DYN-421-P10-30-L-R1.wav
OD-FB-K100-DYN-421-P10-30-L.wav
OD-FB-K100-DYN-421-P10-30-R-R1.wav
OD-FB-K100-DYN-421-P10-30-R.wav
OD-FB-K100-DYN-421-P12-10-L-R1.wav
OD-FB-K100-DYN-421-P12-10-L.wav
OD-FB-K100-DYN-421-P12-10-R-R1.wav
OD-FB-K100-DYN-421-P12-10-R.wav
OD-FB-K100-DYN-421-P12-20-L-EQ2-R1.wav
OD-FB-K100-DYN-421-P12-20-L-EQ3-R1.wav
OD-FB-K100-DYN-421-P12-30-L-EQ2-R1.wav
OD-FB-K100-DYN-421-P12-30-L-EQ3-R1.wav
OD-FB-K100-DYN-421-P12-30-L-R1.wav
OD-FB-K100-DYN-421-P12-30-L.wav
OD-FB-K100-DYN-421-P12-30-R-R1.wav
OD-FB-K100-DYN-421-P12-30-R.wav
OD-FB-K100-DYN-421-P19-20-L-EQ2-R1.wav
OD-FB-K100-DYN-421-P19-20-L-EQ3-R1.wav
OD-FB-K100-DYN-421-P19-30-L-EQ2-R1.wav
OD-FB-K100-DYN-421-P19-30-L-EQ3-R1.wav
OD-FB-K100-DYN-421-P20-10-L-R1.wav
OD-FB-K100-DYN-421-P20-10-L.wav
OD-FB-K100-DYN-421-P20-10-R-R1.wav
OD-FB-K100-DYN-421-P20-10-R.wav
OD-FB-K100-DYN-421-P20-20-L-EQ2-R1.wav
OD-FB-K100-DYN-421-P20-20-L-EQ3-R1.wav
OD-FB-K100-DYN-421-P20-30-L-EQ2-R1.wav
OD-FB-K100-DYN-421-P20-30-L-EQ3-R1.wav
OD-FB-K100-DYN-421-P20-30-L-R1.wav
OD-FB-K100-DYN-421-P20-30-L.wav
OD-FB-K100-DYN-421-P20-30-R-R1.wav
OD-FB-K100-DYN-421-P20-30-R.wav

DYN-58

OD-FB-K100-DYN-58-P05-20-L.wav
OD-FB-K100-DYN-58-P05-30-L.wav
OD-FB-K100-DYN-58-P05-30-R.wav
OD-FB-K100-DYN-58-P05-40-L.wav
OD-FB-K100-DYN-58-P05-40-R.wav
OD-FB-K100-DYN-58-P09-20-L.wav
OD-FB-K100-DYN-58-P09-30-L.wav
OD-FB-K100-DYN-58-P09-30-R.wav
OD-FB-K100-DYN-58-P09-40-L.wav
OD-FB-K100-DYN-58-P09-40-R.wav
OD-FB-K100-DYN-58-P10-20-L.wav
OD-FB-K100-DYN-58-P10-30-L.wav
OD-FB-K100-DYN-58-P10-30-R.wav
OD-FB-K100-DYN-58-P10-40-L.wav
OD-FB-K100-DYN-58-P10-40-R.wav
OD-FB-K100-DYN-58-P12-30-R.wav
OD-FB-K100-DYN-58-P12-40-L.wav
OD-FB-K100-DYN-58-P12-40-R.wav
OD-FB-K100-DYN-58-P15-40-R.wav
OD-FB-K100-DYN-58-P20-100-L.wav
OD-FB-K100-DYN-58-P20-20-L.wav
OD-FB-K100-DYN-58-P20-30-L.wav
OD-FB-K100-DYN-58-P20-30-R.wav
OD-FB-K100-DYN-58-P20-40-L.wav
OD-FB-K100-DYN-58-P20-80-L.wav

DYN-GB-1

OD-FB-K100-DYN-GB-1-V1-P05-10-L.wav
OD-FB-K100-DYN-GB-1-V1-P05-10-R.wav
OD-FB-K100-DYN-GB-1-V1-P05-20-L.wav
OD-FB-K100-DYN-GB-1-V1-P05-20-R.wav
OD-FB-K100-DYN-GB-1-V1-P09-10-L.wav
OD-FB-K100-DYN-GB-1-V1-P09-10-R.wav
OD-FB-K100-DYN-GB-1-V1-P09-20-L.wav
OD-FB-K100-DYN-GB-1-V1-P09-20-R.wav
OD-FB-K100-DYN-GB-1-V1-P10-10-L.wav
OD-FB-K100-DYN-GB-1-V1-P10-10-R.wav
OD-FB-K100-DYN-GB-1-V1-P10-20-L.wav
OD-FB-K100-DYN-GB-1-V1-P10-20-R.wav
OD-FB-K100-DYN-GB-1-V1-P12-20-L.wav
OD-FB-K100-DYN-GB-1-V1-P15-10-R.wav
OD-FB-K100-DYN-GB-1-V1-P15-20-R.wav
OD-FB-K100-DYN-GB-1-V1-P20-10-R.wav
OD-FB-K100-DYN-GB-1-V1-P20-20-L.wav
OD-FB-K100-DYN-GB-1-V1-P20-20-R.wav
OD-FB-K100-DYN-GB-1-V2-P10-10-R.wav
OD-FB-K100-DYN-GB-1-V2-P10-20-L.wav
OD-FB-K100-DYN-GB-1-V2-P12-10-R.wav
OD-FB-K100-DYN-GB-1-V2-P12-20-L.wav
OD-FB-K100-DYN-GB-1-V2-P15-10-R.wav
OD-FB-K100-DYN-GB-1-V2-P20-10-R.wav
OD-FB-K100-DYN-GB-1-V2-P20-20-L.wav
OD-FB-K100-DYN-GB-1-V2-P22-20-R.wav
OD-FB-K100-DYN-GB-1-V3-P20-10-L.wav
OD-FB-K100-DYN-GB-1-V4-P00-40-R.wav
OD-FB-K100-DYN-GB-1-V4-P05-40-L.wav
OD-FB-K100-DYN-GB-1-V4-P05-40-R.wav
OD-FB-K100-DYN-GB-1-V4-P09-40-L.wav
OD-FB-K100-DYN-GB-1-V4-P09-40-R.wav
OD-FB-K100-DYN-GB-1-V4-P10-40-L.wav
OD-FB-K100-DYN-GB-1-V4-P10-40-R.wav
OD-FB-K100-DYN-GB-1-V4-P12-40-L.wav
OD-FB-K100-DYN-GB-1-V4-P12-40-R.wav
OD-FB-K100-DYN-GB-1-V4-P15-40-R.wav
OD-FB-K100-DYN-GB-1-V4-P20-40-L.wav
OD-FB-K100-DYN-GB-1-V4-P20-40-R.wav