After the Micro Dark, I am testing in this blog post the first generation Zombie from Joyo. Small size, light weight and a technology similar to the Micro Dark : a hybrid approach with a preamp using a single 12AX7 tube and transistors, associated with a small 20 watt class D amplification section. This little amp was number 1 in the hybrid amp category for quite a while at Thomann. It is the replica of a famous American amp tone (an amp using 2 rectification tubes )…. Small test with some examples to illustrate what this little amp sounds like…
Spoiler Alert: just like the Micro Dark, this little amp can't really compete with a full-tube high-gain amp … but here again the sound and sensations obtained are very fun with regard to the price and the format…
Overview
So it is a small and compact amplifier, in a lunchbox format, delivered well packaged and well protected with its small separate power supply of 18 volts, 2A, which is provided with an effects pedal format connector (negative in the center). With its dimensions of 163 x 110 x 140 mm and its advertised weight of 1.2 kg, it is a little bit bigger and a little bit heavier than the Orange Micro Dark. 2 channels on the menu: a clean and an overdrive channel, with 3 potentiometers to adjust the gain, tone and volume. Three switches on the front: 1 on / off, 1 clean / OD and 1 Bluetooth on / off. A guitar speaker output (minimum 8 ohms), a serial effects loop and a headphone output (mini jack) are present on the back panel, as well as the small Bluetooth antenna.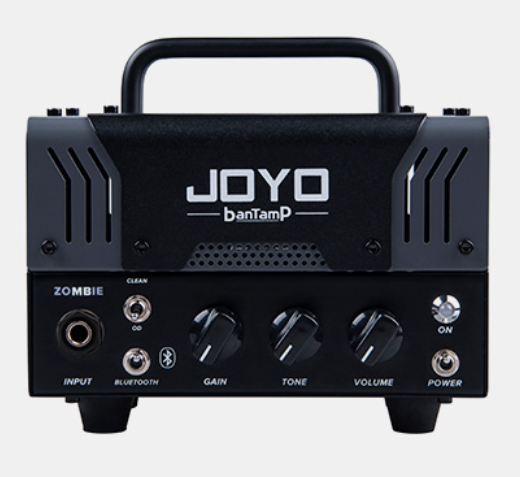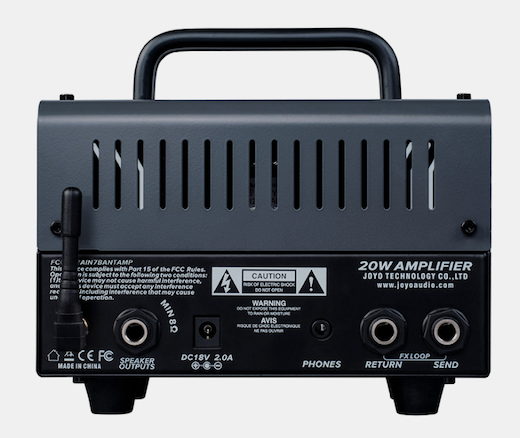 Tone and features
When I first turned it on, I have been surprised by the assertive and defined character of the sound produced by this little creature. So no, you certainly don't have a Dual Rectifier for 150 Euros (there is no such thing! 🙂 ) but the sounds obtained are very convincing and the reactions to the player's pick are quite good too. The gain level can go high on this little amp and at 4 or 5 out of 10 you're already into the metal and not into the nice crunch anymore. You can push the gain high enough without it squashing too much (6-7-8, depending on your pickups and overdrive pedal). More exploitable high gain levels compared to the Micro Dark, in my opinion. Tone-wise, the small amp is on the Mesa side of the universe, with a lot of presence on the low and low-mids : it's quite successful and much more defined -in my opinion again- than on the Micro Dark, it is sharper on the Zombie. The tone control allows you to adjust the clarity of the sound: simple and effective.
After the first discovery, by playing and pushing it a little bit (by holding notes or with power-chords that resonate) you will quickly see that if the overall sound is fairly well defined, it lacks extension on the bass side and it lacks richness on the high mids and treble: it can sound a little bit synthetic (few harmonics, lack of richness / texture)…. But, that being said, for this price and this format, the result is still quite impressive and this little amp can be -IMHO- a serious alternative to distortion pedals in the same price category or even higher : the single 12AX7 tube seems to bring some substance and color.…
With EMG 81 pickups and by using bright IRs -and some little EQ adjustments to refine the bass- you can almost use if without an overdrive (Gain 6 / Tone 6 for example, but it remains a little bit muddy…). So, it is better to have an overdrive in front of the amp, in order to get a more defined and sharper tone.
The clean channel is surprising: it produces a full and rich sound. Similar to the Micro Dark, the unique tone control can limit your tweaking abilities : adding an EQ in the effects loop will give you more possibilities (scoop or bass boost).
I was able to check the behavior of the small on-board class D amplifier : it is VERY neutral, very flat. So the tone of the amp seems completely supplied by the pre-amp part and you will get the same sound at the output of the FX loop (FX Send) : that is a very good thing for owners of IR loaders, who will not have a lot of tweaks to apply to obtain a similar tone to the one you get on a real cab.
The FX loop
It works very well but the output level is higher than many pedals (or than the output level of the Micro Dark for example): in position 0 on the CAB M + (line, high impedance), I had to insert a 10-band MXR and use it to slightly lower the volume (-2 / -3 dB), in order to avoid saturating the input of my CAB M+.
With a real cab
I tested it with two cabs: a Recto 212 and a Zilla Fatboy in G12K100. I found the results to be quite convincing and pleasant. Check out the little demos: most of them are actual recordings (ie no IRs).
With IRs
Using a Torpedo CAB M+, I found the result on monitors to be also very good, very convincing (by pairing the amp with ad'hoc IRs). My setup was : Zombie FX out -> CAB M + (high impedance) -> sound card -> monitors. With Mesa IRs (V30) or Greenbacks (for example the Two-Notes Fortin Beast Green cab).
Headphones and bluetooth
If the headphone output is powerful enough, the result is not extraordinary (far below what you will get with an IR loader). But it seems to me much better than the headphone output of the Micro Dark.
Bluetooth works well and allows you to stream audio from a phone to the amplifier: I was able to connect my iPhone and stream some Youtube audio, with a good rendering quality of the stream: the headphones output receives the mix of the stream + the sound of the amplifier, so you can play or practice over a song, with headphones (the FX out only keeps the sound of the amplifier and does not include the stream). My Mac mini, on the other hand, could not detect the bluetooth of the Zombie…. (but it's an older Mac model…).
Some samples
The small examples below are not phenomenal but give an idea of ​​the sounds that we are going to be able to obtain with this small amp. Only one example with an IR, the others are recordings done on two different cabs, with a single SM57. The gain is positioned just below 5 (or noon) for all the examples. The AHB3 examples are in drop B, the EMG81 and Fishman are in drop D.
S1 : AHB3-Precision DRIVE – Joyo-Zombie – Recto 212 – SM57
S2 : same as S1, with an MXR 10 bands EQ, gentle scoop at 500/1 kHz, light bass boost
S3 : same as S2, using a Maxon 808
S4 : neck AHB3, clean chanel
S5 : same as S4, with chorus and reverb (TH-3, in the DAW)
S6 : AHB3, 808, Joyo-Zombie – Fatboy G12K100 – SM57
S7 : EMG81, 808, Joyo-Zombie – Fatboy G12K100 – SM57
S8 : EMG81, TC Tube Pilot, Joyo-Zombie – Fatboy G12K100 – SM57
S9 : Fishman Fluence, Precision Drive, Joyo-Zombie FX out CabM+, IR Recto 212 SM7B
S10 : a mini cover of Creeping Death / Metallica (with a few mistakes here and there), 2 tracks, with important EQ added in the DAW.
Conclusion
Ok, it is not a Dual Rectifier and it cannot compete with the richness of a full-tube high-gain amp… but it is fun to play and provides a fairly convincing Mesa-type sound, whether on a real cab or with an IR loader. This little amp has more than one trick up its sleeve : you get convincing and pleasant cleans and saturated sounds, it can push a 2 × 12 without problem, and supports audio streaming…. so quite good in terms of features / price / tone …. If you are on a budget and you are looking for a distortion pedal to get a US sound, this little Zombie could perhaps be an option to consider … (the prices of the distortion pedals quickly reach 100-150 euros and more…)
While a V2 version is available, this V1 can still be purchased. On the Zombie II ("XL series"), each channel has its gain, tone and volume controls, and a small footswitch is provided. The headphone jack goes from 3.5 (mini) to 6.35 format on the Zombie II.
Doc and specs on Joyo web site : https://www.joyoaudio.com/product/108.html
On Thomann : https://www.thomann.de/fr/joyo_zombie.htm (149 Euros, as of June 10, 2021 )