October 16, 2020 : a new free guitar cabinet impulse responses collection is available. IRs were created with a popular UK-designed 1*12 guitar cabinet, loaded with a Celestion® V30.
This collection of IRs was created by miking a UK-designed 1*12 cabinet, loaded with a V30 (16 ohms). 101 IRs usings 14 microphones (10 dynamic mics and 4 ribbon mics), captured using a KT88 tube power amp section and a tube microphone preamp.
This collection was recorded with the cab directly on the floor : it adds more bass and reinforces the surprisingly dark flavor of the V30 in this small cab. Very interesting tone, IMHO.
A few samples
The riffs and partial song covers presented here as samples are used for illustration and educational purposes (using amps and IRs). These riffs and songs remain the property of their copyright owners.
The demos below were created with an Orange Micro Dark and an OD9 or a Precision Drive. The Micro Dark FX is sent to the CAB M with the UK-112 IRs and a 6L6 simulation. Listening to the playlist, it sounds a little bit squashed and undefined (I might have been a little bit heavy on the gain) : you can definitely get a more defined sound with this amp (check the other sample below).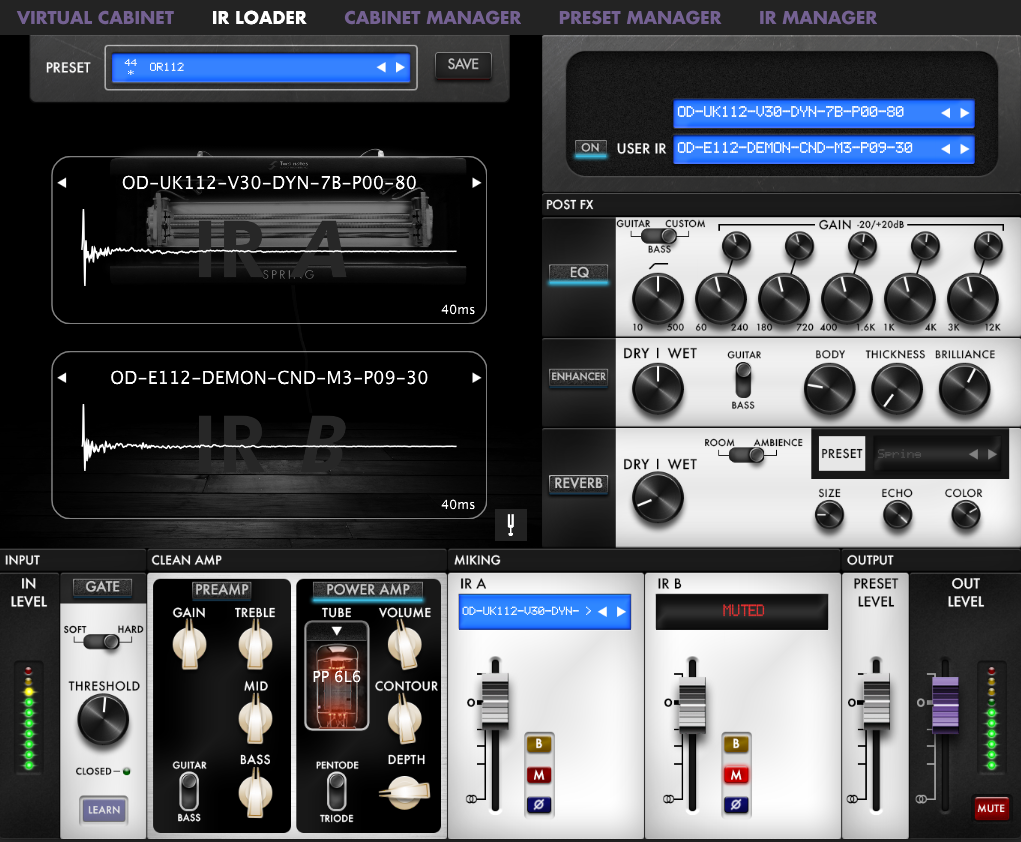 I also borrowed the introduction of a song from Mr Max Cavalera / Soufly: Plata o Plomo (https://www.youtube.com/watch?v=3wPpimRKjK0) to illustrate the UK-112 IRs.
Gear used :
AHB3 bridge and neck
Maxon OD 9
Orange Micro Dark FX out to Torpedo CAB M
UK-112 SM7B P00 80 IR plus 6L6 simulation
Track is compressed by PRO C-2
4 guitar tracks, directly tracked and recorded via the CAB M into Logic Pro X.
UK-112 SM7B P00 80
Download page and IR informations
Get the free IRs information and download link on this page : https://overdriven.fr/overdriven/index.php/ir-uk-112-celestion-v30-home-studio-edition-free-guitar-cab-impulse-responses-download/
Remarks
Overdriven.fr is not affiliated with the brands mentioned on this page. These products and brand names are listed here to describe the hardware used for impulse capture. All brands belong to their respective owners.
For legal notice and information see the about page : https://overdriven.fr/overdriven/index.php/about/